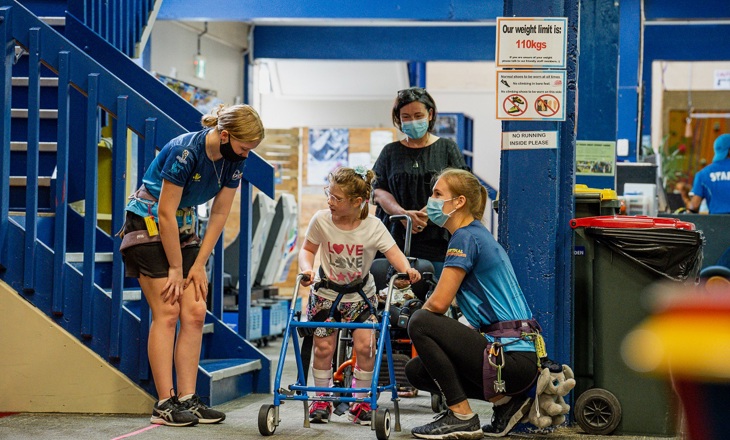 A culture, values and leadership session has turned an Auckland climbing club on its head.
In 2017, and after attending the Aims Games, a small group of parents came together to address the growing need to create opportunities for young people to climb in Auckland.
Following the successful establishment of the Auckland Climbing Youth Development Club, the club was forced, like many, to rethink things directly following the first COVID 19 lockdowns.
It was this session, designed to re-engage students with climbing, that sparked a transformation and prompted the club to adopt a student-led approach. The huge growth in both numbers and programmes as a result is now proof their recipe is working, chairperson Michael O'Keefe says.
"The emotion and stories that came from our session were overwhelming with kids talking about how the club and, more importantly, the people in it had become critical to them finding a sense of place, self-worth, and confidence," says Michael.
"As parents we were privileged to hear and witness the impact the culture of the club had on these youth. Key themes emerged from that session and became cornerstones of the club - inclusion, fun, community, kids first."
Michael says the biggest change however, came from the young people expressing a desire to be part of decision-making processes and help even more young people reap the benefits of climbing.
Five rangatahi aged 13-15 years-old joined three adults on the committee and over six months they were mentored on everything from how to make decisions to marketing and fundraising. They were then able to take on full committee roles.
"These kids now drive the club, they set the tone, they work the strategy, they have tasks to complete, and they determine what and how we do our programmes," says Michael.
The club that began with three parents and one volunteer coach has now blossomed into a development team of 32 young people, five coaches and a group of leaders aged 13-18.
While one 15-year-old has championed, created and delivered the club's disability programme, two 16-year-olds have created the club's branding, imagery, uniforms and branded themselves "The Pack". Their motto is 'no matter the situation, no matter the obstacle I will never give up, I will never quit, for I am never alone'.
Michael says this student-led approach has driven an increasing number of school programmes that work with alternative learners with social, financial or behavioural difficulties, disabilities and rainbow youth. A new girls' initiative is also in the pipeline.
"We expect to have connected with over 640 kids this year through those community initiatives - for every one of our youth, they have connected to another 20 kids."
The momentum continues to build with a pilot programme under way in South Auckland, made possible with support from Tū Manawa Aotearoa funding and CLM Community Sport.
"Hopefully we can continue to expand the reach of these types of initiatives and build a strong climbing community for all based in South Auckland," says Michael.
Lynfield College student Lily Andrews, 16 is a committee member charged with overseeing the development programme and coaching and has been involved from the beginning.
"The student-led approach has been so important - we've made this club, we run it and we lead it, which means it's easier to get student ideas and opinions and act on them. Young people feel just as important as the adults in meetings and their voice means the same amount.
"It's helped younger teenagers and kids to step into leadership roles with actual responsibility and give them a chance at an 'adult' job."
Vice-chairperson and 18-year-old Avondale College student Cameron Nauck agrees.
"The best part about this club is the community, but it's also great how we as the kids in the club have a say in what we do.
"It is a wonderful feeling to be heard and to see the process of actually getting things to happen."
As Michael says the successful formula isn't so secret – 'as adults, shut up, listen, enable, and then get out of the way'.
"Enabling youth to make decisions, to voice their viewpoint, and supporting them with the tools required to achieve outcomes really has dramatically changed and supercharged our club.
"Our youth understand our current world much better than we ever did, they are more connected to it and have insights and viewpoints that have driven this positive change."