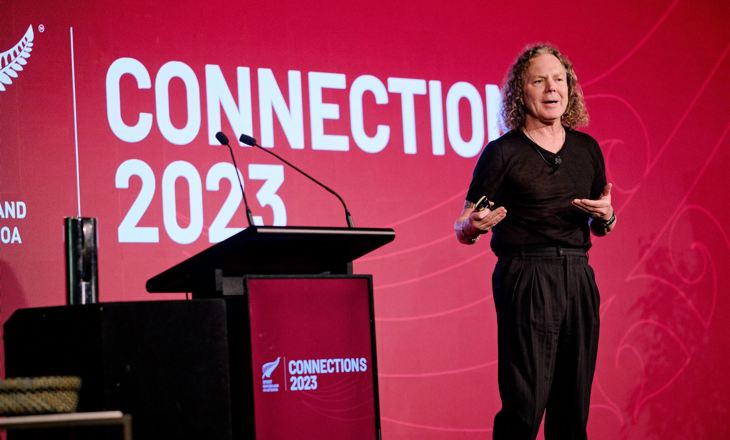 Don't worry about sentient robots attacking humanity and wiping out the planet – it's your staff members and kids with AI apps on their smart phones that you really need to be paying attention to. 
Because artificial intelligence is here, and its implementation across just about every walk of life and sector – including sport and recreation – is being driven from the ground up. 
"Literally in the last few months the world has changed," Greg Cross, the Kiwi tech entrepreneur whose company Soul Machines is leading the development of what is known as 'cognitive modelling', told an audience of sport and recreation leaders at Sport NZ's Connections 2023 conference. 
"Your kids are literally doing their homework using chat GPT today. This is not technology that lives in an IT department. That was last year. This year this is innovation that is being driven by consumers and it is changing every aspect of our society. 
"It is one of the most exciting eras in the history of the human race."

 
While the movie industry has taught us to fear the rise of intelligent machines who will destroy humanity, the 'threat' of AI is actually much more mundane. 
"One of the myths out there is that AI is bad - AI is going to steal our jobs," said Cross.  
"There is some truth to that. It is going to be disruptive to industries and jobs and the way we go about providing useful services in return for money. 
"But we have seen many, many technologies before. Technology has always disrupted and changed the way we do things and AI will have that result." 
But that doesn't mean that change – nor AI itself – is bad. 
Through cognitive modelling, which simulates human problem-solving and mental processing in a computerised model, Soul Machines has developed Nova – a synthetic avatar that mimics human behaviour. In other words: the world's first model of a person. 
"These are not completely sentient people but they can respond, emotionally connect with us and interact in real life. They are the most digitally alive avatars possible today. 
"You can go to Nova and have a chat about anything." 
The company helps brands, celebrities and influencers create compelling personal experiences at scale for online audiences in every digital world. 
It has made avatars of sports legends like basketballer Carmelo Anthony and golfer Jack Nicklaus. 
These avatars are capable of chatting with fans online – in multiple languages. 
"[Human] Jack doesn't speak a word of mandarin or Japanese and yet today digital Jack is representing one of the biggest golf merchandising companies in the world in Tokyo speaking Japanese to the people who visit the website – and speaking Japanese in his own voice. 
"Think of the potential of this in terms of the future of fan experience." 
In the world of combat sports, a digital version of former UFC heavyweight champion Francis Ngannou would soon be playing a pivotal role in the richest combat sports event of all time – Ngannou's boxing showdown with Tyson Fury in Saudi Arabia. 
"The whole world of sport is rapidly becoming about 'how do we repackage content in a way that delivers experiences that will engage the next generation of consumers'?" Cross said. 
AI would be at the forefront of that evolution. 
Digital celebrities will be an important part of how we personalise and curate experiences for fans.  
For sector leaders in New Zealand, leadership meant having a position on AI and "that doesn't mean burying your head in the sand and saying 'not us'." 
AI was now a part of life whether we liked it not. Just as students are using Chat GPT as a tool for completing assignments, time-poor employees would now use AI whether or not it was sanctioned by their employers. 
"It is a world where innovation at speed is going to be incredibly important. It is a world of productivity, brand experience and fan engagement that will impact every single one of your organisations – and the way in which you connect with your consumers and your fans."

 
But AI won't kill us (hopefully not) – and won't steal our jobs. Well, not all of them. 
"How do you really connect? A real connection is an emotional connection," said Cross. 
"So I don't believe that AI is going to replace human story telling." 
AI generators such as Chat GPT are what is known as large language models. They consume all of the content of the internet and use that knowledge to try to predict what word comes next. That is not a technology that can replace human thought. 
Although, as Cross states: "The more you use AI, the more you interact with it, the better and smarter it gets." 
Hear more in the full presentation video >