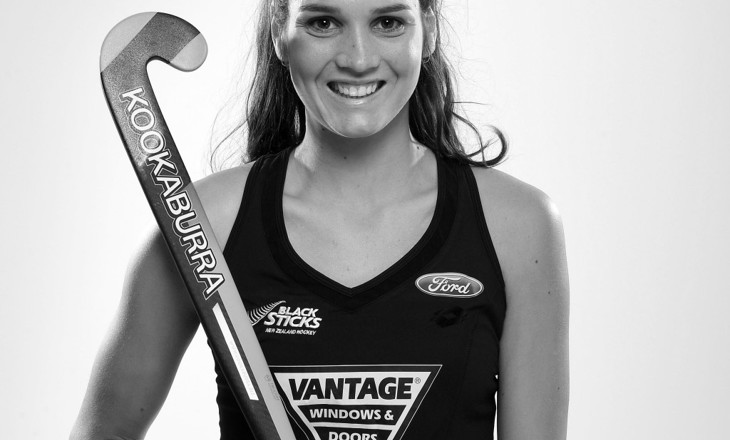 For Vantage Black Sticks Women Striker Amy Robinson, life balance and playing a range of sports have helped her be not only a better hockey player, but a better person too.
Imagine you are the coach of the Black Sticks Women when, in her very first game, Amy scores a goal. "She's good," you're thinking. "Where do we find more like her?"
In a way, it's not a hard question. Amy started playing hockey in primary school, was playing for her school's First XI from Year 9, progressed through the New Zealand age group teams and represented New Zealand at the 2014 Olympic Summer Youth Games.  Talent like that you see coming.
Maybe. Because before Amy was into hockey she was already into athletics - every Monday from age four. In 2013 she set a new record for the U17 300m hurdles and at the Sydney Youth Olympic Festival won a silver medal in the 4x100 relay.
If you're the high performance director at Athletics New Zealand, you're thinking, "She's good…". Well, yes, except that in 2013 Amy was also in Vanuatu with the New Zealand under 17 beach volleyball team.
"When I was at intermediate," says Amy, "I signed up for everything: basketball, rock climbing, kayaking. I was in the cross country nationals. At college I started indoor volleyball and then beach. Still with athletics and hockey. What I particularly liked about athletics was you didn't have to specialise. I could do shot put, high jump and running all the same day."
Eventually, of course, events began to clash.  "We can see potential," Amy was told, "It's time for you to focus."  
But then some different advice.
"No, don't specialise," advised Black Sticks Women's coach Mark Hager.  "You need other things in your life."  
This is a big reason why hockey has become Amy's number one sport and why she continues her athletics whenever it fits in. It also explains why she has completed a degree (Bachelor of Sport and Recreation, naturally) and is teaching 25 hours a week (when she can) at Tauranga Intermediate.
"Playing a range of sports has been a huge benefit," says Amy. "For a start, I've mixed with many different people, from different cultures and that helps, coming into a team environment. I'm less prone to injuries, because the different sports condition my body in different ways: for example the jumping from beach volleyball strengthened my knees and made me more agile.  I've also competed internationally before, so I know about being organised and knew what to expect going into my first tournament. I wasn't so nervous."
"Above all," Amy says, "burnout isn't an issue. I think I have a good life balance. I can forget about Hockey and spend time with my friends and family. Go to an Athletics meet and do something different. I think not choosing just one sport has helped me be a better person."
So, now you're thinking, "How do we find more remarkable sports people like Amy Robinson?"