Please note this content has now been added to the Archives.
It is available for reference purposes but otherwise neither maintained nor updated.
If you require an accessible version please contact info@sportnz.org.nz.
The latest BoardTalk newsletter featuring the new online Governance 101.
ONLINE GOVERNANCE TRAINING AVAILABLE FOR ALL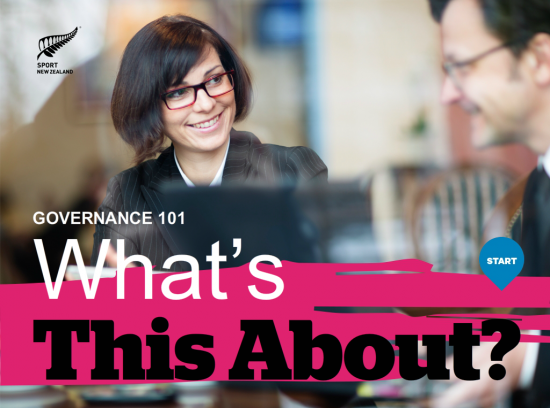 We are delighted to announce that the new introduction to governance course is live on the Sport Tutor learning platform.

NO CHARGE – available to all
High quality interactive training
Covering the key principles of not for profit governance
Connected to the governance framework
2-3 hours to complete
Six modules focusing on
Clarity of purpose and setting outcomes
The board as genuine governors – acting as a layer of ownership rather than a layer of management
Being accountable for the use of time and money
CONSULTATION ON THE DRAFT INCORPORATED SOCIETIES ACT
Hui E! in association with MBIE and Charities Services (DIA) is organising a series of consultative seminars to get feedback on proposed changes to the legislation covering Incorporated Societies. View more information and registration details here.
TOWARDS A VALUE CREATING BOARD
What do effective boards focus on? A good McKinsey piece noting the increasing focus on strategy.
THE GOVERNANCE FRAMEWORK
A reminder that the governance framework for sport and recreation in New Zealand is available. Organisations are already using it for guidance and/or signing up to the formal quality mark process. View more information here.
SOME GOOD INSTITUTE OF DIRECTORS ONLINE COURSES
Health and Safety, Directors and Officer Insurance, Ethics in the Boardroom, view more here.