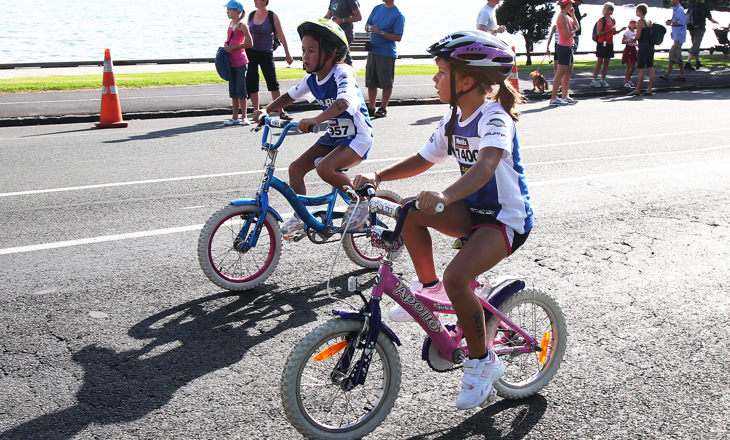 Sport NZ has a strong interest in ensuring the partners we invest in are capable and sustainable. We work with National Sports Organisations to build capability in the priority areas of leadership development, governance, financial management, systems and processes, commercialisation and IT. We also have tools which help our partners' asses their strengths and weaknesses, and the challenges they face. This includes supporting sports to carrying out reviews when necessary. The following case study looks at a recent review carried out by the national body for cycling.
Sport participation is changing
Sport participation in New Zealand is rapidly changing. Many people now pursue physical activity outside the formal structure of clubs. Nowhere is that more evident than in cycling.
Tens of thousands of riders describe themselves as socially competitive. There are dozens of private events, with the largest (such as the Lake Taupo Challenge) attracting big numbers paying significant entry fees.
So cycling participation has now largely moved to virtual clubs, social groups, bike shop groups, gym groups, women's groups, track (mountain bike) building groups and thousands of people who just get out and ride. These far outnumber the formal 'racing' clubs and offer a very different environment.
The traditional formal structure (clubs) is now small (about 5,000 paying members) giving the national body (Cycling NZ) minimal member derived income. And like some other sports cycling clubs face issues with adequate volunteers, increased regulation (e.g. traffic management planning for racing) and shrinking revenue options.
Other codes face similar challenges where less structured forms of participation are growing quickly. Participation in swimming and running is very informal. In team sports business house and social leagues are growing (e.g. netball and football).
Who pays?
The central issue faced by Cycling NZ and others is therefore what the nature of their role should be and importantly who should pay for it. There is plenty of expectation on the organisation but few willing to pay for its core functions.
Any National Sports Organisation (NSO) and especially one with a prominent high performance programme, as Cycling NZ does, will face multiple demands on their time from organisations ranging across government agencies, the media, private promoters, member organisations and the general public. The expectation is that they are the 'lead agency' for the sport of cycling but generally receive little financial contribution towards that role, other than from organisations like Sport NZ.
Also, in order to continue their success across the diverse high performance programme (road, track, mountain bike and BMX) each discipline needs a pathway of competitive events from club to regional to national. These events are heavily subsidised by Cycling NZ and are one of their key challenges in the next two years. Additionally there is demand for them to get involved in World Cup events, major road tours etc, from which they derive zero or negative financial benefit.
Facing up to challenges
In 2013 the organisation, then called Bike NZ, faced several challenges to its operating environment. These included:
loss of a major sponsor
the move to a new home in Cambridge
rapidly rising costs, including some associated with international events
The Board agreed to carry out a review to ensure the organisation got back onto a sound footing and could continue to support Kiwis participating and winning. The Review was carried out by Martin Jenkins.
Like Cycling New Zealand, Sport NZ has certainly taken learnings from the review, and we have continued to work closely with them to address the issues that were identified.
An independent and binding governance review has also been completed with recommendations now being implemented and Sport NZ has provided support over the medium term to develop and implement a governance development programme.
In the 18 months since the review was completed several critical changes have occurred in response to the recommendations made, including the:
appointment of a new Chief Executive in March 2014
appointment of a new Chairman.
development of a new strategy, based around high performance and athlete development, creating sustainable competitive pathways and community cycling to grow the sport
Cycling NZ is now also reaping the benefits of its new home at the Avantidrome in Cambridge. The synergies offered by this new facility are helping move the whole business forward.
Sport NZ and High Performance Sport New Zealand (HPSNZ) continue to support and invest in the capability development of Cycling NZ at governance and operational levels, as well as Cycling's development and high performance work.
Cycling continues to deliver results:
At the Glasgow Commonwealth Games in 2014 the cycling programme showcased the disciplines of Mountain Bike, Road and Track, including four Para-Sport events. New Zealand riders won a total of 15 medals, including six gold medals.
At the UCI (International Cycling Association) Track Cycling World Championships earlier this year New Zealand cyclists won four medals (one gold, two silver and one bronze) and are on track to meet their 2016 Rio Olympic targets. The gold medal was won in the men's 4000m team pursuit, the first time in its history that New Zealand has won this event.
In December Cycling NZ will host a UCI track cycling World Cup at the Avantidrome in Cambridge
The value of reviews
When organisations undertake reviews, they often share and discuss them with Sport NZ as part of our partnership. Reviews often include frank opinion given in confidence, which is necessary for a sport to really understand the challenges. They can also include information about sponsors and finances which is commercially sensitive. For this reason Sport NZ sometimes has grounds to withhold information.
In the case of the Bike NZ review, the circumstances around the organisation have changed significantly for the better, and as such we are now making the review publically available so that learnings can be shared with others in the sector.
Download
pdf - 574 KB