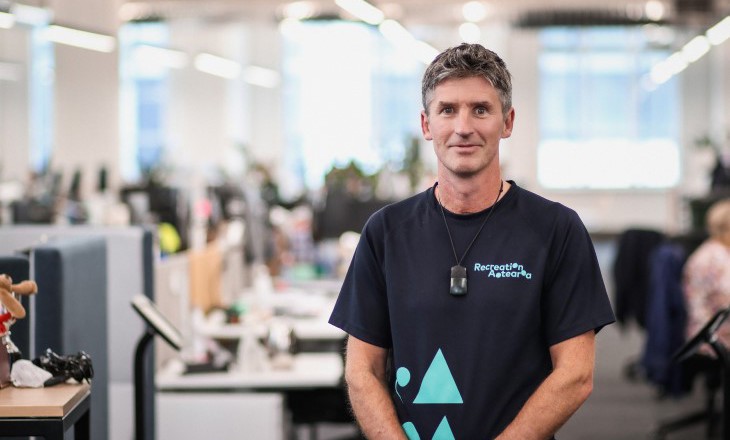 Hailing from Palmerston North, this year's recipient of the C.K Doig Leadership Award, Andrew Leslie, has enjoyed a long career history working in the recreational facilities and services industry. Holding a Bachelor of Physical Education, and a Bachelor of Arts in English Literature, he focused his education on Sport and Recreation while studying at the University of Otago.
He is known for his commitment to innovation as a leader, and this trait is clear in his unique approach to the development of people within the recreation environment. He spearheaded the initial vision of the Atua Matua programme, an initiative dedicated to learning from the environment, and recreation in Aotearoa, from a Maori perspective.
He has also driven the development of a bi-cultural strategic plan for Recreation Aotearoa. Launched in 2020, the plan was developed in consultation with Te Kāhui Kura and uses the concept of a Waka Hourua as the vehicle for the bi-cultural approach. The strategy is now central to the organisation, extending from Board level to day to day applications such as the Outdoor Activity Fund. He has also been a key driver in gaining the certification for Recreation Aotearoa as a CarbonZero Certified Organisation.
Navigating through the COVID-19 pandemic in 2020 was hard enough for most. However for this individual, it showed just how resilience can be personified. As the country moved into national lockdown, he was seriously injured in a mountain bike accident and found himself in ICU where he was told he would never walk again. Determined to prove the diagnosis wrong, after four months in rehab, he not only walked, but learned to run and bike again. It is a testament to his leadership style that in his absence, the staff of his organisation were able to lead the organisation through the difficult and troubled times.
Since his accident, has been instrumental in helping the Department of Conservation to make tracks more accessible for disabled people - an example of his selfless passion to ensuring more people can be physically active in the way they choose.
He is the number one cheerleader of his three teenage daughters and can regularly be found around the Hutt Valley assisting at their various activities, which have seen him volunteering for the Riversdale Surf Club and on the sideline assisting with synchronised swimming, adventure racing and ballet. As a keen mountain biker and trail runner himself, he has championed active recreation opportunities for all New Zealanders.