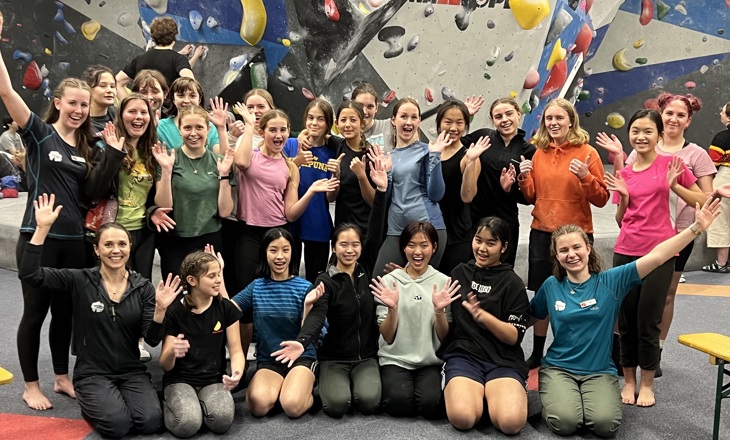 An Auckland climbing programme inspired by Sport New Zealand's It's My Move campaign is proving a hit with high school-age kōhine.
15-year-old Kaipara College student Shearne Coers is among a cohort of young women in Auckland, learning bouldering through the She Climbs programme at climbing center, Northern Rocks.
After trying her hands at bouldering for the first time, she has gone on to achieve great heights.
Shearne says the Northern Rocks She Climbs programme has given her the confidence to enter a college bouldering competition and represent her school.
"It's really cool to have a programme specifically for girls and our age group and outside of climbing it's given me confidence to try new things.
"I signed up to try a new sport, get fit and meet new people. I have got stronger and more confident with climbing and challenging myself, and I have made some really good friends," she says.
Founder and director Sarah Hay says She Climbs was launched in response to a gap in the community, particularly among young women in high school.
"We recognised the potential barriers and stereotypes that might deter young women from getting involved in climbing, such as the perception that it's intimidating, male-dominated, or requires significant strength," says Sarah.
The programme runs every Friday during the school term and, thanks to Tū Manawa Active Aotearoa funding through Harbour Sport, it's completely free.
"We wanted to entice young women with lots going on in their lives to come and try a new sport they may have never heard of, in a new environment, and where financial barriers don't exist," says Sarah.
Just over a year since the programme began, She Climbs is breaking down stereotypes and barriers, promoting inclusivity in climbing, and providing a supportive environment for young women to engage in the sport, under the guidance of experienced female coaches.
"Their comments speak for themselves, like 'I get to make friends with other people, do sports comfortably, and I don't feel judged' or 'it's a friendly environment, an opportunity to make new friends and become more confident'."
Some girls are now participating in the Auckland college climbing series, have taken up memberships and are climbing outdoors.
"It's one thing to aim to have particular outcomes but to hear that the girls really are having fun, achieving their goals, building confidence, enjoying bouldering, making new friends, developing their movement and technique skills and more, is a real pleasure for our coaches and our team."
She Climbs also encourages a participant-led approach to give young women like Shearne a chance to contribute to the programme's development and structure.
Surveys and regular conversations are conducted to gather their thoughts, preferences, and suggestions. The feedback allows coaches to understand participants' needs and areas of interest.
Setting their own goals and having input into warm-up activities is designed to shape the programme's content and direction, ensuring it aligns with their aspirations.
"This approach not only fosters a sense of ownership and independence among the young women but also ensures that the programme remains responsive to their evolving needs and interests," says Sarah.
"It strikes a balance between structured coaching and self-directed learning, allowing them to excel in indoor climbing while receiving valuable support and guidance from experienced coaches."