Coach Developers often work for National Sport Organisations and Regional Sport Organisations who deliver and facilitate coaching workshops and courses. 

Coach and athlete development continuum
It is useful to understand where Coach Developers sit along the continuum of coach and athlete development. We all understand that coaches work with and develop athletes. There are also people who develop coaches (Coach Developers), and people who train coach developers (Trainers). In some systems there may even be Master Trainers who train the Trainers.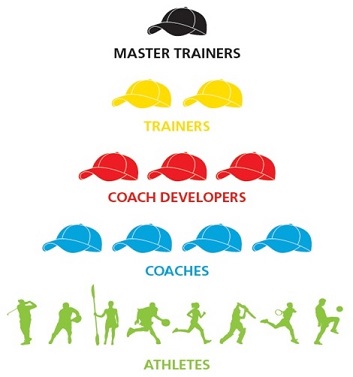 Having these different roles identified and understood helps ensure that the specific support and development requirements of each role are met, which in turn strengthens the coach development system. 
Coach Developers play a crucial role in the initial formal training of coaches as well as in the way coaches are developed, supported and nurtured on the job. 
Resources and tools for coach developers
Coach developers toolkit

Develop a coaching pathway

Each NSO must develop a high-quality coaching system to support its participants and athletes. 

NSO Programme Development Guide (DOC 119KB)

A step-by-step guide to creating or improving coaching systems. 

Coach Development Framework (PDF 278KB)

How to create a coach education framework, athlete characteristics and needs at different stages of development. The framework aligns with the updated NZ Coaching Strategy and the Community Sport and High Performance Coaching Plans. 

Learn from peers.
Sports can also learn from the coaching systems of other sports. Many have developed a one- or two-page Coach Development Framework outlining their coach development pathway and a Coaching Plan that sets out how they will deliver their framework. Refer to their websites for examples. 

Coach development programme guidelines