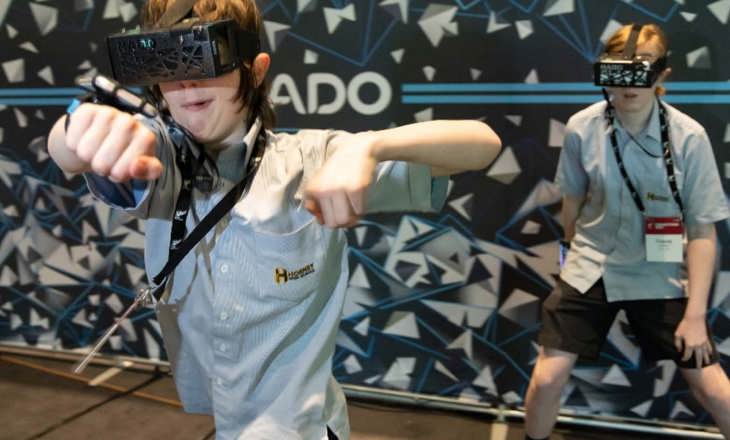 Ever sat on the couch watching a test cricketer get bowled by a pie, or a Major League baseballer strike out, and thought: 'I could do better than that'?
Soon you might just get that chance – without even leaving the lounge.
Sports broadcast animation pioneer Sir Ian Taylor isn't one to miss an opportunity when it stares him in the face. So when he spied NZ Esports Federation's virtual reality display at Sport NZ's Connections 2022 conference in Christchurch, Sir Ian immediately saw the potential to harness the power of the raw data his company, Animation Research Limited, receives from some of the biggest sporting events on the planet.
It will soon be possible, he believes, to take the data from, say, a ball delivered at a cricket test match at the Basin Reserve or a Major League Baseball game in Los Angeles, and send it to a virtual reality set in real time, giving gamers a chance to try to smash the ball themselves.
Such technology could provide gamers with the chance to virtually experience elite professional sport, pretty much as it is happening.
"Our guys are always moving at the forefront [of animation and data use] but now we have found somebody who is actually doing it [virtual reality] we can just collaborate," Sir Ian said of his plans to hook up with NZ Esports after the conference.
Such a partnership, which would come with access to Animation Research's global sports industry business networks, would provide a massive boost to a fledgling organisation such as NZ Esports.
"I'm going to talk to [NZ Esports Federation] and see if we can get together and see what those opportunities are," Sir Ian said. "It is really quite clear that what they are doing and what we are doing will have a place [together].
His message will be: "You guys are way down the track there, we'll bring this [access to the data] so why don't we just work together? Then we'll take you to those global markets that perhaps it would be a lot more difficult for them to do."
NZ Esports attended the conference to demonstrate the technology employed in competitive gaming to an audience largely made up of traditional sports administrators.
It was a chance to correct some of the misconceptions around esports – such as that it is antisocial and results in a sedentary, unhealthy lifestyle.
"It's a chance for us to show all the sports sector what Esports really is," said Jonathan Jansen, chief executive of the NZ Esports Federation.
"I think people have a misconception or preconception at the very least of what Esports is. And that it can be you know, you're by yourself, you're isolated in a dark room where you play games.
"It's actually very social, usually.
"The number one reason why people participate in Esports is because there's a sense of belonging, of having found their tribe."
"Sometimes people have different circumstances which stopped them finding their tribe within a sport. But Esports is a lower barrier or a lower point of entry where you can engage with the community and feel confident - confident you're safe. You may end up becoming a manager or coach or supporter. Not necessarily part of the first team. But you're in it, you're in the club."
With outcomes in Esports contests – be they soccer matches or first-person shooter games - decided by fractions of seconds, elite athletes tended to be fit, healthy and mentally strong.
"All of our E-Blacks (NZ national representatives] are in great shape," says Jansen. "Because your mind is the very first thing to suffer when you have poor physical condition. And you need to perform mentally on the day.
"We're exploring mental potential with Esports. If you eat poorly and you sleep poorly, if you play too much, you do badly and you cannot compete.
"You can't react as fast, you can't think as fast, you can't make quick decisions, and you lose. The most important high-performance factor within Esports is wellbeing - physical wellbeing and mental wellbeing."