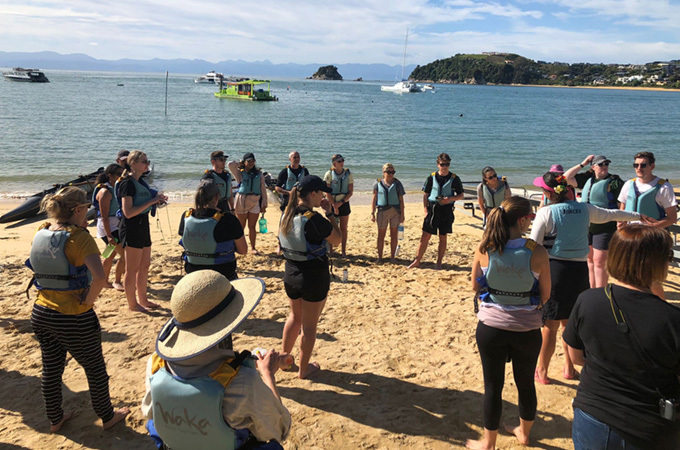 A group of staff from Regional Sports Trusts focusing on getting rangatahi active have gained valuable insights from a conference in Nelson. 
The active recreation network, made up of Regional Sports Trust staff, met in person for the very first time at the Recreation Aotearoa Conference, a hui for recreation professionals held in Whakatū/Nelson recently. 
The network has been established as part of the active recreation for rangatahi focus in Sport NZ's strategic plan 2020-2024 to address the drop off in physical activity levels in that age group. 
"It gave the network an opportunity to meet others within the sector, but also gave us a chance to all meet and connect, as for most of us these are relatively new roles," says Sport NZ active recreation implementation consultant Chloe Bishop. 
"I feel like we're at the beginning of our journey in the active recreation space. The conference was so inspiring that heading into the New Year it's given us some tools to help create and support those active experiences for young people." 
As part of the conference, Sport Tasman hosted a field trip for the network to share what staff had learnt working with rangatahi in the outdoors. 
The field trip included a waka paddle courtesy of Waka Abel Tasman.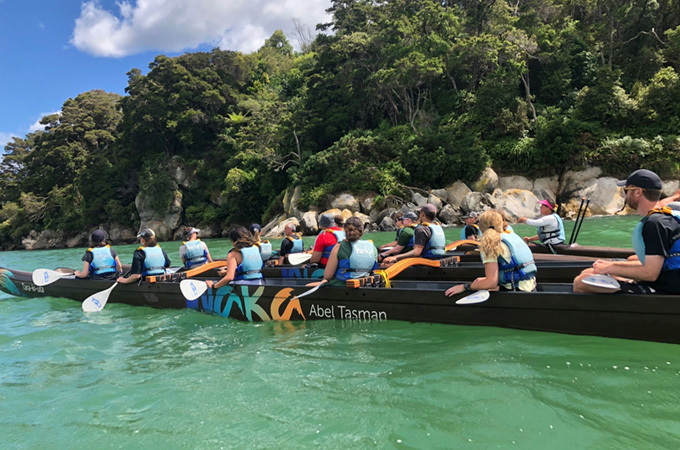 "Being out on the waka was really powerful. It brought home the value of active recreation, cultural connectedness and showcased the strength of partnerships," says Chloe. 
"It highlighted how regions can tap into local knowledge and expertise and strengthen and support what's already there to promote active recreation and work with young people to create good experiences." 
Chloe says the waka paddle has laid strong foundations for the active recreation network, which  will further the sharing of ideas and solidify connections going forward. 
The additional $3.6m in funding that has gone to Regional Sports Trusts to help supercharge active recreation work in their regions was mostly used to hire new staff. 
Chloe says these new hires are united in their common cause, having met their peers from across the motu. 
"This is a diverse group of humans with many different backgrounds and strengths but we are all super passionate about getting more young people active," she says. 
Sport Northland secondary school connector Juicee Brown calls herself a "newbie" to the sector.  
She now can't wait to put her new-found knowledge from the conference into practice. 
"I am Māori but I'm not fluent in Te reo Māori, so I'm on a personal journey with tikanga and this conference is the first I've been to where they've engaged in tikanga and what it could look like in everyday life," says Juicee. 
"I work with about five kura kaupapa and the expectation is that we are fluent in Te reo Māori, but this new knowledge of what tikanga can look like in our work space has shown me a new way to build our relationships with them." 
At the Recreation Aotearoa Conference Juicee attended workshops in the te ao Māori space.  
She says these have given her ways to better connect with kura kaupapa and further increased her motivation to continue growing her knowledge base.  
"I'm really excited to build those relationships with our schools and use tikanga and mātauranga to connect with rangatahi and provide them with those active recreation opportunities."