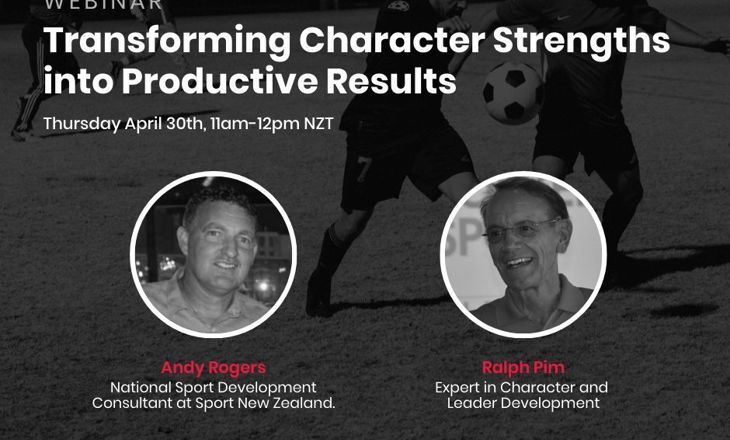 A webinar series to support the New Zealand coaching whanau.
The Covid-19 pandemic has had a huge impact on youth sport in New Zealand, and the ability to coach and remain connected to athletes has been a new challenge for most. Through connection, collaboration and innovative ideas we can embrace the challenging times ahead and find opportunities to grow ourselves as coaches.
This is why Sport NZ has teamed up with some of the top coaches and leaders in coach development from around New Zealand and the world to bring you a webinar series called 'Connecting Coaches'. The series will discuss a range of different topics, and give you the chance to ask your own questions.


TRANSFORMING CHARACTER STRENGTHS INTO PRODUCTIVE RESULTS
The first in the series, 'Transforming character strengths into productive results' was hosted by Andy Rogers (National Sport Development Consultant at Sport NZ) with guest speaker Dr Ralph Pim (a global expert in character and leader development through sport) on Thursday 30 April at 11am (NZT).
The webinar will help you to understand:
Character strengths and social-emotional skills and why they're important in developing athletes
What the most important character components are that lead to success and wellbeing
Strategies to convert these into productive behaviours, no matter what the situation is.
To watch the recording, click here.


COACHES RETURNING TO PLAY
The second in the series, 'Coaches returning to play' is being hosted by Andy Rogers (National Sport Development Consultant at Sport NZ) with guest speakers Sharon Kearney (NetballSmart Programme Manager at Netball NZ), Dan Keepa (National Coach Education Manager at NZ Rugby League) and Dan Stamp (sport psychologist and the founder of Ultimate Performance) on Wednesday 3 June at 7.30pm (NZT).
The webinar will help you to understand:
How coaches can best support athlete's and young people's psychological, mental and social wellbeing needs as they return to sport post lockdown.
What elements of strength and conditioning (specifically injury prevention) are important for coaches to consider so that they can best support young people and athletes as they return to sport after a significant break.
Key questions that coaches need to be asking themselves and their organisations so that they understand what a safe coaching environment looks like (and their role in supporting/creating this environment) in the COVID-19 context.
To find out more visit balanceisbetter.org.nz
To be the first to hear about upcoming Connecting Coaches webinars, sign up to the Balance is Better website. On this website you'll also find a mix of articles, video interviews and the latest advice for coaches from specialists and trusted sources.