Elette Fleming, proud mum to two of New Zealand's exciting young BMX talents Zoe and Jayden Fleming, reflects on the importance of being a supportive parent and, above all, giving our kids life skills.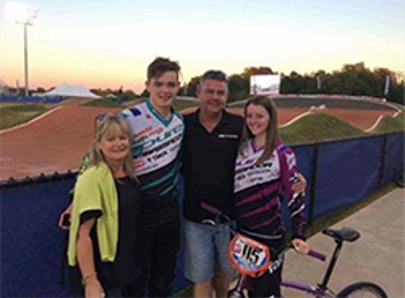 Elette remembers the day her life took a new course. "Jayden was at primary school and came home with this piece of paper. 'Come along to East City BMX,' it said. 'First night free'.  The first night was free, Elette says, but the note failed to mention everything from that night on would change their family life forever!
When your children discover a sport they love - when they start doing really well and keep loving their sport and at a young age become internationally competitive high performance athletes - what is your role as a parent?   
Elette says she and husband Andrew are the support crew.
"We've never pushed them. There's been no bribery. No 'if you finish in the top eight we'll buy you a new bike.'  Rather we've said, 'whatever you want to do, dream it, make a plan and believe in yourself to achieve it. If there's something you need, then ask and we will always be there'."
For Elette and Andrew, being crew involves everything from travelling the world supporting Zoe and Jayden when they are competing, to being courier drivers collecting sponsors' products. Above all, Elette says, it's about giving them life skills.
"Jayden was seriously injured last year, weeks out from the Grand Nationals, the USA's biggest race meeting. His wrist required 17 pieces of metalware during a nine-hour operation and he was understandably devastated."
"'Time to make a new plan,' we said, and he spent his recuperation at the gym, training hard to keep his legs going. He came out faster and better."
Being crew also includes helping Zoe and Jayden think about life after BMX, which is as important as helping them get reader to race.
"It's a young person's sport at the highest level," says Elette. "Zoe's currently in the USA on a full racing scholarship. Jayden's been offered this too, but we talked about it and he decided he should finish Year 13 first."
"It's always their decision, but we're there to help them think it through."
One of Elette's messages to other parents is to utilise everything you're offered. 
"The Sport New Zealand 'Pathway to Podium' programme is absolutely fantastic. For Zoe and Jayden, this helped them realise there are other kids out there just like them, doing all the training and nutrition and so on, and that they weren't different after all."
"And I've learned so much from it too. Everything from the drug testing workshop to the sports psychology. Oh, and look after the sponsors!