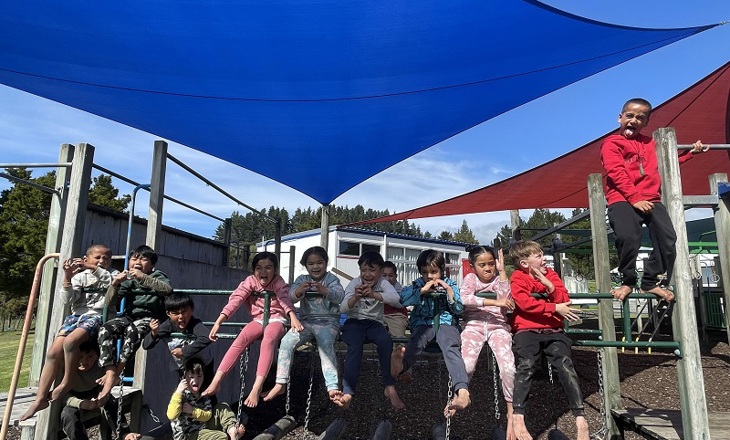 Kaiako at the rural kura He Puna Ruku Mātauranga o Whangaruru in Northland has been on a six-year journey to embed tākaro (play) into its teaching and learning – for the hauora (wellbeing) of their tamariki. 
Guided by the values and tikanga of the coastal iwi of Ngātiwai, the kura, which is three years into its transition to a full immersion reo Māori kura (Māori language school), aims to immerse their tamariki in the rich learning opportunities that their environment has to offer. 
Play through a te ao Māori (Māori world view) lens offers a strengths-based approach, grounded in mātauranga Māori (Māori knowledge). Through understanding the benefits and value of tākaro, the kaiako knew that introducing it to the kura was the right thing to do.  
"Our tākaro journey started years ago with Whaea Bernessa in the junior school. She began adding tākaro in her classroom and built up a loose parts collection using rauemi (resources) from op shops and the ngahere (bush or forest), and things around the kura," says Whaea Jessie Patch (Ngāpuhi), Kaiako ki Whenua.  
When Whaea Jessie joined the kura, with a focus on teaching te reo Māori, she wanted to create an environment for tamariki to feel comfortable enough to take risks and move beyond their comfort zones and realised tākaro was the key to doing this.  
"We want tamariki to be curious risk-takers, who are socially and emotionally ready for whatever life throws at them. We knew tākaro could help us achieve that. Tākaro is now embedded in our strategic plan and we are starting to see the fruits of Whaea Bernessa's curiosity, some six years ago," says Whaea Jessie. "Te ao o te tākaro (the world of play) is our favourite ao!" 
Embedding tākaro throughout the whole day allows tamariki to experience the physical, spiritual, and social benefits of play with te reo Māori me ōna tikanga (Māori language and customs) as a core focus. 
The small kura takes pride in making time to connect as a whole kura as often as possible and aims to have school-wide tākaro at least once a week. 
Support from Sport Northland's Healthy Active Learning team and the Tū Manawa Fund has meant the kura has been able to buy resources to tautoko (support) tamariki to move out of their comfort zone and encourage them to be active in their play.  
"We now have a good variety of rauemi and taputapu (equipment) that can be used in many different ways, so it doesn't matter if it's raining, hailing, or a hot sunny day, or whether the marama (moon) is high or low. We have the resources to set up quality play opportunities and learning experiences for our tamariki, across all levels," says Whaea Jessie. 
"It's so wonderful to see the big kids still interested in things like drama and roleplay while also showing manaakitanga to our pēpi (babies) by including them in whatever they come up with." 
As for how other kura can incorporate tākaro into their everyday programmes, Whaea Jessie encourages kaiako to spark their curiosity.  
"Tākaro doesn't have to look a certain way. You have classrooms full of experts to help guide you, so take their lead. Let them play! Collect resources from the ngahere, loose parts, blocks, dress-ups, pieces of timber. Tamariki will create magic out of anything so don't sweat the small stuff. The real fruits come when the tamariki are in complete self-led tākaro. They think up things we wouldn't even dare to!"