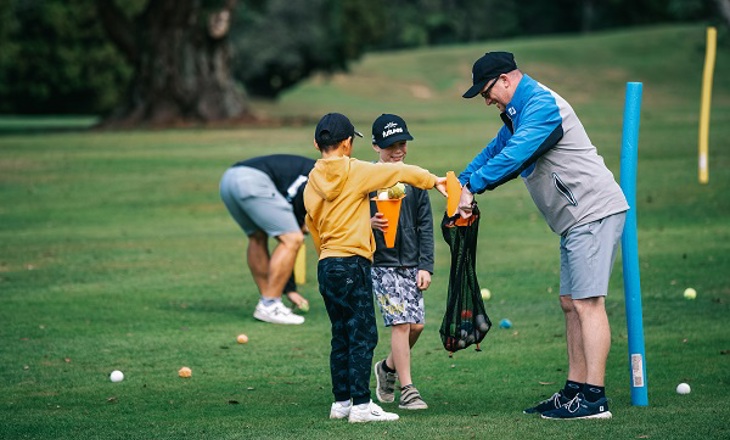 More than 122,000 New Zealanders are members of golf clubs and their experiences and relationships with these clubs are key to the sport's success. To meet the changing needs of members and grow the game, Golf New Zealand (Golf NZ) recognised the need to better understand the motivations and attitudes of its members and how they experience different interaction across their clubs.
This case study shows how Golf NZ uses insights from Sport NZ's nationwide participant survey –Voice of the Participant (also known as the Club member experience survey) – to help its clubs better understand their participants' membership journeys and work to continually improve the club experience.
The importance of insights
As the governing body for golf in Aotearoa, Golf NZ is responsible for leading, growing, and supporting the game. Golf NZ wants to ensure that everyone who engages with its sport enjoys their entire membership, beginning with a positive registration experience. When people have a better club experience, they are more likely to continue playing and advocate for their club – and enjoy a long and happy relationship with the sport.
Through continually improving its members' club experience and supporting them to have positive interactions as they start, learn, and transition to play golf regularly, Golf NZ aims to engage and retain more people in golf.
Key to developing a healthy and robust network of golf clubs and supporting the future demand for golf in New Zealand is being able to draw on sound information and member experience insights. In understanding this, Golf NZ uses Sport NZ's Voice of the Participant survey to support its clubs to increase and retain an engaged membership.
Voice of the Participant
Voice of the Participant allows Golf NZ to capture, interpret and use sport membership survey data to help better understand players' experiences at a club level. The survey looks at the behaviours, attitudes, and needs of members across all interactions with their club and sport-specific data is provided to all participating sports. By sharing this with its clubs and sector stakeholders, Golf NZ has enabled them to use this evidence to help them shape and improve the experiences they provide for their participants.
Golf NZ has taken part in the survey three times (2017, 2019 and 2021), with more than 6,000 members surveyed.
Measuring success
The insights gained from repeating the survey allow Golf NZ to measure like-against-like, track change and identify trends. For example, the 2017 survey identified 48% of golf club members that joined in the previous 12 months were satisfied with the joining process, compared to 69% in 2019 and 75% in the most recent survey.
Golf NZ also engages with clubs and uses clubs' local data, insights and feedback, to help measure success, and has helped its clubs to implement their own Net Promoter Score measures on a more frequent basis (for members and visitors).
The process to turn insights into action
While Golf NZ understood that with the right information it could empower golf clubs to make positive changes, it was clear that the sheer volume of data could be overwhelming.
To help clubs use the survey data easily and 'bring it to life', one of the first steps Golf NZ took was to distil the information, with a focus on key themes. It customised the data to ensure it was relevant to a club's goals and local environments and presented it in simple, digestible formats.
Understanding that people are busy and consume information in different ways, Golf NZ published the data in different formats, such as infographics, videos, reports, and in workshops to help communicate the data to a wide audience.
Golf NZ shared the simplified information in a range of ways and communicated the insights to clubs through both digital and physical channels, including:
magazine articles
summary research
one-on-one opportunities with Golf NZ team members
internal workshops
individual club results
Golf NZ also provided practical support for clubs through Regional Support Managers and team members who could use their local knowledge and create plans that reflected local needs.
Challenges
A major challenge for Golf NZ was to make the research relevant and accessible to its stakeholders, so clubs could take the right actions from the information provided. Golf NZ didn't want to overwhelm its clubs with too much information or be unclear about what was most important.
To help solve this challenge, Golf NZ considered the local context. From gaining a better understanding of the levels of people and resources across golf clubs, it adapted messaging to suit its different audiences.
Summary of key steps
Refining the information
Identifying themes and key messages, tailored to different audiences
Communicating across multiple channels
Providing practical support.
Lessons learned
By giving clubs more knowledge and understanding about their own members' experience, clubs can develop and explore their own membership opportunities more confidently.
Feedback from clubs show that using the research and insights has led to increased participation, increased quality of experience and increased engagement of its members.
Insights have also led to Golf NZ using digital solutions to enhance the customer journey, impacting both new golfers and the existing community of golfers.
One club identified that traditional membership and participation models were changing with new members wanting better communication and a more open and inclusive club culture. These insights guided the club to introduce a new membership engagement role to connect with the community, enhance member communications, engage sponsors and organise events. The club also developed a better club website for members and introduced personalised communications to encourage engagement and build direct relationships with club members.
Shaping strategy and approaches
Golf NZ has also learnt that the qualitative information helps guide its key messaging. Collecting the information across different levels – national and local – has allowed Golf NZ to identify key themes, convey key messaging and weave in strategic outcomes.           
Golf NZ also uses insights to inform and shape their initiatives and strategies with a focus on belonging in the club environment. So far this has included:
• Disability Golf Plan
• Futures (5–18-year-olds) Plan
• Flexiclub for Casual Golfers
• Recruitment and Retention toolkit.
The insights and data have also been used to map out different approaches across the membership journey to increase engagement, continue and retain membership, ensure members enjoy the journey and improve their experience and quality of life.
Summary
The insights captured by Voice of the Participant have given Golf NZ a clearer understanding about how members experience their golf clubs and helped to identify areas where interactions could be improved.
The process included taking all the information and data and customising the insights for their clubs.
Simplifying the data and communicating it with their clubs across a variety of channels has allowed clubs to interpret the data more easily, ensuring it isn't read just once and then disregarded, but instead used to influence change through board and committee members.
The clubs using the insights to inform their initiatives are experiencing positive outcomes with increased participation, increased quality of experience and increased engagement with their members.
Golf NZ acknowledges this journey isn't complete but knows already that through using insights it is supporting the sector to understand how they can create quality experiences for their members and, importantly, allow more people to enjoy a long and happy relationship with golf.