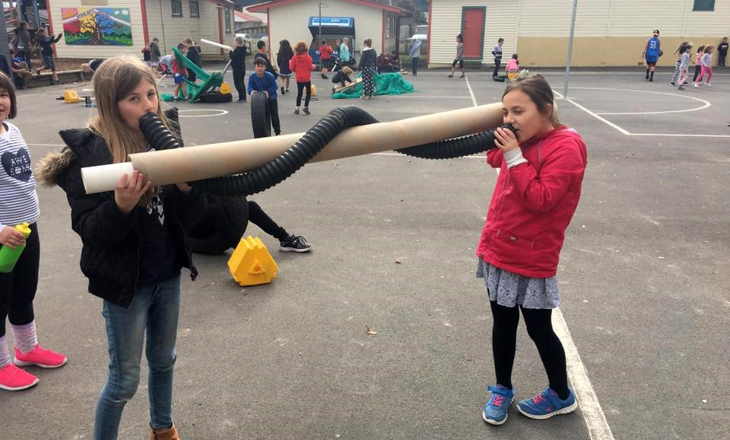 A new process for play that involves 'pods' full of 'loose parts' is delivering an enriched learning opportunity for schools in the Wellington region.
Upper Hutt Play.sport Activator Apanui Heemi introduced the pods – trailers full of pieces of surplus equipment -  to Plateau School at the end of term two, a further three schools (Upper Hutt, Pinehaven and Maoribank) in term three, and Trentham School this term.
The loose parts are sourced from the local community and include anything from keyboards, cable reels, chairs, cargo nets and boxes through to wheels, wood, pipes, rope and pallets – a veritable "treasure chest" that encourages kids to play creatively, use their imaginations and energy, make new friends and discover and develop social and cognitive skills, Apanui says.
"Children use the parts to create their own play, and it has been amazing to see what they create and how they interact with each other. We'll often see children who don't usually play together creating things together and having really great interactions."
The pods have been introduced as another way for teachers to use physical activity – whether it be sport, PE or play – as a learning context.
"For example one school found that children weren't treating the loose parts with respect, so they're developing lessons around respect, which is great. Another example of cross curriculum teaching is having the children write stories about who they played with and what they created using the pod."
Once a pod is placed in to a school, the school decides who uses it and how, Apa explains. It may be open to the whole school, or over split days between juniors, seniors or syndicates of classes; or only available at certain times such as breaks or lunchtime.
The idea is based on scrapstore play pods in the UK, which are based on the Theory of Loose Parts. The theory advocates that the more loose elements in a play space that a child can pick up, move and manipulate the more playful interaction they can achieve, and if children have access to a range of materials which have no defined purpose, they will access a wider range of play types and be more inventive in the ways, and in what and with who, they play.
Research in the UK has confirmed that a wide range of activities and play experiences for children during school hours can have huge benefits – including happier children who, in turn, become more engaged, responsive and interactive with each other and the world around them, Apa says.
"I wanted to be able to provide our schools in Upper Hutt with an opportunity to see if loose parts could benefit them in the same way," Apa says.
Sport NZ Play Consultant Scott Mackenzie says play is vital in ensuring young people have the best possible start in life and a crucial part of their physical, cognitive social/emotional and spiritual development.  As with at home and in the community, it's important that kids have access to rich and varied playful experiences at school, and the pods are a great way of doing this he says.
"The pods encourage play at its best – they're a chance to be physically active, be creative, connect socially, build understanding of the physical environment and be challenged physically and cognitively - all while experiencing the fun, joy and laugher that comes with play that has limited or no adult involvement."
Reflections and observations from the schools so far indicate the pods are a winner: 
"When the kids finished playing with the play pod at lunchtime, they came in from their break and really get stuck into their learning." Maoribank School teacher
"So cool!! Was awesome to watch the younger ones observe what the older children did with the loose parts and then see how their play changed after observing." Plateau Primary School teacher
"Amazing to see just how creative the kids got with their inventions/loved seeing every year group get so involved and caught up in a creative whirl!" Plateau Primary School teacher
"Great to see both older and younger kids observing each other and then taking each other's ideas and changing them to suit their play. Also children on their own being engaged with loose parts entering their own world of imagination." Plateau Primary School teacher
"Children absolutely love the pod – it has encouraged creativity from our students, and has promoted collaboration, vocabulary and language as the students experiment with the equipment." Trentham School teacher
On Universal Children's Day, 20 November, Sport NZ launched a set of Play Principles. Read the media release to learn more.