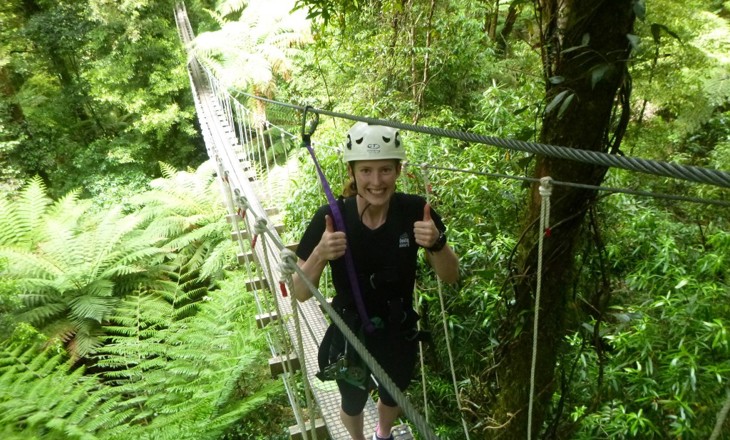 Graduate Programme 2018-2019 
Kia ora, my name is Maddi McLean and I was on the Sport NZ Graduate Programme from 2018-2019. I studied a Bachelor of Physical Education at the University of Otago, and graduated with First Class Honours in Sport and Exercise Science. I have always had a passion for sport and active recreation, and have a strong background in hockey and a love for giving any activity a go. 
I was attracted by the numerous opportunities for learning and development on offer, including networking and gaining experience from a government, national and regional perspective. Highlights from my time at Sport NZ include my involvement in the development of the Women and Girls in Sport and Active Recreation Strategy and organising the inaugural Graduate Forum. The opportunity to develop my Maori Cultural Capability and attending an Outward Bound Professional Course were also of significant value. 
During my two years on the Graduate Programme I also spent time with Athletics NZ, Sport Waikato, Sport Wellington and Wellington City Council and valued working in different teams and across different projects, as well as engaging with the community. These experiences helped me to develop a broad skillset and gave me a unique insight into the strategic and operational workings of each organisation. After completing the Graduate Programme I joined Golf New Zealand as their Participation Programmes Coordinator, to help shape the future participation growth of golf in NZ, and then moved into the Young People Participation Manager role, leading the development and implementation of the Futures strategy for young people. I am currently the Women and Girls Lead at Sport NZ, where I have reconnected with the work that I was first exposed to as a Graduate.
The Graduate Programme has enabled me to develop a strong network of friends, mentors, and supporters across Aotearoa. These networks have not only supported me as a Graduate but have connected me with a number of extra-curricular opportunities for personal and professional development. For example, I took up the opportunity to develop my knowledge of good governance through a series of workshops and then gained practical experience by interning on the Board of a Regional Sports Organisation. I then became Co-Chair of The Shift Foundation, supporting important mahi that aims to improve young women's wellbeing. 
I highly recommend the Sport NZ Graduate Programme because it is a fantastic way to experience how the New Zealand sport sector operates, as well as enabling you to be supported in your learning and development towards becoming a future leader.