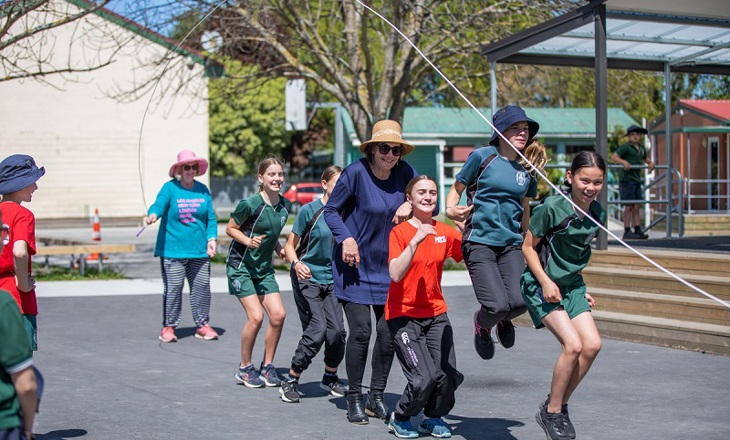 Our Lady of the Assumption is one of over 900 schools across the motu being supported to transform its approach to physical activity. Its journey has seen the school make the most of other funding and resources available through Sport New Zealand to create an environment that is more holistic and inclusive for all ākonga.
Visit Our Lady of the Assumption, a year 1-8 special character school in Ōtautahi Christchurch, and you can expect to see ākonga walking around on stilts and bouncing on moonhoppers at lunchtime, teachers learning marching routines as part of their professional learning and development (PLD), and a whole school, student-led and designed Commonwealth games complete with tug-of-war and soaked-sponge races.
"We were getting a variety of students from different backgrounds and so their background in physical activity and PE is different as well. We were dynamic and changing and needed to think of ways to address that," says principal Janet Cummings.
Sport Canterbury's Healthy Active Learning team has supported the school to make the change. The local Regional Sports Trust facilitated staff PLD, introduced resources such as MoveWell, ran leadership workshops for the school's physical activity student leaders (PALs), and supported the school to strengthen its connections to its local community, including local sport and physical activity providers. 
For lead PE teacher Bridget Grant, it has helped teachers, ākonga, and whānau expand their understanding of what being active can look like at school. 
"It doesn't just have to be that we are going for five laps of the field and then doing 10 star jumps. There are so many different things you can do." 
Thanks to Tū Manawa funding, the school also introduced a play pod to help ākonga engage in unstructured free play. Co-designed with PALs it comes out every break time and features stilts, moonhoppers and, in Bridget's words, "big construction things".   
"Play is so important for their development – and its incidental exercise. Sometimes they don't even realise they are exercising, or doing PE, or doing a sport. They are just enjoying themselves moving," she says. 
Isla, who is eight years old, is a big fan of the play pod, saying, "I like bouncing on the moonhoppers because I like bouncing on the field."
Tū Manawa has also supported the school to increase and diversify the sport opportunities available to ākonga. In addition to traditional offerings like hockey, football and netball, ākonga have travelled to their local gymnastics club Olympia – that also provided the school with a trailer of gymnastics equipment. 
Healthy Active Learning facilitator Vicki Cowley then provided teachers with PLD to support teaching gymnastics in the classroom. 
There is also handball, golf, volleyball, and marching – all delivered on school grounds by teachers or in the local community. 
Janet says the increased range of opportunities is giving more ākonga an opportunity to shine. 
"We were surprised by one of the young boys who led the marching team. If we hadn't given him that opportunity, we would never have known that he had those skills." 
Physical activity is also now embedded in the strategic plan and there is an understanding across the school of the connection between physical activity, mental wellbeing, and learning. 
"We are all reading from the same page, we are all singing from the same song sheet, we all value this for our tamariki," says Bridget.
Bridget, as lead teacher, has worked especially closely with Vicki. The model means Bridget can reach out to Vicki for support when she needs it and her team then cater to the unique needs of the teachers, students and school.  
"She's been an amazing resource," Bridget says. "She's taught us to trust and value ourselves and know that actually we can do this." 
Vicki says the model allows change to come from within the school – ensuring it is sustainable and reflects the values of students and teachers.
"It's the questions and conversations that the staff are having with each other – I just provide them with the platform for them to have those conversations to see what they want to do and what they want to achieve."
Versions of this story were originally published in the Education Gazette and AKO.