Please note this content has now been added to the Archives.
It is available for reference purposes but otherwise neither maintained nor updated.
If you require an accessible version please contact info@sportnz.org.nz.
How Sport Bay of Plenty improved the way sports clubs and regional sports organisations contributed to council plans.
The 'I'm in a hurry so give it to me at a glance' version
Going back a few years, sports clubs and RSOs used to rock up to the Tauranga City Council (TCC) to make submissions to council plans. They did so without considering how other sporting bodies were doing the same thing, and without thinking about the bigger picture.
Needless to say, this wasn't the best way of operating. So Sport Bay of Plenty (Sport BOP) set about making changes for the better and now things hum along really well.
Interested in what they did to improve the situation? Let's lift the hood and have a look ...
Diagram 1 below shows the way things used to be. Sports clubs (eg A and B) and RSOs (eg D) would all make individual submissions to TCC. They wouldn't consider what their regional and/or national bodies thought and wouldn't think of trying to align with their sport's broader direction and plans. Sometimes these individual submissions from different clubs and sports even covered the same sort of ground. Other times they contradicted each other or tried to put other codes down.
You can see how things didn't look great from TCC's perspective - not only did it mean a constant knock on the door by different sport and recreation groups, but it gave the impression of a disjointed sector.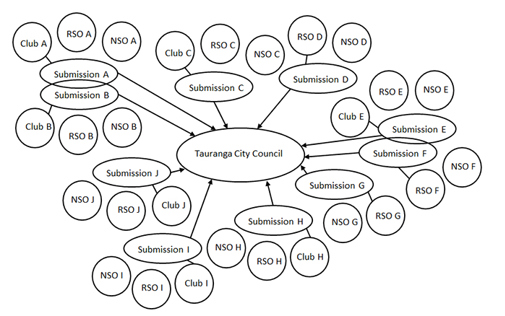 Diagram 2 below shows how things are done these days.
Sport BOP engages with 10 key sport and recreation organisations in the region to coordinate annual submissions to TCC. Once consultation is complete and thoughts have been collated, Sport BOP writes the submissions so they're consistent and aligned, and then contacts respective NSOs and Sport NZ to make sure everyone is on the same page. If submissions overlap they're consolidated, and on the odd occasion where they aren't supported universally, they're omitted.
All 10 parties and Sport BOP present together to TCC on their written submissions. By working collaboratively sport and recreation has a much more powerful voice and a much stronger proposition with which to seek favourable outcomes from TCC. And guess what? - It works!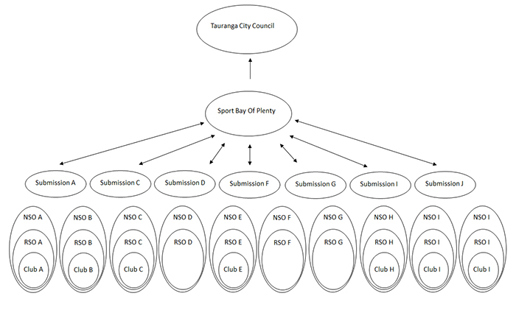 The 'I'm waiting for a plane so give me a bit more detail' version
The key steps Sport BOP took to improve sport and recreation submissions to TCC:
Education
Leadership
Coordination
Consistency
Teamwork
Education
Four years ago Sport BOP got the ball rolling by educating clubs and RSOs about council processes. At the time, the sports also tended to be a bit of a reactive bunch, so Sport BOP also provided guidance to encourage more proactive and forward focused thinking.
As an example, instead of a football club approaching TCC to say that the lights at its training facility were poor, they were encouraged to first engage with the Waikato Bay of Plenty Football Federation. They could then better understand the Federation's objectives and work together regarding any facility improvements for the club, and how they would fit within the wider vision for the zone. As well as Federation level engagement, national body engagement also occurred to ensure alignment with New Zealand Football.
Part of the education process also applied to TCC. By presenting to the chamber of councillors as a collective group, TCC was able to better appreciate the significance of the sport and recreation sector to the region and the cumulative effect of the positive impact sport has on its residents.
Leadership
Through dialogue and gradually awakening the sport and recreation community to the power of a collaborative approach to submissions, Sport BOP was able to step in to lead the process. The benefits of doing so include:
Joining the dots between submissions by the various codes and showing how they align to the bigger picture for sport and recreation in the region.
Adding further value as things have progressed over time from being mainly about advocacy to a focus on influence.
Spotting if intended submissions by different parties cover the same topic and removing duplication in any of the submission back stories.
Identifying whether a proposed submission wouldn't quite work with the others, and if so, working to omit it from the collective submission. In such cases, as well as being part of the collective submission, a sport may choose to put in a supplementary submission, with Sport BOP helping to get it in the best shape possible.
Coordination
Despite a few hard yards, Sport BOP provides the service of coordinating the submissions process, which is managed by the organisation's Sport Manager, Megan Cleverley.Megan says the gain of a more powerful, collaborative submission far outweighs the pain of the extra time and effort it takes to bring the whole thing together. Here's an overview of the process she follows each year.
Overview of the process Megan follows each year.

| | |
| --- | --- |
| Ongoing | Sport BOP staff and Megan keep their ears to the ground about what clubs and RSOs intend to make submissions on. |
| Early Feb | Megan does the rounds of the 10 regional sport and recreation CEOs Sport BOP partners with for submissions, to find out what's on the wish list. Sport BOP might also find out about an intended submission, or be approached directly, by a club. Rather than putting up the shutters and sending the club straight to its RSO, Sport BOP will engage with the club as well as contacting the RSO to bring it into the mix. |
| Feb/Mar | Megan, in consultation with the '10', works through what will make the final cut and will start drafting the submissions. The draft submissions are then circulated for approval. Once approved at a regional level, they're then sent to the respective NSOs and Sport NZ for alignment and endorsement. |
| Apr | A single written submissions document is sent to TCC by Sport BOP on behalf of the 10. |
| May | Verbal submissions (to the written submissions) are made to the chamber of councillors and invited TCC staff. Sport BOP and 10 key sport and recreation organisations present collectively. |
Consistency
Sport BOP not only coordinates the development of sport and recreation submissions to TCC, but writes them all as well.
Consistency in style and tone further helps to present the sector as unified, with a single voice. It also means TCC receives something in their language and something that's been stripped back to be as concise as possible with an executive summary up front - TCC doesn't want to receive a novel for each submission and frankly doesn't have time to read a huge stack of paperwork.
Teamwork
By its very nature, team sport is all about people working together to achieve a common goal. It's intrinsic to sport and seen by Sport BOP as a competitive advantage for the sports sector, while others might operate in relative isolation of each other. And Sport BOP makes sure it harnesses this teamwork mentality and collective goodwill.
"You can't undervalue that discussion between sports and where they all fit in. And even if a submission doesn't work and council don't like it, the sports have worked together and got to know other things. It often provides a platform for ongoing conversations and for other opportunities to fall out of that," says Megan.
Wrap up
As leaders of sport and recreation in the Bay of Plenty, Sport BOP identified an opportunity to improve the way submissions were made to TCC by clubs and RSOs. And there can be no argument that the situation now is heaps better than before.
The way improvements to submissions were made to TCC by clubs and RSOs.

Situation before

Situation now

Uncoordinated, individual approaches
Small-world view
Reactive
Inefficient
Inconsistent
Ineffective

A unified, centrally coordinated collective approach
Holistic view
Proactive
Efficient
Consistent
Effective
If you're a RST or TA elsewhere in NZ and have any questions about the great work Sport BOP does in this space, they're more than happy to have a chat, so give them a buzz.