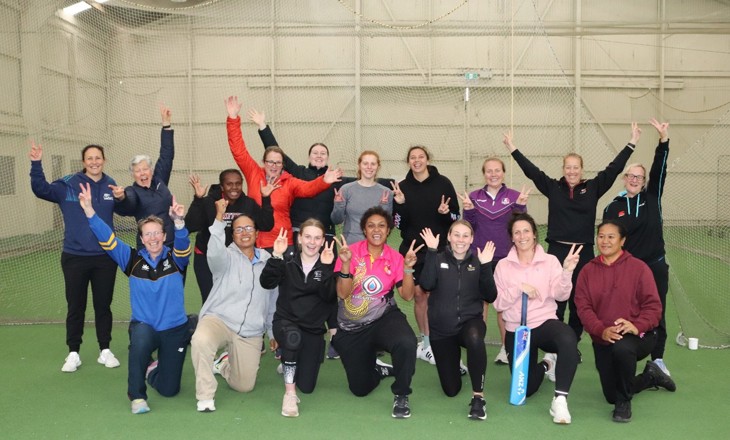 When Jess Davidson started work at Otago Cricket as their cricket development officer seven years ago, she was one of five females at the community cricket hui.
"If there were 60 staff from across the cricket network, I'd instantly search for the other four women in the room," she says.
"At our most recent community cricket hui in May, a large proportion of the people in that room were female. It's amazing to see in that short space of time the evolution in our workforce structure."
Much of that change has come out of the Female Leadership Development Framework (leadership framework), set up by NZ Cricket in 2021, with the aim of developing stronger female representation across the sport's workforce – especially in the areas of governance, administration, coaching and umpiring.
Davidson is a prime example of the leadership framework in action – she's now head of female engagement at NZ Cricket. "I've experienced firsthand the development opportunities that have been provided," she says. And now she's helping female coaches and umpires to make similar leaps and bounds.
NZ Cricket has been leading change for women and girls since they commissioned strategic consultant Sarah Beaman to write the Women & Cricket report in 2016. The report drew a worrying picture of decline in the women's game—only 6 percent of the 220 directors, from the NZ Cricket board through to Major and District Association boards, were female.
Beaman stressed that to have more girls and women participating on the cricket field, there needed to be more female involvement in leadership off the field.
NZ Cricket then established a partnership with Sport New Zealand through the Strengthen and Adapt programme to develop the leadership framework and tapped into the expertise of former NZ Cricket director Liz Dawson, aiming to replicate the success she had working on the Women in Cricket Governance project.
"The biggest advice I took from Liz is don't be afraid to put a target down and hold people accountable. Stop being fluffy about it," says cricket network transformation lead Nicole Dunn.
2023-24 Aspiring Female Umpire Programme Participants, Moth Sutherland-Tupp and Marise-Ann Fernandes, the on-field umpires for the Legends Cup match in Auckland
The leadership framework focuses on supporting the development of women already in cricket. With coaching and umpires, it's about providing a pathway from community to high performance cricket; in the cricket network's workforce, it's promoting leaders to senior leadership roles.
The success of the leadership framework is already obvious. Between 2016 and 2022, women in paid employment in cricket increased from 21 to 37 percent. NZ Cricket's senior leadership team now includes four women (there was one in 2016).
Two of the leadership framework's pivotal programmes are now in full swing.
The 10-month Pathway to Performance coaching programme involves helping 10 community cricket women coaches advance to head coach roles at the domestic level.
"They've got the ambition and skillset needed to transition to those [high] performance coaching roles. We're providing a taste, and some stepping stones, to enter those environments," Davidson says.
Take Kerry Tomlinson, for example. A graduate of the first Pathway to Performance programme, she was recently appointed head coach of the Samoan women's cricket team for the ICC Women's T20 World Cup East Asia-Pacific qualifying tournament. She was also player-coach of the Central Districts team at the inaugural Māori Wāhine National tournament in October.
"Pathway to Performance has also created a network of female coaches, because it's really important for these women to feel they belong and have like-minded individuals they can share challenges and successes with," Davidson says.
The Aspiring Female Umpire programme is in its third season, with 10 umpires in the current cohort. Of the four mentors, one is New Zealand umpiring trailblazer Kim Cotton – the first female in history to umpire a men's international match between two ICC full-member countries.
"It's really important to have female umpires officiating in both the female and male games," Davidson says, which is why the programme will be appointing reserve umpires to both women's and men's domestic fixtures starting this season.
The leadership framework focuses on every level of the female workforce within the cricket network – from high performance to community – and includes a contestable fund for locally-led initiatives run by associations, clubs and schools. Since 2020, 27 local initiatives have been supported through the fund.
"Last season Cricket Wellington and Central Districts Cricket ran a Women in Coaching initiative from the contestable fund, and now two of those women have joined the Pathway to Performance as the next step in their coaching journey," Davidson explains. "It's nice to see that flow-on effect."
It's vital, too, to show more young women the pathway to leadership roles in cricket. One way is through Yeah! Girls, the dedicated girls-only cricket programme, where more than 80 percent of the activators are female, with an average age of 22.
"It's amazing to see some of these young women now have full-time roles within their associations – joining district club boards and running women and girls working groups," Davidson says. "We need their ideas and skillsets as well, so they're adding so much value to these organisations."
Dunn is hopeful that over time, the leadership framework will no longer need to have female-only initiatives. But there's still some way to go in the journey towards increasing female involvement in cricket leadership and embedding change within organisations.
"Although we've made some great strides towards strengthening our overall workforce and having a much more equitable gender balance, females are still under-represented," Dunn says.
And while progress at national and regional levels can be celebrated, the next step is for that improvement in gender balance to filter down to club cricket.