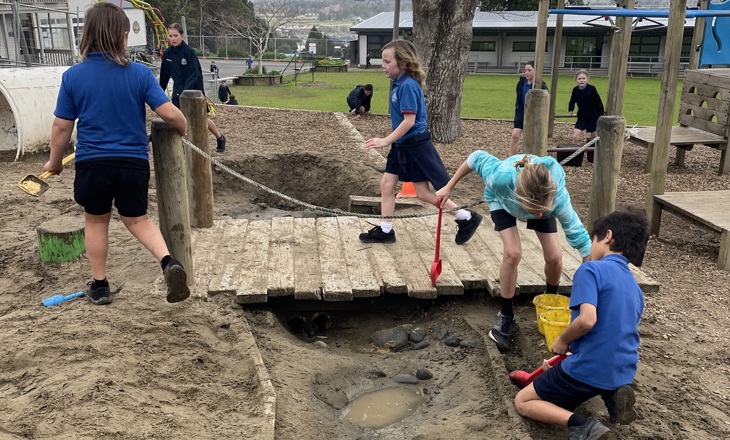 Tamariki at Helensville Primary School in Auckland are embracing new ways to play while also helping to improve their school surroundings.
One of 20 Healthy Active Learning schools in the Harbour Sport region, the school recently joined the Enviroschools network, an environmental action-based programme where young people are empowered to design and lead sustainability projects in their schools.
That combination has led to the creation of an Enviro Club that has seen students take on projects around the school grounds to both engage them in play and help the environment at the same time.
Inspired by brainstorming sessions with Harbour Sport Tamariki and Play Advisor Hannah Milne and Healthy Active Learning Community Connector Anthony Hyde, the group tapped into its creativity by designing and painting stencils around "dead areas" of school.
"We organised three sessions to kickstart the project. In the first, we focused on understanding what 'dead spaces' were within the school premises and how stencils could be a creative way to activate these areas," says Hannah.  
In the second session, the students engaged in a scoping and mapping exercise to identify specific locations where stencils could be effectively used. The third session saw the students bringing their designs to life through painting them.  
"We're continuously working to enhance the promotion of play through our club, and all 20 students from different year groups share a keen interest in environmental matters," says deputy principal Karen Holleron.   
"Together, they aim to raise awareness about the environment, promote sustainability, and encourage conservation practices within the school community."

 

 
Keen to get all students involved, the brainstorming sessions have produced other ideas that Karen says will take time to implement.
Students have made a start on a secret garden. Each tamaiti has designed and painted a stone for a pathway and some senior students will design and paint a sign for the garden, and in term four work will begin on a sensory area. There are plans to create a nature trail too, and two boys have taken it upon themselves to further develop the school's sandy play zone. They've spoken to their teacher for permission to spend any spare time outside and, as a result, have discovered the remnants of a water feature that went through the sandy play zone.   
"With help from our caretaker they have uncovered this over several weeks and got others involved to help them out," says Karen.   
"It has captured the whole school's interest as they watch it develop. The holes that have been made in the sand under the bridge also provided great paddling pools and excitement during all the rain!"   
The new tamariki-led club and the projects being undertaken are beginning to reveal young leaders like the boys involved with the water feature, says Karen.  
"I've watched them explaining to our younger children what they are doing and allowing others to help under their guidance," she says. 
That's the beauty of play initiatives in schools, says Hannah. They offer numerous benefits, including improved physical health, cognitive and social development, reduced stress, increased engagement, better academic performance, enhanced school community, behavioural support, life skills preparation, and inclusivity.   
"In the year since introducing my role, schools have increasingly recognised the importance of involving students in shaping their play experiences, fostering a tamariki-centred and inclusive environment that values their voices and perspectives," she says.  
"We recognise that rural schools, in particular, often face resource limitations due to their remote locations, resulting in fewer opportunities compared to suburban schools.   
"Through our collaboration, we've been able to help them access additional resources, innovative ideas, and funding streams to amplify their ability to promote play within the school," says Hannah. 
As Karen knows, children of all ages learn best through play. 
"This can be in many different forms but being part of a rural community, most of our children thrive from being outdoors. 
"Sadly, some children don't get these opportunities as much as they should and spend too much time inside and on devices. 
"Anything that gets them outdoors and active is helping them to develop their brains as well as keeping them active and fit."