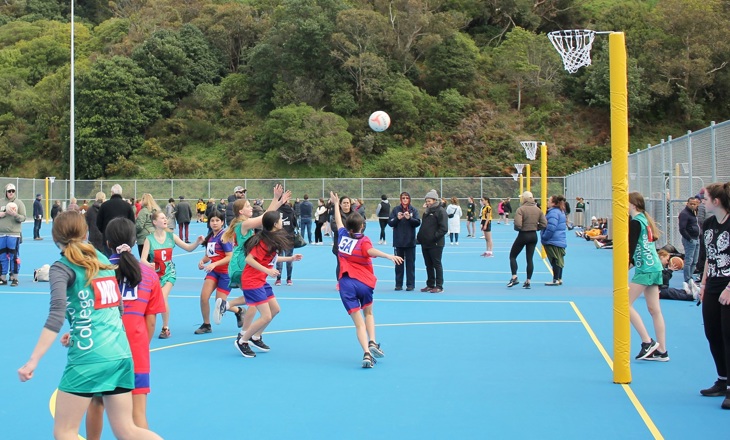 Building safer, more inclusive Netball communities through policy 
Creating safe and inclusive spaces on and off the court is allowing more tamariki and adults to play and support netball at the community level.  
Netball Wellington Centre Community Director Sue Geale says while safeguarding practices sit behind everything they do; she thought the organisation was as inclusive and supportive as it could be – that was until she and the organisation reflected on their current systems and policies.  
Sue says Sport NZ's policy templates from the Integrity Guidance Portal, and discussions with the Youth Advisory Group, were the catalyst for this work, which included looking at things like breastfeeding rooms for Mums and gender-neutral toilets.   
The organisation went through the templates and compared them to what they were currently doing at the time and figured out what changes were needed to ensure compliance with the policies.  
The policy templates were then adapted to fit their specific situation and audience.  
Since then, Sue and the team have brought about change on and off the court, using Sport NZ policies as an "organisational health checklist".   
"We thought we were inclusive and an organisation without barriers - making netball accessible to everyone by keeping costs down, rehoming netball shoes, allowing people to voluntarily work for rep fees but actually when we started talking, conversations came up that said we had work to do." 
Sue says asking the community what they wanted resulted in reversing a decision to create a breastfeeding room for women. 
"A high proportion of our members are Mums. We canvassed them on the side-line and what they said was they didn't want to have to feel like they needed to go to a separate room to breastfeed - as it is a natural thing to do - and being able to breastfeed where they were comfortable (courtside) was important," says Sue. 
Other changes that have come about through community voice is the relaxation of uniform rules – or perceived rules.  
"We had young netballers asking why they had to wear short skirts. They thought this was the rule, but clubs and schools could apply to register their uniform as shorts/skirts and tops or dresses. All we require is that they be in the same colours." 
Last year shorts were introduced to Collegiate three to five, and this year they will roll out to all Collegiates and senior grade women too.  
Sue says they just have to be part of their registered uniform. 
Other uniform changes have included working with uniform providers to offer a more extensive range of sizes. 
"We canvassed uniform suppliers to ask why they made dresses short for smaller sizes and long for larger sizes when there is no such thing as a standard size. It really sparked us to look deeper," says Sue.  
Sue is now working through the Sport NZ transgender guidelines for consideration at the community netball level.  
Although Sport NZ policies are a starting point, they need to be adapted to fit the specific needs of a code or organisation, says Sue.  
"Make sure you understand them so you can fully live them." 
Sue says the key to building and promoting inclusivity, diversity and safe spaces is asking members and players what it is they need, to really understand how to best support tamariki, rangatahi and adults to continue playing and supporting a code they love.   
Opening lines of communication 
Sport NZ Child Safeguarding Consultant Cameron Prestidge says this is a great example of an organisation really listening to its stakeholders and then taking action.  
"Part of building a safeguarding culture for organisations and their members, is ensuring the voices of all their stakeholders, including members and communities, are heard and at the centre of all decisions that affect them."  
Cameron says the flow-on effect of this is that the organisation is creating an environment where members, players, supporters or staff feel they can have a voice on all things to ensure the sport is safe for everyone.    
"By listening and applying the feedback from the members, Netball Wellington are opening up the lines of communication that are also used to raise concerns over the safety and well-being of themselves and others.  
"It helps members feel like they will be really listened to if they ever need to raise issues or concerns."