Watch a video version of this case study
Participation in sport and physical activity has many positive outcomes for individuals and communities, including improved health and wellbeing, bringing communities together, and contributing to the local economy.
However, ensuring an adequate supply of fit-for purpose sport and recreation facilities, and therefore enabling these benefits to be realised, is an ongoing challenge.
A clear regional strategy for sport facility development is often the first step. Securing the financial support to implement these strategies can be a hurdle, and something that is becoming increasingly difficult given increasing financial pressure on councils and other local bodies.
Sport Northland, in collaboration with the Northland Regional Council (NRC) and the three district councils (Kaipara, Far North, and Whangārei), came up with a unique approach to this challenge. This has enabled them to leverage a significant amount of funding dedicated to sporting facilities and resulted in more meaningful progress again their plan.
Introducing the Regional Sporting Facilities Rate
The Regional Sporting Facilities Rate (RSFR) is a council rate, collected across the Northland region, that contributes towards funding priority sporting facilities in each of the region's three district council areas.
The concept of a dedicated rate for sporting facilities first came about in 2008 for the Okara Park Stadium re-development in Whangārei. The need to upgrade the stadium coincided with a directive from central government to the NRC and the three district councils to work more collaboratively. Seeing an opportunity to achieve both of these objectives, the NRC developed a regional facility rate, which had the purpose of funding not only the upgrades required, but also development of future sporting facilities.
The original rate was for 10 years, and due to its success, the Northland Regional Council kept the rate as part of its 2018-28 Long Term Plan, ensuring priority sporting facility projects in the region continued to receive this valuable source of funding.
"The rate is hugely important for Northland and for getting the projects that we've seen, and the projects in the future, off the ground," says Stu Middleton, Spaces and Places Manager at Sport Northland.
"It allows facilities to be built that provide opportunities for Northlanders not only to participate in sport and recreation, but also around the social aspects of gathering together, interacting with each other, and feeling proud to be a Northlander."
Cameron Bell, CEO of the Northland Rugby Union, has seen the value of the RSFR first-hand. His organisation was able to secure the build of its brand-new home, which was completed in 2021 at Pohe Island, thanks to the rate.
"The reality for us is that if the fund wasn't there and available, we couldn't have completed the project. We simply couldn't have achieved it without the fund," he says.
How the Regional Sporting Facilities Rate works
The Northland Sports Facilities Plan, a collaborative effort between the NRC, the district councils, Sport Northland, and Sport New Zealand, identifies the highest priority sport facility projects based on agreed criteria. The rate is then allocated to ensure that those high priority projects can proceed with their next phase of seeking the necessary funding.
In this respect, the RSFR works as a form of seed funding, which projects can leverage to secure the additional funding required, often from funders outside the region, so they can be completed.
"The rate meant we knew confidently that we had a certain amount of money, so we could go to other funders and say, 'We've got this much, we need this much more'," says Arwen Page, Operations Manager at Bike Northland.
A region-wide impact
Since the inception of the RSFR, 10 sport facility projects have been completed throughout Northland. A total of $23 million was allocated from the RSFR for these projects, enabling more than $43 million to be leveraged from other sources, many of which are outside the Northland region, to complete the projects.
As of October 2023, six further projects are in the pipeline.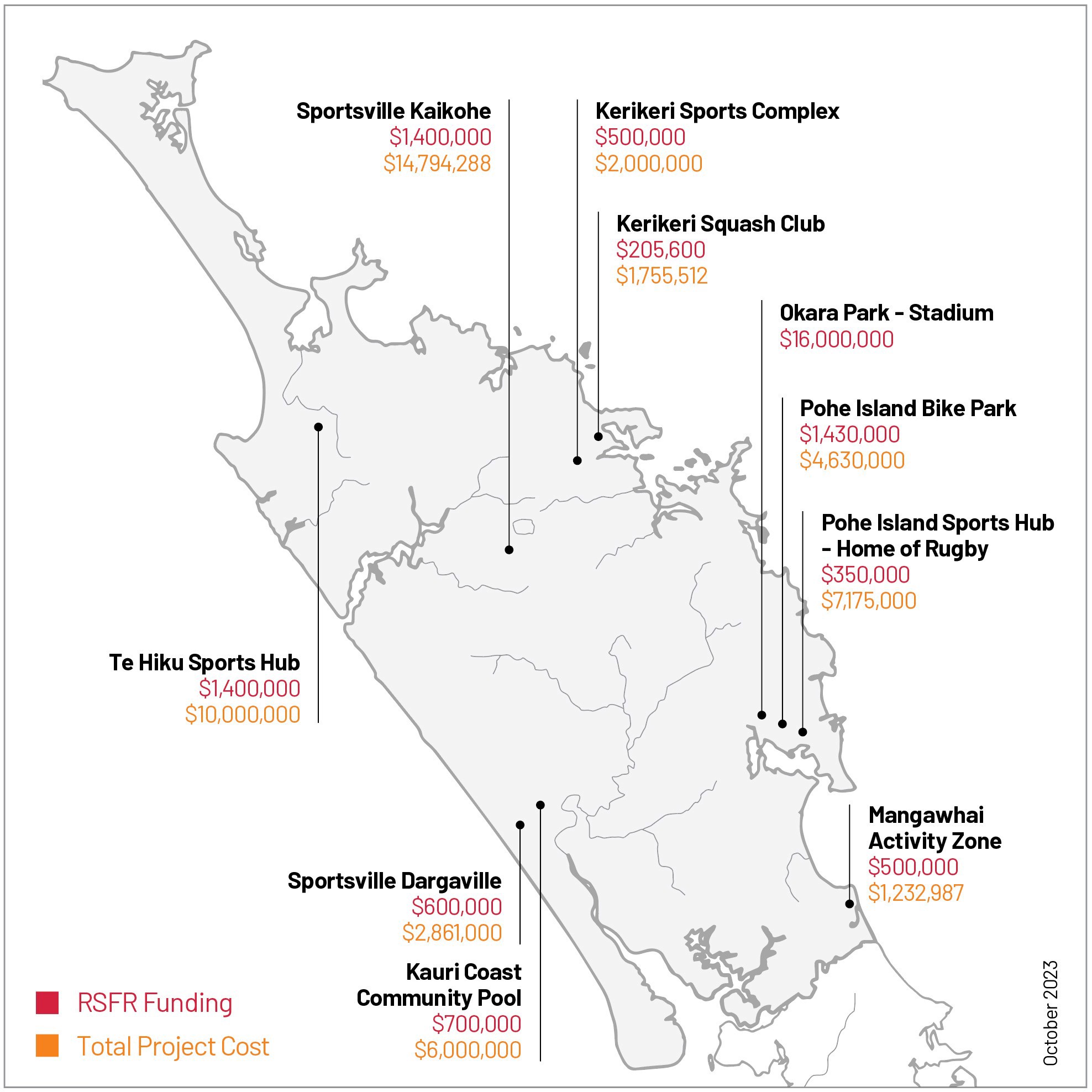 Map of facilities funded with RSFR support
The facilities that have been built with RSFR support span different sports, locations, and communities. These include the Northland Ruby Union's state-of-the-art home and the neighbouring Bike Park on Pohe Island, to the Te Hiku Sports Hub in Kaitaia and the Sportsville Dargaville complex.
"Without the Regional Sporting Facilities Rate, it's quite potential that the [Pohe Island] Bike Park wouldn't have happened," says Page.
Glenn McGovern, Spaces and Places Manager at Sport New Zealand, adds that "the rate has proven to be a catalyst for investment in high-priority sport facilities across Northland that otherwise may not have got off the ground".
"These facilities are benefitting many communities and are supporting tamariki and rangatahi to be active. This rate is invaluable and something that can be replicated in other parts of the motu to ensure equitable investment into recreation and sport facilities – and to help attract other funding. We commend Northland's innovative approach."
Communities - the big winners
A diverse range of users enjoy the Pohe Island Bike Park, from two year-olds on balance bikes to competitive cyclists using the criterium and pump race tracks, along with retirees on their e-bikes. Not only is it a popular spot for bike enthusiasts in Northland, but it is also used by clubs from Auckland – as there isn't a criterium track in the Auckland region.
Parafed Northland is another organisation that uses, and hugely appreciates, the Bike Park.
"If we didn't have this facility, Parafed Northland would have still been using the athletics track, which wasn't an ideal facility for our cycling programmes," says Anna Hewitt, Operations Manager at Parafed Northland.
"The athletics track was small and didn't create enough challenge and choice for our members."
The community benefits from these facilities go far beyond simply giving locals a place to play; some of the flow-on impacts shared by the community include:
Strengthening community bonds: One of the main benefits from having more facilities is the ability for local athletes to stay home in Northland and use the high-quality facilities on their doorstep, instead of having to base themselves further afield. "Northland athletes [in other areas] start wanting to come home, because they see that we have some of the best facilities in the country," says Bell.
Economic benefits: With a growing range of world-class facilities, Northland is able to host more events and tournaments – some of them being global events, such as the 2021 Women's Rugby World Cup. This brings in visitors from around New Zealand and the world who spend money on local hotels, restaurants, and other amenities.
Transforming and revitalising spaces: New sporting facilities can breathe new life into areas, turning previously unused spaces into attractive, safe, and accessible spots for the whole community. "[The Bike Park] was quite a derelict space beforehand; it was not somewhere you wanted to come with your family, so it's creating an atmosphere that's making you want to come here," says Page.
A "no-brainer" for other regions
Middleton is keenly aware of the positive impacts the RSFR has had not only on individuals' health and wellbeing, but also that of communities across the region, and urges other territorial authorities to think outside the box to fund sporting facility development.
"We know that sport and physical activity are great for people's wellbeing, and we want Northland to be a great place for people to live and to thrive. It's a no-brainer that other regions around New Zealand should be doing something similar in their own area," he says.
"We've seen some fantastic facilities put in place, and they very likely would not have been possible without the rate."