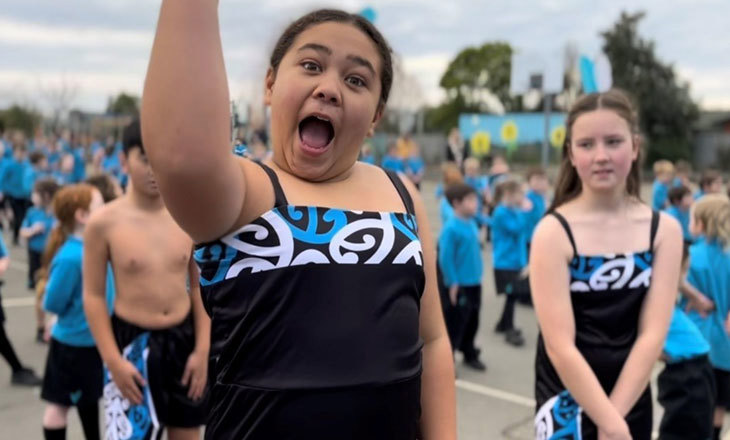 It started with pink dots popping up around the Sport Canterbury office.  
It was subtle at first. Little stickers appearing in bathrooms, or door handles, light switches, temperature controllers and seatbelts in cars. Then information would show up next to them, explaining things like: 'Door handles are generally at a height that suit men'. 
A 'pink dot' breakfast finally outlined the purpose of the pink dots – to highlight and increase awareness of day-to-day equity challenges in the Sport Canterbury workplace. And that, in turn, was part of the initial work done to create the organisation's Women and Girls Strategy. 
Sport Canterbury has taken an interesting approach to setting up their strategy to ensure more women and girls are engaged, valued and visible in all aspects of the play, active recreation and sport sector. 
Rather than rushing to push action plans on sports and regional sporting organisations, Sport Canterbury decided to lead by example and spent the first 12 months focusing inwards to work on their own approach to women and girls.  
"We needed to ensure our house was in order before reaching out to the sector," says Sport Canterbury CEO, Julyan Falloon. "So any good practice we've been able to develop, we can share." 

 
In September 2023, they were ready to publicly launch their four-year strategy, created to support change across three areas in the play, active recreation and sport sector in the Waitaha Te Tai Poutini region (Canterbury and the West Coast), after women and girls was identified as a priority population. 
Nikki Wortelboer, the former General Manager - Systems and Priority Populations at Sport Canterbury, had found gaps in what the organisation was doing for women and girls, especially around the lack of female CEOs in sports, fewer women coaches and officials, and the distinct drop-off in the number of teenage girls participating in Canterbury sport and active recreation. 
Nikki formed an internal working group made up of 15 staff members who identified three priority areas for Sport Canterbury: leadership; coaches, volunteers and officials; and participation. A subgroup was formed for each area to work on developing action plans, with the help of a series of workshops led by Healthy Families Ōtautahi. 
"It's all voluntary-based - no one's required to join our working groups. It's all based on interest, which means the commitment is there," says Megan Harlick, Sport Canterbury's Women and Girls Lead. "They decided they needed to develop a strategy that spoke to how women and girls were going to be represented, supported, profiled and empowered through the work Sport Canterbury was doing. They took time to ensure the right words and language were used and the intent of the words was critical." 
It was the leadership subgroup who came up with 'The Pink Dot Project' to raise awareness within the organisation around daily unintentional gender bias. "It certainly raised curiosity around the office," Falloon laughs. "The team did a great job of explaining the 'why' and starting conversations. It wasn't overbearing."   
That resulted in all the toilets at Sport Canterbury becoming gender neutral, all provided with period products and sanitary bins. 
Pink dots have already spread to other regional sports organisations, like the Selwyn Sports Trust. "We're developing the pink dot resource to sit on our website, explaining the kaupapa behind it and how we did it," Harlick says. 
There was also a gender pay gap review of Sport Canterbury carried out by human resource services provider MyHR. Falloon says the results are "really compelling - our female staff are paid equally, if not more than, men." 
The leadership subgroup also succeeded in getting the organisation to put a female lens over internal policies when they come up for review. "We noticed, for example, we didn't have a policy around menopause," says Harlick. "So if we're truly going to support women in the workplace, let's have a menopause policy." 
Promoting women in governance, coaching and officiating in the Waitaha Te Tai Poutini region is another area of importance in Sport Canterbury's Women and Girls Strategy.  
In 2023, women make up 55 percent of the paid workforce across sport in the region, but only 45 percent are in leadership positions and just 24 percent are coaches. 
"There's been growth since 2022, but we've still got work to do," Falloon says. "I've seen a huge difference in leadership within cricket and football, because there's so much opportunity for growth in participation in those sports. We'll work with those who are willing to engage and then think about those organisations that can have a significant impact and build from there." 
The number of women in governance roles across Canterbury sporting organisations is rising – on average, 44 percent of board members in regional sports organisations (RSOs) are female. The data was gleaned from an annual sport report card filled out by most Canterbury RSOs and carried out in co-operation with the Christchurch City Council. 
Sport NZ's policy requiring qualifying partners to have 40 percent self-identified women on their boards applies only to national sport organisations, however many regional sports organisations have done it off their own bat. 
"By making those decisions at Sport New Zealand level, it has rippled out to our regional organisations as well, which is really cool," Falloon says. Now the challenge is to get more women leading those boards.  
Sport Canterbury is creating a dedicated page for women and girls on their website to house all resources, projects, templates, and opportunities for education and professional development.  
"We're providing the opportunity to come to a one-stop shop that will be the portal for the sector," Harlick says.   
The strategy launch in September attracted around 150 people and showed a real appetite across the sector to do better for women and girls.  
"We're really lucky down here. Buy-in is not needed—they get it. They understand that with diversity comes strength," Harlick says.  
"They understand that with women around the table, there's a different way of thinking and doing things which provides alternative outcomes. Our sector is open to this."  
Read more about Sport Canterbury's Women and Girls Strategy here.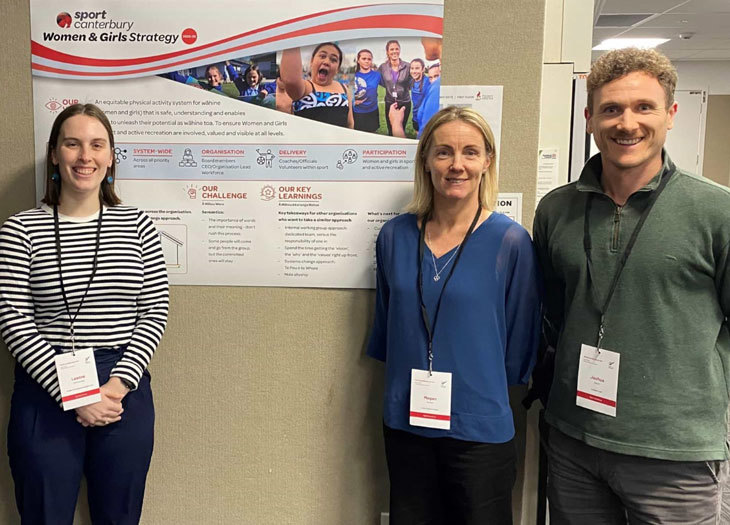 Sport Canterbury presented their Women and Girls Strategy at the Sport NZ Women and Girls Sector Hui in Auckland in July 2023. Left to right: Leanne Hammersley, Megan Harlick and Joshua Sprott.