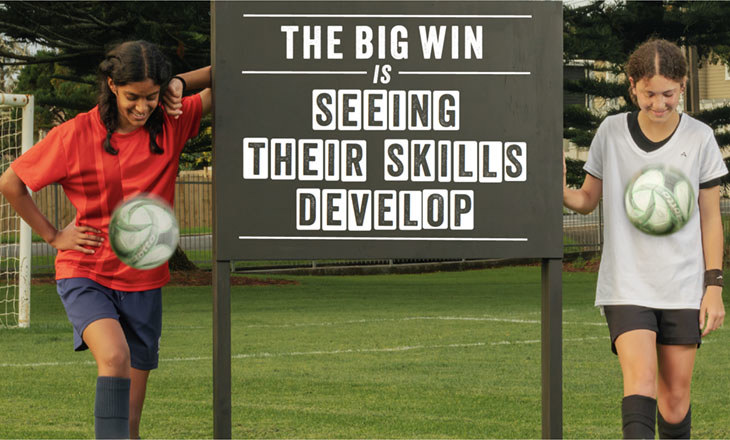 Winning gives us a huge buzz, but it's important to think about what winning actually is.  
In sport, winning is a lot more than just what's on the scoreboard. Sport plays a huge part in helping to develop physical and mental skills in young people, not just on the field but also off the field, in the classroom and through learning life skills. 
The research is there: participating in sport can have a positive effect on students' academic performance. Sport is a great way to teach all sorts of skills. Below are a few things for sport administrators, parents, and coaches in particular to remember when supporting young people in sport. 
Skill development for all 
It's one of the core principles behind the Balance is Better philosophy: that all young people should get the opportunity to play sport, regardless of their ability or motivations.  
We should remember that in supporting young people in sport – even those from within the same team – that rangatahi play sport for different reasons and have different levels of competency and skill. Some dream of becoming the next All Black or Silver Fern, while others just want to have fun or learn new things while staying active.  
We want all young people to have the same opportunity on a level playing field. It's about giving everyone in the team opportunities to develop, creating tailored goals and challenges depending on how each athlete wants to develop. This can sound hard, but the end goal is allowing each participant to understand and reach their own potential, and to essentially love sport for life. 
Incorporating life skills 
We know sport allows people to develop skills in their chosen sport, but one of the big wins is the opportunity for them to develop crucial life skills along the way. From teamwork and problem solving to discipline, resilience, and more, sport equips young people with the skills to set themselves up for life. 
A study involving sport-based interventions for youth at risk found that sport taught valuable skills they could apply to their lives, including managing emotions, goal setting, and seeking help from others. Whether you're a coach, parent, manager, or supporter, we all have an important role to play here in encouraging participants to think beyond sport. Another Canadian study, a football coach's philosophy of "building relationships and involving student-athletes in decision making" helped the players learn skills such as initiative, respect, teamwork, and leadership – although these skills weren't directly taught. 
All in all, the big win is seeing their skills develop. Let's make sure young people take all the wins from sport. Learn more at https://balanceisbetter.org.nz/