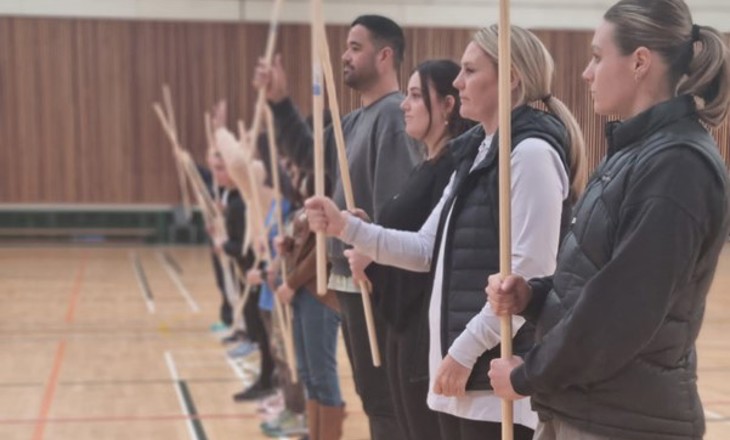 Sport Waitākere recently hosted a taonga tākaro (traditional Māori games) workshop which gave West Auckland's tamariki the opportunity to connect with Te Ao Māori through games and music.
The event, funded by Grassroots and supported by Mitre 10, saw 20 children and teachers from various West Auckland Schools come together under the expert guidance of wellbeing mātanga, Timi Tairi, and Shane McLean, an expert in taonga pūoro (traditional Māori instruments). 
Christian Curtis, Community Developer Lead at Sport Waitākere, said the day was a massive success and has the potential to positively impact over 10,000 West Auckland tamariki. 
"As well as enjoying the day's experience we hope the teachers and community members who attended will take the skills they learnt into their schools and community organisations," commented Christian.  "The sessions are delivered through a Te Ao Māori lens to deepen the understanding and always have the tamariki at the centre with a heavy emphasis on Te Whare Tapa Whā." 
Te Whare Tapa Whā is a health model, developed by leading Māori health advocate, Sir Mason Durie.  The model describes health and wellbeing as a wharenui/meeting house with four walls.  These walls represent taha wairua/spiritual wellbeing, taha hinengaro/mental and emotional wellbeing, taha tinana/physical wellbeing and taha whānau/family and social wellbeing. Our connection with the whenua/land forms the foundation.  When all things are in balance, we thrive.  When one or more of these is out of balance, our wellbeing is impacted. 
Mitre 10 donated rākau (sticks) for the workshop as well as 50 rākau for teachers to take back to their schools, ensuring the attendees can continue learning mau rākau in their school, community and at home.  
Rākau are the basis of Māori stick games which consist of rhythmic throwing and catching of sticks from person to person.  Traditionally boys and young men used this game to increase dexterity and alertness, while girls and young women used the game to increase their poi and dance skills. 
"We'd like to give a huge shout out to Mitre 10 for their donation and support of our tamariki to find a sense of belonging in their schools and community.  Together we have created a real sense of tūrangawaewae for West Auckland Māori tamariki," said Christian. 
Mitre 10 also went on to donate a further 30 rākau to Rutherford Primary and Rutherford High School to support their performance at the Te Atatū Kāhui Ako matariki event. 
This article first appeared at sportwaitakere.co.nz on 8 November 2023