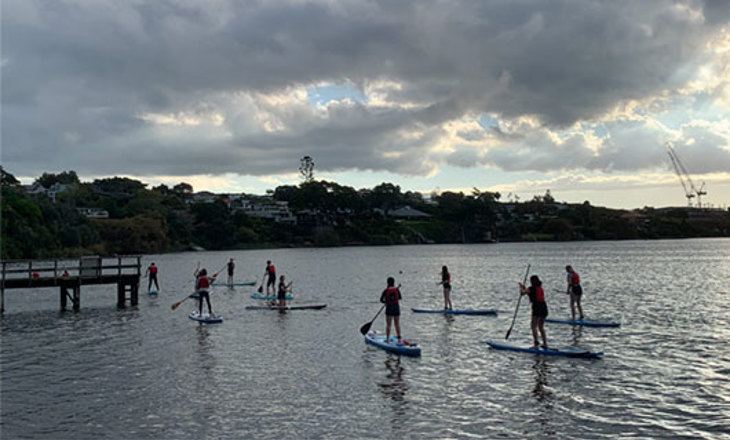 Case study: Hobsonville Point Secondary School
Sport NZ's Voice of Rangatahi (VoR) programme, undertaken for the past four years, provides secondary schools with a tool to survey students to understand their experiences of physical activity within the school setting. 
To support this, a VoR Insight to Action project was set up in 2020 to support Regional Sports Trusts and Regional Sports Directors to identify opportunities from the VoR data to improve physical activity experiences within the school setting.  
Having taken part, Hobsonville Point Secondary School in Auckland, with a role of around 710 students, now better understands the issues its students face around physical activity and wellbeing, with two key themes emerging: communication and confidence. 
Rosie Cordy, director of sport at Hobsonville Point, says that being able to access insights through VoR has provided an "aha moment" for the school. 
"When we asked our students for feedback, they came back with insights I never would have ever predicted."
Who was the target audience?
Information was gathered from the wider student body, with an emphasis on those currently not involved in sport or physical activity opportunities at the school. This included students who might be interested in formal sport but were not aware of the opportunities on offer.
What did the students say?
The way students experience physical activity within their school setting is shaped by access to information.
In surveys, several students commented on a lack of opportunities to try different sports. Lunchtime competitions and trials were not well attended, and low numbers turned up for Youth Week "have a go" events run by Sports Council.
The same students, however, admitted that opportunities at school may actually exist, and they simply didn't know what was happening.
"There isn't much opportunity compared to other schools, either that or they don't communicate it well enough," said a student.
What key activities did the pilot working group agree on?
The group took a three-pronged approach, with a focus on:
Improving communication and connectedness by implementing a variety of strategies (such as a newsletter and social media campaigns) to better inform students about new and existing leadership and participation opportunities in sport.
Encouraging new participants by planning a 'sports showcase' event. The school was interested in raising the profile of sport within the young school, which has fewer existing traditions than more established schools. The sports showcase would highlight top teams and a variety of experiences through an exchange with another local school. 
Focusing on student wellbeing and a variety of active recreation focused opportunities, for those who are currently inactive to try something new – for example, yoga, pilates, Zumba or boxing.
How did they set out to measure the success of the project?
Key school sport leaders helped measure the success of the project by using the following tools to gather data related to three key activities. 
Responses to newsletter survey and competition. To incentivise participation in the survey, everyone completing the survey went into a prize draw to win vouchers for the school cafe.
Spectator numbers during showcase event.
Survey results after each active recreation session provided during Wellbeing in Term 3.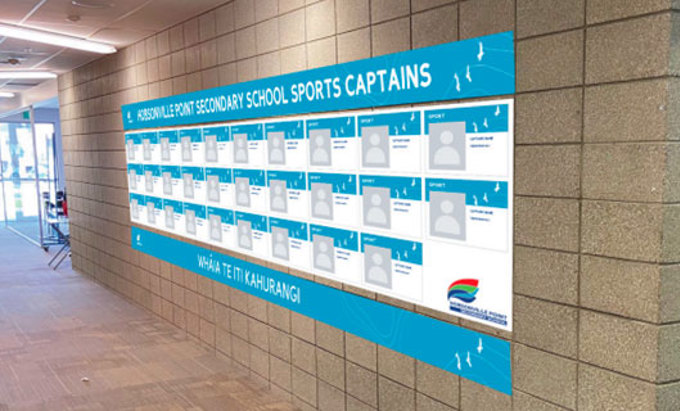 What were the major achievements through Voice of Rangatahi Insights to Action?
Improving communication and connectedness

The installation of a 'Captain's Wall' display in the corridor leading to the sports office shows the school's sports teams, sports leaders and achievements. It's an area which celebrates the school's sports leaders as role models, and recognises their contribution to school leadership, work to grow the sports progamme and legacies.

At the end of every year, each captain will take away their own plaque and quote about the importance of leadership.

The wall formalises and legitimises the place of sport and physical activity within the school and has encouraged rich conversation around leadership and what this means to the students involved.
Encouraging new participants

Students said that showcasing the school sports teams and sports leaders on the Captain's Wall encouraged more students to get involved in sports. Cordy says she expects the Captain's Wall will create a tradition that inspires younger students to engage with the sports programme.

While unfortunately the sport showcase was cancelled due to the impact of COVID-19 on events, the showcase aimed to also identify which students would choose to spectate and support the games, which would have provided insight into the students who were aware of and interested in sport.
Focusing on student wellbeing and confidence

Students responded positively to both the timing and variety of the wellbeing programme. Participation is expected to grow based on initial interest. 

Kickboxing and stand-up paddleboarding have formed the basis for the school's Tū Manawa funding application, so they can continue to offer these opportunities to students.

"I really enjoyed having the boxing opportunity as it was something that I wanted to try but didn't know how to get involved in. Although we only got one class in person before we went into lockdown, it was great that it continued as it helped me stay active in different ways during that period while also helping to boost my mood," said one student.

There are many examples of rangatahi growing confidence, including one student who has trained as a Zumba instructor, taking full classes on his own. He is on the path to earn his instructor's certification. 

"This has been a massive boost to his self-confidence and sense of belonging within the school. He is also an amazing advocate for the activity and works really hard to encourage other students to get involved - many of these students are disengaged with physical activity. Furthermore, this student can now help us to offer this activity in a sustainable way, without needing to pay an outside instructor to come in and deliver sessions for our students," said Cordy.

Cordy says that by providing opportunities the students were specifically looking for, buy-in was much better. She also emphasises the very important role that students can have as advocates, breaking down barriers, getting messages out there and promoting opportunities to their peers.

"It grows leadership and all of those soft skills that we want to encourage," Cordy adds.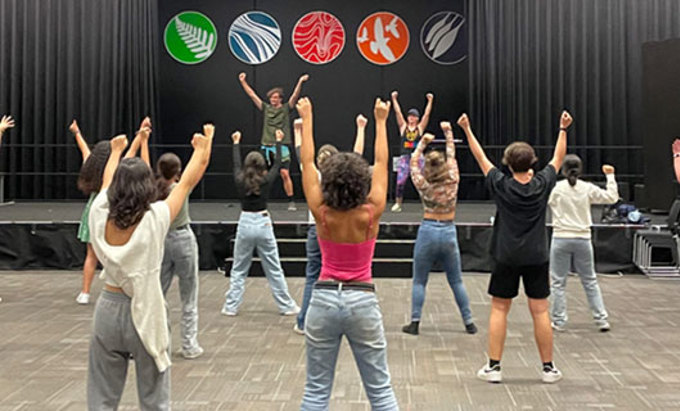 What next?
Building on the school's evaluation of the project, it will put in place new monitoring and evaluation processes to help measure increases in participation that correspond to new initiatives. 
Two students are driving this action process as part of their independent impact project. The Director of Sport will have an overall quality control role and ensure that all initiatives are undertaken with the Hobsonville Point Secondary School values and habits at the core. 
The school remains committed to redoing VoR.
Find out more about Voice of Rangatahi