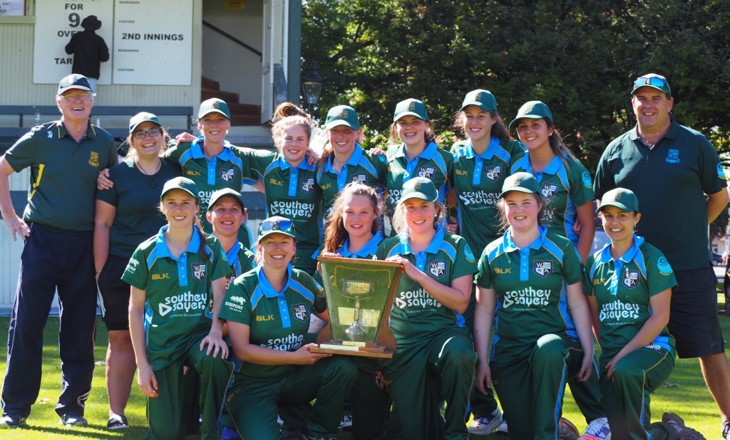 The Wairarapa Korus pictured with the Copeman Challenge Trophy after defeating Hawke's Bay by 113 runs.
We've now transitioned into winter sport, but there remains in the Wairarapa a strong sense of satisfaction and excitement about what's happening in girls' and women's cricket.
Registered female player numbers have increased tenfold in four years, from a meagre 30 to more than 300 now playing regularly in school and club competitions.
But this is not merely a story of increased participation - it's also about sporting success. The Wairarapa, with a total population of just 43,000, is now knocking over the bigger centres in Hawke's Bay, Taranaki and Manawatu with more and more regularity.
Wairarapa's latest success saw St Mary's School from Carterton, with a roll in double figures, crowned Central Districts champions after a comfortable nine-wicket victory over Taradale in the final. They will now play in the NZ Cricket Primary Girls Shield Finals in Christchurch this November.
At the other end of the spectrum, after an absence of more than 10 years, Wairarapa resurrected their senior women's representative side.  In just their third game they snatched the Copeman Challenge Trophy from a Hawke's Bay outfit which had not lost for more than four years.
Many of the Wairarapa team are teenagers who only took up the game about the same time that Hawke's Bay last tasted defeat, and their rapid progress was demonstrated once again when they secured the Central Districts U18 Twenty20 title in January.
One of New Zealand Cricket's major strategic priorities is growing engagement from the female population - an issue highlighted by the publication of their recent report 'Women and Cricket, Cricket and Women'.
Wairarapa is an unlikely poster girl for the work being carried out to address this deficiency. After all, it's a region where the premier club competition consists of just three teams – one of them from the Hutt Valley.
The driving force behind this success is Simon Roseingrave, whose rise from willing volunteer to women's cricket pioneer is a compelling tale of what can be achieved when the right people and good systems are in place.
After initially offering to lend a hand with coaching and administration, he quickly became so immersed with the opportunities he could see to develop the game in Wairarapa that he made the bold move to sell his successful insurance business and devote himself full-time to the game he loves.
As WCA's Development & Operations Manager, Simon has been recognised nationally with New Zealand Cricket's Initiative in Women's Cricket Award in 2015 and is now at the heart of Wairarapa's surge in participation and performance. He has helped to grow the number of males and females playing regularly in Wairarapa competitions from 653 in 2014 to more than 1,000 in 2017.
Wairarapa Cricket Association Chairman Sam Rossiter-Stead says: "I believe Simon's attitude to coaching during the difficult first couple of seasons is the single biggest factor in the growth we are now experiencing. The girls came back week after week because of the faith he showed in them through his energy and positivity.
"Although Wairarapa Cricket is currently being viewed as successful in terms of our recent results, we see these as merely laying the foundations for what is ahead. We employed a part-time Female Development Officer for the first time this season, thanks to assistance from KiwiSport. With the right personnel involved, people like Simon who are doing it for all the right reasons, we have every chance of taking cricket in our region to a level beyond anyone's expectations."