What's the difference between child safeguarding and child protection? What does good child safeguarding look like? When it comes to putting good child safeguarding policy and procedure in pace, where should my organisation start?
We all want to see more children enjoying experiences in sport and physical activity and a key part of this is making sure these environments are safe and provide positive experiences to keep them engaged. While child safeguarding and protection is something we all should have awareness of, organisations in the sector have a responsibility to create environments where child safety is a priority – but how?
In this webinar, Sport NZ Integrity Project Consultant, Josh Margetts talks with Ruth Browning, (Safeguarding Children NZ) and Joe Hitchcock (former CEO, Badminton New Zealand) on the importance of creating a child safe organisation and culture, and how every sports organisation can do their best to safeguard and protect the children in their community.
Viewers will learn about:
The difference between safeguarding and protection – what is child safeguarding? How is it different to child protection? Why is this important for organisations to understand?
Child protection advice and resources – Ruth will take a facilitated discussion around the steps to developing and implementing a workable and robust Child Protection plan including how to use policies, procedures and implement a Safeguarding Code of Conduct. This will also be available through the dedicated e-module on the Community Guidance Portal.
What does a safeguarding approach look like? – Hear a real-life example of how a national sport organisation has approached child safeguarding and supported its regional associations and local clubs to do the same.
Key takeaways and further notes
It is important to understand the difference between child safeguarding and child protection
Ruth Browning, Senior Consultant with Safeguarding Children highlighted how child safeguarding is the proactive approach and the steps taken to support the wellbeing and prevention of harm to all children. Whereas child protection is the reactive approach that is part of a safeguarding process, protecting individual children identified as suffering or likely to suffer serious harm.
"Safeguarding is about preventing harm to all children. Not just children that might be considered 'at risk' of harm."
Some key points to consider:
Legal requirements – it is important that organisations meet their legal obligations under the Children's Act 2014. However, this is the base line that organisations should be striving for. Meeting these obligations is not the end of the road, more the start of a safeguarding journey for organisations to embark on.
'Prevention' and 'response' work together – these are very much connected, and it is vital that organisations consider each area in depth. Safeguarding is the most effective tool to prevent harm from happening. Child protection is an aspect of safeguarding that ensures the response is appropriate if harm has occurred.
What does a child safe organisation look like?
Read: Child protection support to help people and organisations safeguard children
A child safe organisation promotes the safety of children through a child centred approach. This is deeply embedded in the thinking and practice of the organisation and the people to contribute to a child safe culture. It is important to establish effective systems of prevention, as well as process to recognise, respond to and report all allegations of harm to children.
Seek the views of children. If we ask children and young people what they think, and take on board those views, it sends a message to them that we care about what they have to say. They can tell us things they are unhappy about, and we will listen and take that seriously. This act means children and young people are more likely to share their concerns with us, thus making your organisation a safer place for children and young people
Policies and procedures. A child protection policy sets out an organisation's commitment to keep children and young people safe and promote their welfare. It should assist the organisation in responding appropriately to child wellbeing and safety situations which may occur. Procedures give clear guidance of how to make it work in practice when responding to concerns.
Code of conduct. A Code of Conduct provides guidance on appropriate standards of behaviour of those working or volunteering with children and young people. The Code of Conduct quickly identifies inappropriate or unsafe behaviour.
Safe recruitment. The Children's Act 2014 requires a safety check to be completed for every employee who joins an organisation as a core or non-core worker. It is important to consider including volunteers in this process to prevent those who may harm children from gaining a voluntary role within your organisation.
Child safeguarding and protection training. All people involved in your organisation should undertake child safeguarding and protection training if they are working with or supporting children. This includes all paid staff or volunteers.
How can you communicate to athletes how to report something they are concerned about, and how can they be assured that this will be treated confidentially?
Ruth Browning outlined the following actions will all communicate this message to athletes, and it is best to communicate using a combination of approaches:
Reporting concerns about coaches or club members behaviour – have a Code of Conduct and explain it to athletes – this is what we expect of our coaches and club members, if this is (or isn't) happening, we want to know, tell (named person) what it is that you are concerned about.
Reporting any concerns an athlete may have about their own or others situation – in groups tell athletes you and the club are interested in their well-being, that the club have ways they can help and assist if anyone is worried about something for themselves or others, that they can come to you or (other named people) regarding any concerns they have.
You cannot guarantee confidentiality – we need to be honest with athletes and tell them if they share something with us that is about theirs or another child's wellbeing or safety, we may need to pass that on to someone who can assist them as we need to make sure we are addressing the issue. You can only re-assure athletes that if they tell you concerns, you will only tell whoever needs to know to help. You can re-assure them that their information will be looked after securely.
Communicate the message in multiple different ways – You could develop a leaflet or put some of this info on your registration information. However, it is just as well communicated informally, in discussion with athletes themselves.
Key advice from one sport leader to others…
Joe Hitchcock, former CEO of Badminton NZ, offered the following key reflections on leading the development and implementation of safeguarding policy and procedures within a sport origination:
1 | It is important to be open and honest about the risks that organisations face
Most organisations involved in sport, operate in very complex environments. Badminton NZ have experienced their fair share of integrity related issues throughout the eight years that Joe led the organisation. These issues have been the catalyst for change both internally at Badminton NZ, and externally with Badminton community network.
2 | Safeguarding is part of Badminton NZ's wider Integrity Framework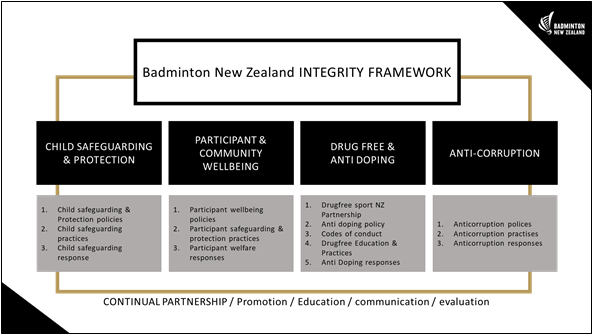 Many of these areas have been a constant work-in-progress for Badminton NZ and continue to be under constant review so that Badminton NZ continues to get better. While the above framework illustrates the scope and breadth of the work required, it is important that this shouldn't be a deterrent to giving this the priority it deserves.  
3 | So, how can sport organisations bring child safeguarding to the forefront, so that it does not fall by the wayside? 
People and organisations are really busy in sport. There is always lots to do and often not enough people, time or resource to do it all. It's easy then for policy work, codes of conduct, planning and developing resources for child safeguarding to fall by the wayside and off the side of a crowded desk or kitchen table.  
We've had lots of examples of when we haven't got it 100% right in our organisation. We've forgotten to print off the policy to give to coaches or the player code of conduct didn't cover junior players competing in senior teams. The key has been to keep talking and checking in about child safeguarding, reviewing, and reflecting on all activities to ensure we're doing the best we can in this space. We even use different issues and cases that come up in the media or other sports to ask ourselves the question – if that happened to an athlete in our sport community, would we have the policy, practice and response in place to deal with it in the most positive possible way.
The best response we have found is to build child protection policy, planning and practice into your sport organisations routine. 
When you have activities coming up – use them as a trigger for thinking about how you can cover and be proactive with child safeguarding. Examples are… 
Having a Board or Committee Meeting – make child safeguarding or policy review a standing agenda item 
Having trials or selection camps – use it as a check point for sharing your child safeguarding policy and/or practice 
Going away to an event or competition – include police vetting and codes of conduct as part of your coach and manager info / education 
Recruiting coaches or managers – build time into the induction process or before the first practice to cover off your organisation's child safeguarding policy. Provide your policy in your coach/managers information packs. 
Don't have a child safeguarding policy? Write one using the easy templates from the Sport NZ website or talk to your regional sport organisation, national sport organisation or your regional sports trust 
Having a regular conversation with volunteers, staff, coaches, managers, parents and supporters of your sport organisation about child safeguarding keeps it top of mind and is a great way to keep thinking about how you have the policy, planning and responses required in this space. Being proactive is really important. You can't put the tooth paste back in the tube, so having policy, practice and responses set for your organisation is crucial.  
4 | Starting is the most important thing  
Beginning your organisations child safeguarding journey can be intimidating. There is a common misconception that getting things wrong in this space will be more damaging than doing nothing. This perspective has been a real barrier for change and progress.  
5 | Policies must be living documents that guide decisions and behaviour  
Child safeguarding and protection policies are extremely important. However, they are deemed useless if they are not brought to life in the day-to-day operations of the organisation. It is vital that policies are kept up to date and relevant for the constantly changing environment that many organisations find themselves in. There are some really valuable resources out there that can help form the basis of your organisations policies and procedures, but it is important to tailor these to the specific needs of the organisation.  
"You don't need to reinvent the wheel. Sport NZ has great policy and procedure templates that can help. But it still requires critical thinking to make it specific to your organisation."
More Resources