Why review approaches to whole school physical activity? 
Whole school approaches to physical activity include active events, active play, activities students do at breaktimes, school or kura sport, and incidental activity students do during class time. Whole school approaches to physical activity can be designed to maximise their potential to engage students and provide wellbeing and learning benefits. Reviewing whole school approaches to physical activity could help you consider: 
How can events like cross-country and athletics be organised to maximise participation and support wider school or kura learning and wellbeing goals?   
Are there more ways we can include physical activity in learning areas such as English, maths, or science? 
How can we create opportunities for play during the school or kura day that assist with students' holistic development?   
Quality support, opportunities and experiences are vital to achieving quality physical activity experiences for young people. The following indicators can be used as a starting point to review your whole school approach to physical activity.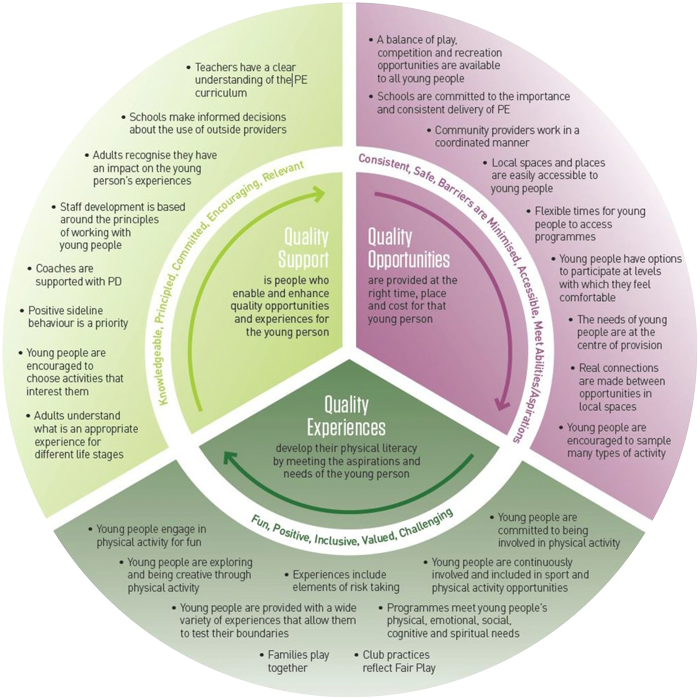 Why review approaches to PE?  
Health and Physical Education is a key learning area for building a focus on wellbeing and fostering critical thinking about health and wellbeing. A sense of wellbeing at school is a vital foundation for learning. The importance of fostering students' wellbeing is clearly stated in the vision of The New Zealand Curriculum (NZC).  
Play.sport data (Boyd et al., 2020) shows that Health and PE learning can be a vehicle for schools to action wider goals relating to student wellbeing, inclusion, and culturally responsive practice. Reviewing approaches to PE to ensure they align with the principles of quality practice provides an opportunity to maximise the wellbeing and learning benefits students can gain from the Health and PE learning area. It is also a chance to integrate PE with health and with other learning areas, as well as school-wide themes or values, approaches to the key competencies, or wider school goals.   
Quality PE is holistic and student-centred and based on The NZ Curriculum. It reflects the needs of students and community and promotes local connections and physical literacy.  
Quality PE:
is based around the four strands and underlying concepts of the Health and PE learning area, and the key competencies in The NZ Curriculum 
is emergent and school-directed and relates to schools' and students' contexts and needs 
take a locally led approach that is about knowing your community, working in partnership, making use of local resources and strengths, learning as you go, and empowering local leadership    
is formative, developmental, and inclusive (e.g., provides sequenced learning that draws on students' prior experiences and fit students' different needs, backgrounds, and interests) 
offers encouragement and support for students to try a range of new experiences   
uses effective and culturally responsive teaching approaches to develop students' physical literacy in ways that reflect The NZ Curriculum and promote hauora, wellbeing, and holistic development.  
To reflect on the purpose of physical education in your school or kura, view the following Physical Education resources for primary school teachers. These resources have been designed for schools by experienced physical education teachers as part of the Healthy Active Learning initiative.