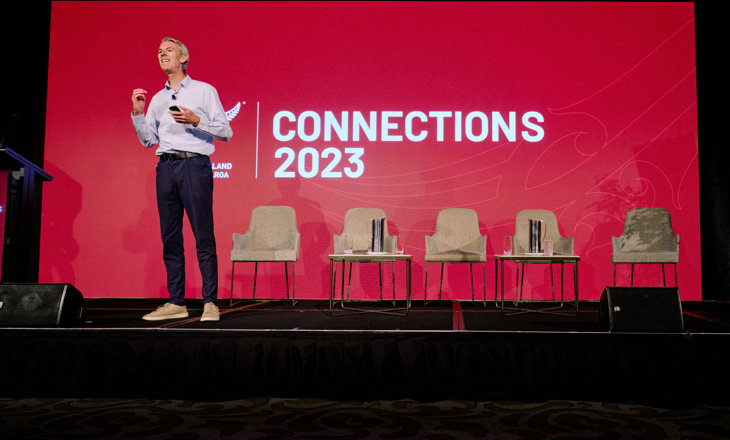 If you're still feeling flat and washed out at work despite the Covid-19 pandemic's impact on our day to day lives having receded, you're not alone. 
Nick Petrie, an international leadership consultant who delivered a workshop on the art of avoiding burnout at Sport New Zealand's Connections 2023 conference, is well-qualified to offer insights into the effect of the pandemic on workplace happiness and productivity. 
He's not only studied it – but suffered through some of the most common negative impacts of burnout himself. 
For those whose jobs weren't wiped out by the first wave of lockdowns, things actually went pretty well as we settled into a new routine of working from home and meeting remotely via online platforms. 
"Productivity actually went up at the start of the pandemic," Petrie noted. 
That's because employees started working earlier, working later and not taking breaks. But that new routine – and the underlying imperative to navigate a crisis - was massively stimulating and taxing on people's nervous systems. 
Nine months in, the cracks started to appear. Many us were in a state of Allostatic overload – when the body derives energy from a fight or flight state. 
"It's very expensive energy," noted Petrie. "It's like an overdraft at the bank. You are supposed to repay it. But nobody was paying it back. 
"The way they were working wasn't working. People started either burning out or getting to the point where they said 'I just don't want to go on'. They couldn't perform properly. It was just everywhere. 
"And it is ongoing now." 
Suffering from burnout himself, Petrie set about finding out what was happening. He conceived the Perform / Grow / Thrive Project and pulled together a research team consisting of academics, industry professionals from global corporates such as Uber and Netflix and high performance sports entities the Boston Red Sox and Rugby Football League. 
These included how well aligned an employee was with their organisation's values; their level of intrinsic motivation; and the balance between performance demands and the chance to grow and learn on the job. 
Warning signs when employees were over-extended included resentment, exhaustion, feeling unappreciated and fear. 
"We are not good at spotting the warning signs ourselves," said Petrie. "Other people around you are better at seeing changes. The question is does it feel safe enough for them to say something? Often the answer was 'no'." 
"What sort of culture could we create for everyone, so that we can have high-performance, healthy environments to work in.

I would encourage you to think about how we do both of those things really well."

 
High performers suffering from burnout tended to try to work harder as a solution. 
"All of them worked harder because the felt 'I am becoming unproductive, I am not getting as much done as I used to'. Their body was starting to shut down and their brain was becoming less effective." 
Petrie details three stages of burnout. 
While companies often recognise when employees are struggling, in many cases the mitigations offered don't match the stage of burnout an employee is enduring. 
Measures such as meditation, yoga, taking a day off or getting some exercise were "all great solutions for first degree burn". 
The problem was many workplaces were offering those things to people who were in third degree.  
"We heard from them – it felt like they were being gaslit. So pay attention. Ask: 'do we have different solutions at different levels'?" 
The most effective way to avoid or recover from burnout was active recovery – ideally an activity that was completely separate and distinctly different from a person's work. Petrie gave the example of an Amazon executive who found Argentinian tango dancing the perfect antidote to workplace stress. 
"It is not exactly rest people need, it is switching out of that work mode. If you don't have something that switches you off or recharges you it is very hard to keep going." 
Many organisations offered workshops and development opportunities, however these typically consisted of about 20 hours a year, while employees would be on the job for 2000 hours annually. So the question facing employers was how to create an environment in which employees could perform and also grow in a sustainable way. 
In his work with global corporates, Petrie had noticed a trend away from wellbeing and back towards a focus on productivity. 
"A lot of companies have swung back now. They've said 'we've done that, we went too far'. It has got to be performance – it is all performance now. That makes sense because they need to perform, they need to deliver for their stakeholders. The question is what sort of culture are you going to end up with?" 
Petrie laid down a challenge for the leaders in New Zealand's sports and recreation sector. 
"What sort of culture could we create for everyone, so that we can have high-performance, healthy environments to work in. 
"I would encourage you to think about how we do both of those things really well." 
Hear more in the full presentation video >