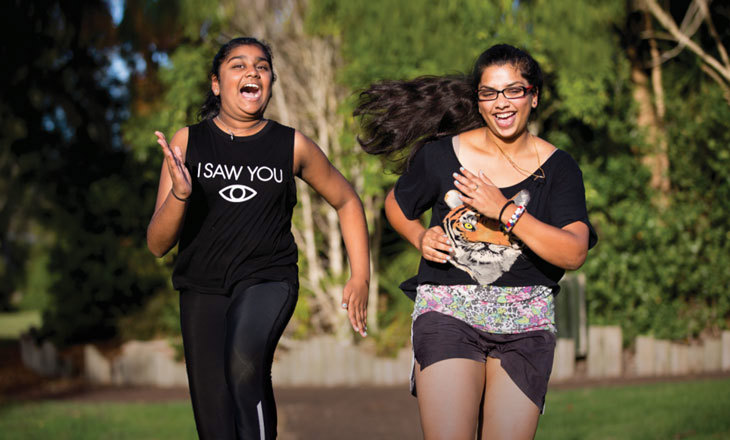 Learn more about the projects to help more young women get and stay active.
The Young Women's Activation fund was launched by Sport NZ in April 2019 with eligible organisations applying for $30 - $300k per project over a maximum of three years to support their initiatives. This fund is now closed.
Sport NZ committed to $2 million over three years to support projects designed to get more young women physically active and develop leadership opportunities through play, active recreation and sport. The investment delivers to the leadership and participation outcomes of the Women and Girls in Sport and Active Recreation Strategy.
Take a look at our case studies highlighting these initiatives and how they have made a difference for young women in their communities.
Nine projects selected to receive funding support.
Exciting projects such as Volleyfest, a Girl Guiding Community Programme and off-road mountain biking are amongst those selected by Sport NZ to be funded through the Young Women's Activation Fund.
Sport NZ received applications from a wide range of organisations with the focus being on creating opportunities for young women aged 12 to 18 to increase their time spent being physically active and to take up leadership opportunities in play, active recreation and sport.
Investment of $2 million has been confirmed across nine projects which target young women who have lower levels of physical activity. The project teams will work together with Sport NZ over the next three years to deliver their initiatives, share lessons and experiences.
The funded projects are:
Community Programme Project - Girl Guiding New Zealand:
The Girl Guides Community Programme is aimed at engaging young women not currently involved with guiding by offering a series of community based active recreation and outdoor recreation experiences.
Empowering Young Women through Sport - Ignite Sport Trust:
This project will focus on young women identified by schools as "at risk" or disengaged with education as well as supporting young women who were former refugees and new migrants to engage in physical activity and feel more confident in their new environment.
Fast 5 Centre Competition Innovation - Netball New Zealand Netball:
New Zealand will enable the roll out of a youth Fast 5 Programme (a modified 5 aside version of Netball) to Netball Centres over three years, where youth will be a key part of the co design of both the programme and delivery models.
YEAH! GIRLS - New Zealand Cricket:
Building on and expanding its YEAH! GIRLS pilot which is part of the 'Women & Girls and Cricket Strategic Framework'. The project will increase young women's participation in cricket across both competitions and informal forms of active participation.
Just Shift IT - The Shift Foundation:
This project will co-design initiatives with small groups of young women to engage them in physical activity, active recreation and sport opportunities, with a focus on holistic wellbeing, building confidence and connection.
Kōhine Māia - Sport Tasman:
Kōhine Māia is about activating girls to be physically active. This project is focussed on working with schools, using elements of co design and collaboration to provide fun and non-traditional activities to young women who are less active.
This is ME® Secondary Schools Programme - Sport Waikato:
The This is ME® Secondary Schools Programme is an expansion of the current project into new districts. It addresses barriers to participation, engagement and leadership opportunities for young women.
Dirt is good - encouraging a lifelong love of riding bikes - WORD (Wellington Off-road Riding Department):
This project will offer an opportunity for young women in Porirua to get active through mountain biking programmes. The focus is on 'girls-only' camps to improve participation numbers and create pathways to outdoor leadership.
Volleyfest - Volleyball New Zealand:
Volleyfest is a holistic, fun, festival programme co designed with young women. It is focussed on the activity of young Pasifika and Maori women and is community-based to include wider Whanau/Fono.
Download
pdf - 1764 KB
pdf - 179 KB