New research from Sport New Zealand shows that physically active Kiwis are more likely to have good mental health, Minister for Sport and Recreation, Grant Robertson, said today.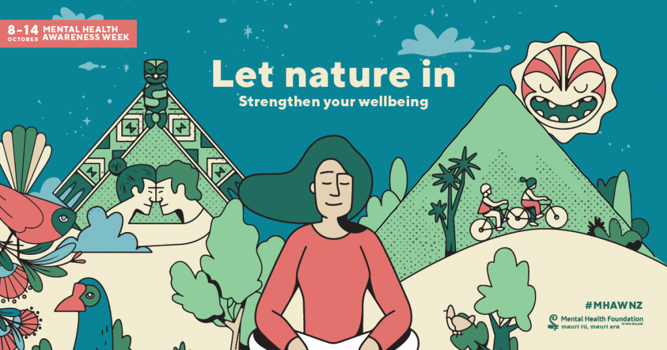 Mental Health Awareness Week 8-14 October 2018
The research shows that Kiwis who meet the global physical activity recommendations of at least 2.5 hours of moderate to vigorous-intensity physical activity a week are 51% more likely to have healthy mental wellbeing.  
"These findings are particularly important this week as we focus our collective attention on mental wellbeing for Mental Health Awareness Week," Grant Robertson said.  
"The association between physical activity and mental wellbeing is emerging internationally. We now have New Zealand-based data that adds compelling evidence to the global picture.  
"It's time as a country that we look seriously at the contribution physical activity makes to improved wellbeing. Sport and active recreation are not only one of the most cost-effective ways of supporting mental health, but as we continue to understand its impacts, the research is showing it's one of the most powerful approaches for reducing and preventing mental distress.  
"We want to see New Zealanders being active both because they enjoy it, and because they understand how it can improve their lives," Grant Robertson said.  
A review of international literature submitted to the New Zealand Government Inquiry into Mental Health showed that physical activity reduces the chance of experiencing depression by 10% in children (5-18 years), 22% in adults (18-64 years) and 21% in older adults (65+ years).  
"Previously, there has been very little work done on physical activity from a mental health perspective. Traditionally, we have looked at the physical benefits of being active, but this is one of the first analyses to really explore different qualities of physical activity when considering mental wellbeing, and it's shown that it deserves more attention," said Grant Robertson.  
An in-depth analysis of Active NZ data, the first study of its kind which surveyed more than 25,000 New Zealanders, uncovered new information about the association between mental wellbeing and the 'dose' of recreational physical activity.  
"How long people are active for, how often they are active, and the intensity and type of activity they are doing, is associated with mental wellbeing", said Sport NZ Senior Evaluation Advisor, Justin Richards.  
"This research shows that it's vitally important that we continue to do at least 2.5 hours of physical activity spread throughout the week - the benefits are measurable. We observed a 24% jump in the odds of mental wellbeing when people increased their activity from two to three days a week, and if people were active on four or five days of the week the odds continued to improve. We saw similar patterns as people stepped up the duration and the intensity of the activity they do", said Richards.
Active NZ research key findings:  
People who do at least 2.5 hours of recreational physical activity each week have 51% higher odds of reporting good mental wellbeing, however, participation in at least 4.5 hours per week increases the odds to 65%.
The odds of having better mental wellbeing increased for each additional day of recreational physical activity from two to three days (24%), four days (18%) and five days (13%) per week.
People meeting the physical activity recommendations by participating in vigorous-intensity recreational activity have 57 % higher odds of having good mental wellbeing compared to 23% for those participating at a moderate-intensity level.
People meeting physical activity recommendations through regular gardening having 25% higher odds of reporting good mental wellbeing.
Ministry of Health activity guidelines for adults  
Physical activity intensity definitions:  
Light-intensity - activity that does not cause a noticeable increase in heart-rate and breathing (e.g. slow walking)
Moderate-intensity - activity that causes a noticeable increase in heart-rate and breathing, but does not stop you having a conversation (e.g. brisk walking)
Vigorous-intensity - activity that causes an increase in heart-rate and breathing to a point where you can't maintain a conversation (e.g. running)  
Active NZ - Recreational Physical Activity and Mental Wellbeing
Mental Health Inquiry -  New Zealand 2018
Mental Health Awareness Week 2018
Mental Health Awareness Week (MHAW) is run annually by the Mental Health Foundation and has been since 1993. MHAW is endorsed by the World Federation for Mental Health and is marked in over 150 countries at different times of the year.
In New Zealand, MHAW is held on 8–14 October 2018 and the theme is Let nature in, strengthen your wellbeing – Mā te taiao, kia whakapakari tōu oranga!
Contact for interviews
Lucy Orbell, 021 194 9503