Kia ora koutou,
I wanted to start this update with a nod to our people in Tairāwhiti/ Gisborne who continue to do it tough after another bout of severe weather over the past week. Our thoughts are with you and your whānau who can't seem to catch a break at the moment and are experiencing ongoing disruption both personally and professionally. We'll continue to do all we can to support and please continue to reach out to your partnership managers if you need any additional support. Kia kaha!
It's hard to believe we're already halfway through 2023 and the FIFA Women's World Cup 2023™ is only 21 days away. As a nation, it feels like we are at the top of the rollercoaster, about to do the big dipper as this event is coming at us, not only in terms of having the world's best female footballers on show in Aotearoa, but also the sheer number of visitors that will get to experience all of what New Zealand has to offer. Many of you will be well underway with planning for various leverage and legacy events to engage your communities with this mega-event and there are plenty of activities we've been lucky enough to be part of to ensure the event leaves a lasting mark for future generations. We've shared some of these initiatives in previous Sector Updates such as Kōtuitui, but keep your eyes peeled for more opportunities to get involved in the coming weeks, including the latest video to get to know our Football Ferns a little more. Details on this below.
Finally, a thank you from me for all the mahi that you are doing in your regions across play, active recreation and sport. I continually get great feedback about coaches, volunteers and administrators who are supporting our tamariki and rangatahi to have amazing experiences. It was great to see some stories come to life and be celebrated in the New Zealand Sport and Recreation Award nominations recently and I'm looking forward to celebrating this at the awards evening in late July. It's always special, and important, that we take time to reflect on the impact we're making together given the busy nature of our sector.
Thank you for all you continue to do and let's get behind our Football Ferns ahead of tournament kick off on 20 July!
Nga mihi,
Raelene Castle  
---
LATEST NEWS
It's Time to get behind the Football Ferns! 
On Wednesday (28 June), Sport NZ in collaboration with NZ Football launched a new advertising video featuring the Football Ferns as part of the It's Time campaign. The 60-commericial aims to increase awareness and support of the Ferns when the FIFA Women's World Cup 2023™ arrives on our shores next month.  

This has been made possible thanks to co-funding from the Ministry of Business, Innovation and Employment as part of our collective work to raise the value and visibility of women's sport as a co-host of the FIFA Women's World Cup 2023™.  

The video follows the Football Ferns' overseas supporters on a journey to watch them play on their respective international club teams. From London to Finland, Glasgow to Melbourne, and LA to Leicester – our Football Ferns play all over the world for some of the sport's most iconic clubs. And now they're home to play on football's biggest stage.  

In just three short weeks, Aotearoa will host the largest women's sporting event on the planet, with front row seats to the action. It's time to support our Football Ferns!  

Watch the video and help us share it far and wide with your networks and communities. Let's build the hype by encouraging athletes, supporters, friends and whānau to share the video on their social channels.  

For more information, read the news story.  
---
Code of Integrity for Sport and Recreation 

The Integrity Transition Programme (ITP) is working to establish the Integrity Sport and Recreation Commission, an independent Crown entity intended to enhance integrity within sport and recreation.  

As part of this work, the ITP has been tasked with creating a set of common integrity standards - a Code of Integrity for Sport and Recreation, which will form the cornerstone of the sector's integrity system. To help ensure the Code meets the sector's needs, the ITP has developed a survey to capture the views of the sport and recreation community.   

A campaign to promote the survey launches today and will run for six weeks. It's important that as many people as possible complete the survey. The ITP team is asking sector organisations to help spread the word by sharing information about the survey. The survey can be accessed on the ITP website.  

Your view is important, so make sure you complete the survey to have your say!
---
Hine O Te Kura Youth Symposium 
Sport NZ led an engaging session at last week's Hine O Te Kura Youth Symposium on Menstruation, as part of Tātaki Auckland Unlimited's support and continued build-up towards next month's FIFA Women's World Cup 2023™.  With a focus on supporting young people to further understand menstruation, rangatahi learnt about Ikura/periods from a Te Ao Māori world view and product sustainability.  

In a Sport NZ panel session, Mai FM's Breakfast DJ, Tegan Yorwarth facilitated a conversation with three diverse and relatable voices, with the speakers sharing their real, honest and insightful personal experiences.   

The content from this event will be curated in the coming weeks into resources for use by schools, enablers, parents and participants. The digital resources will complement our Female Health and Balance is Better work streams, continuing to add value and education to our young people about menstruation, physical activity and sport. Watch this space. 
 
---
Healthy Active Learning and Tapuwaekura a finalist in national public service awards 
Congratulations to all those involved in Healthy Active Learning and Tapuwaekura for being recognised as a finalist in the Te Hāpai Hapori | Spirit of Service Awards 2023 – Better Outcomes. The accolade raises further awareness of the impact the joint government initiative between Sport New Zealand, the Ministry of Health, Te Whatu Ora | Health New Zealand, and the Ministry of Education is having. The annual awards from the Public Service Commission recognise those who go the extra mile and initiatives that deliver great outcomes for people in Aotearoa New Zealand. 
 
---
Connecting in the name of tamariki wellbeing 



It was inspiring to see over 200 people connecting kanohi ki te kanohi (face to face), sharing, learning and better understanding each other's mahi at the Healthy Active Learning National Hui in Ōtautahi Christchurch from 14 to 16 June. Members of the Healthy Active Learning workforce from the New Zealand Public Health Service and RST network got together to discuss how to enhance tamariki wellbeing through healthy eating and drinking and quality physical activity.  

Those attending were welcomed with a beautiful mihi whakatau from Ngāi Tūāhurihuri, and the Healthy Active Learning Kāhui Māori (Māori caucus) did an amazing job of upholding tikanga Māori across the conference. Other highlights included keynotes from Janelle Riki-Waaka (Tainui Awhiro, Ngāti Hauiti ki Rātā) on supporting Māori to achieve success as Māori, Dr Susannah Stevens on the joy of movement, and the significant number of workshops facilitated by members of the workforce themselves.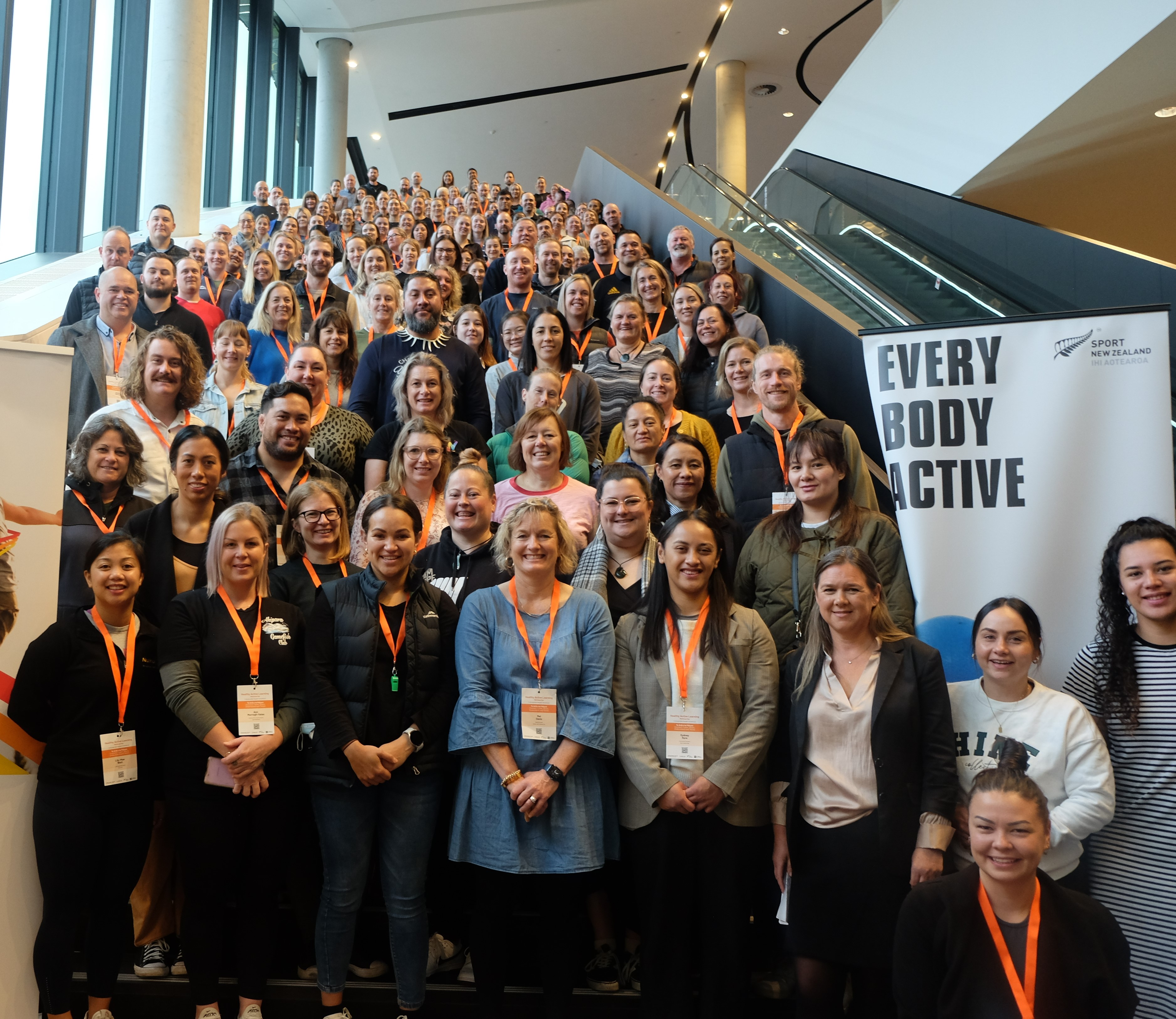 ---
New investment into Tapuwaekura will benefit more kura across Aotearoa 



On 28 June, Sport NZ announced new investment of $4.5 million to expand the pilot initiative Tapuwaekura throughout Aotearoa. Along with the expansion, the initiative will be renamed Mātaiao, which means to observe and learn from the environment.  

Mātaiao is the culturally distinctive pathway within Healthy Active Learning, a joint Government initiative between Sport NZ, Te Whatu Ora | Health New Zealand and the Ministry of Education, which aims to improve the wellbeing of tamariki and rangatahi through healthy eating and drinking and quality physical activity.  

Since its inception in March 2020, Tapuwaekura has been in pilot phase and assisting kura kaupapa Māori, wharekura, kura ā-iwi, and full immersion units within some English medium schools to adopt and integrate an Atua Matua approach in strategy, planning and teaching practice for cultural, educational and physical benefits. It has also helped strengthen Sport NZ's working partnerships with other national and regional Māori education and recreation bodies.  

Mātaiao will benefit over 40 percent of Māori medium kura nationally and will also enable Sport NZ to establish new partnerships with appropriate Māori providers to further strengthen the initiative. 

The first of these new partnerships is with Toi Tangata, a Māori agency that develops, delivers, and champions kaupapa Māori based approaches to kori (physical activity) and kai (nutrition). Toi Tangata has been contracted to implement Mātaiao in Tāmaki Makaurau (Auckland). 

Ngā Pākura, who led the implementation of the pilot, will continue to provide leadership and oversee the national expansion.  

Find out more in our media release. 
---
EVENTS & OPPORTUNITIES

Sport New Zealand – Sector Leadership Programme  
Sport NZ is excited to announce the upcoming launch of our sector leadership programmes in October/November 2023. These programmes provide a unique opportunity to grow leadership capability within our sector.  

Applications for Te Au Mātāhae, the Sport NZ Leadership Programme, will open in mid July. Aimed at 2nd-3rd tier leaders who lead people and/or areas of work, this programme is designed to build relationships and grow the capacity for leadership in our sector. Keep an eye out for your Partnership Manager sharing the programme prospectus and please encourage suitable leaders in your organisation to apply. We will also pilot Te Au Hihiri, an executive-level leadership programme. The first cohort for this will be a targeted diverse group of CEOs who will help to shape it for the future
 
---
Pasifika Women in Leadership in Sport and Active Recreation Talanoa and Survey 
Pasifika Sisters in Sport (SiS) are looking for Pasifika women in sport and active recreation to share in a talanoa (focus group). The purpose of the talanoa is to gain a comprehensive understanding of the unique perspectives and challenges faced by Pasifika women in sport and active recreation leadership. By capturing your insights and experiences, they hope to shed light on how leadership pathways and opportunities can be enhanced for Pasifika women in Aotearoa. Their ultimate goal is to ensure that the Pacific voice becomes an influential and contributing force at the decision-making table across all levels of the sport and recreation sector.  Pasifika SiS are specifically seeking those from the Disability and Active Recreation areas. If you are interested in taking part, please contact Asenati Tavita on pasifikasis@gmail.com or 022 514 0827.  

Pasifika SiS have also developed a survey for Pasifika woman who are engaged in leadership roles (whether paid or voluntary) within the sport and active recreation sector in Aotearoa. Complete the survey before Monday 31 July. 
---
Menstrual cycle questionnaire from Massey University 
Massey University is leading a new research project to improve education and knowledge about the menstrual cycle. The researchers would like to understand the existing level of knowledge and support amongst active females through an online questionnaire. They are looking for female athletes and recreationally active females between the ages of 16-40 years to participate, which will help contribute to the development of further support in this space. Please share this online questionnaire with eligible active females you think may be interested. The survey closes Saturday 1 August.  
---
Asia NZ Foundation - Last chance for Sports Internship Applications



The Foundation is excited to be sharing its first ever Sports Internship with the Gangwon 2024 Youth Olympics team in South Korea. They are looking to fill this placement with one young Kiwi who is curious to learn more about Asia through sport. The successful applicant will join the Gangwon2024 workforce to help deliver next year's Youth Winter Olympics (19 January – 1 February 2024). 

Placement is from mid-November' 23 to mid-February' 24 and the Foundation will cover airfares, accommodation and most living expenses. All the details are available on the Asia NZ Foundation website. Please share with your networks, applications close Monday 3 July 2023. 
---
COMMUNITY STORIES
Netball NZ – Safeguarding Policy more than a tick 
For Netball NZ, having a safeguarding policy is more than a 'policy tick', it's about educating communities to ensure everyone is safe in all aspects of their lives. When Netball NZ took the opportunity to update their own policy and look at what it meant for the sport 'in reality', updating their policy was just a starting point.  

"We didn't want it to be a policy that just sat on our website. We wanted to look at how we could bring it to life – and we decided that at its core we had to remove any fear," says Netball New Zealand Head of Community Ruth Southwood.  

Read their full story here, including how Netball NZ helped 83 centres across the country bring about change. 
---
Disabled children get to participate in adapted Tough Kid challenge 
It was exciting to see disabled children getting a fair go in the Mitre 10 Mega Tough Kid challenge run in partnership with Sport Hawke's Bay. The event was adapted so all kids could have a go – less running, no loud music, and obstacles to go under rather than over.  

Sport Hawke's Bay Disability and Inclusion Advisor, Blanche Paewai-Ashcroft says they're planning more for next year so wheelchair users can get involved. Check out the event in this excellent One News video and find out more from disabled tamariki and their whānau about how to make our playgrounds accessible and inclusive for everyone. 
 
---
Ngā Taiohi o Te Rangitaupi initiative - E hoki ki ō Maunga



Ngā Taiohi o Te Rangitaupi is a Marae/Pā based organisation from Tauwhare Pā, Te Iti o Hauā Marae, running whānau-focussed events to connect whānau and tamariki to Tūpuna Maunga in the Waikato rohe.  

As a recipient of He Puna Korikori, Ngā Taiohi o Te Rangitaupi was able to deliver E hoki ki ō Maunga, taking tamariki and whānau on monthly treks to Tūpuna maunga. Wānanga and whanaungatanga were held at the bottom of the maunga, before participants climbed the maunga. The aim of the programme was to work up to a final Maunga, Te Ara o Te Waharoa, Wairere Falls.  

Rangatahi (aged 13-18) who would otherwise have not engaged in the initiative were given GoPros and, working with a story producer, learnt how to use the technology and how to capture the story of this work over the course of the initiative.

Watch the full story. 
---
Helping girls get and stay active – Netball hits fast forward with youth-driven events  



Netball NZ has seen more young women participating in the sport by creating opportunities for rangatahi to be heard and lead their own netball experiences. Twelve netball centres nationwide formed Youth Advisory Groups to help them deliver Fast 5 events that would appeal to young people. This youth-led approach successfully created new co-designed formats of the game, fostered leadership skills, introduced new players to the sport and re-engaged others who had drifted away from it.  

Read the story.
---
IN CASE YOU MISSED IT
Showcasing 'The Big Wins' 



Hopefully you've seen Sport NZ's latest Sport Development promotion, The Big Wins, online and on your social media feeds over the past couple of weeks. Thank you to everyone who has shown their support and shared the posts on their networks since the promotion's launch.  

Aimed at enablers in the sport system (such as coaches, parents, whānau, and administrators), The Big Wins is aiming to raise awareness of the value of sport and the benefits that participation brings to our young people. The main message behind the promotion is that the 'big wins' in sport aren't just those on the scoreboard. It's about realising the holistic benefits that young people gain by participating in sport, in particular around their overall wellbeing.   

We've seen strong engagement with the promotion on social media so far and there's still time to get involved by sharing these important messages!  

If you haven't already, check out the promotion's landing page on the Sport NZ website, which has informative articles and videos that bring the 'Big Wins' messages to life. You can also access the toolkit here, which includes visual assets, key messages, and sample copy for social channels. Feel free to use these and tweak the messaging in a way that works for your membership and networks.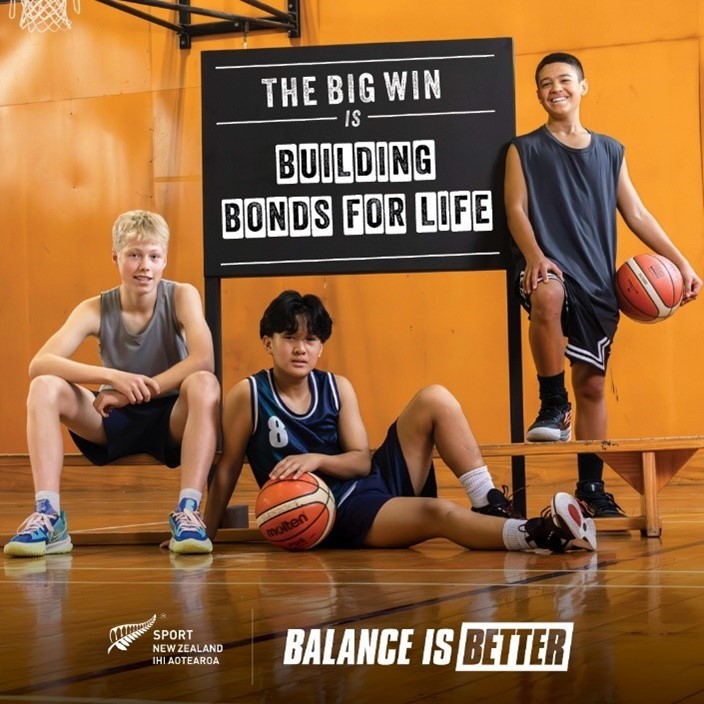 ---
GOVERNANCE
Incorporated Societies Act 2022 and Regulations 
Sport NZ is developing resources to support sector compliance, including updated constitutions and guidance notes and educational webinars.  

We are recommending all partners to stay in close contact to their Sport NZ Partnership Managers.   

We are also working closely with MBIE and now the Companies Office (who will process the registrations) to identify how we might limit effort and cost on behalf of the sector.  

Re-registration cannot start till October 2023 and the sector has till March 2026 to comply. We will have resources available by October 2023 for those who are ready to get underway. 
 
---
Important changes to financial and non-financial reporting for charities and incorporated societies 
We have previously provided guidance on compliance with these changes, and this document provides a high-level summary and a useful table outlining the requirements and timing of compliance for different entities.  

We have become aware of a range of approaches by auditors as they seek assurance that investment is delivering impact, and this is causing confusion within the sector.  

We have sought advice on how we might be able to assist but without a central auditing body, and given this is still early days for most partners (and auditors), we are taking a watching brief approach. 

Templates can be found here. Sport NZ can collect and share sector examples for those who would find these useful. If you would like to share what your organisation has done, please send these through to Sport NZ Governance governance@sportnz.org.nz  
 
---
Women in Governance Talent Pool



An important part of creating diversity and gender equity in play, active recreation and sporting boards is ongoing access to governance talent. Appoint Better Boards continue to provide a free access to a talent pool of over 200 women in governance looking to serve as directors on sector boards. If you have any questions or require support for board member or chair recruitment, please email governance@sportnz.org.nz.