Kia ora koutou,    

The countdown to the FIFA Women's World Cup 2023 is a key focus as we get ready for the biggest female sporting event coming to our shores. For those of you wanting the updated countdown – we're currently at 51 days to go.  

As you'll read below, I was lucky enough to join many of our partners in the sector as well as the Minister for Sport and Recreation at a special celebration of Kōtuitui, one of the In Our Backyard learning programmes that has been developed in partnership to leave a lasting legacy from the World Cup for schools and kura. Seeing the kids on a misty, slightly chilly morning at Tui Glen School in Stokes Valley get involved with the learning games and their excitement left everyone feeling energised and proud after seeing the direct impact of some of the mahi we deliver into our communities. This is the fourth such programme launched into schools, following the programmes for SailGP (Moanamana), Women's Cricket World Cup (CricKids) and the Women's Rugby World Cup (Tākarokaro).  These programmes are a contemporary approach to leverage and legacy and will see value over many years.  

We are also looking to do Aotearoa proud with full stadiums. There are still lots of tickets available ($20 for adults and $10 for children) to support this event and see the best female football athletes in the world play – jump on and buy some tickets today. 

While there's a big focus on this upcoming major event, I know there's also plenty of incredible initiatives being delivered as part of your wider mahi to the sector which are making a difference and contributing to our shared goal to get Every Body Active. We'd love to showcase more of this mahi to the wider sector so please continue to share any updates with us to include in future Sector Updates.  

As we look to close out this financial year while planning for the next strategic period, we'll continue to work closely with you all to make sure that we continue to deliver on this vision and continuously improve how we work together to make this happen.  

Thank you for all your continued mahi. 

Nga mihi, 
Raelene Castle   
EVENTS & OPPORTUNITIES
New learning module Kōtuitui celebrated ahead of the FIFA Women's World Cup 2023 
With only 51 days to go until the kick-off for the first game in the FIFA Women's World Cup 2023, we were extra excited to showcase the new football learning module, Kōtuitui, at Tui Glen School – where the Minister for Sport and Recreation Hon Grant Robertson, Ford Football Fern Claudia Bunge, and Tazuni - the FIFA WWC 23 mascot – shared in the fun!  

Developed by New Zealand Football and Sport NZ, Kōtuitui links to Te Ao Tangata, the NZ Social Sciences Curriculum, and includes classroom, football and futsal experiences. Students use the World Cup to research culture and collective identity, create their own world cup festivals, and connect with our national team, the Ford Football Ferns. 

Kōtuitui is the fourth programme as part of In Our Backyard, which provides learning opportunities to schools and kura through sport to maximise the leverage and legacy of major events hosted in New Zealand.

Find out more about Kotuitui and In Our Backyard and check out the event highlights in the video below.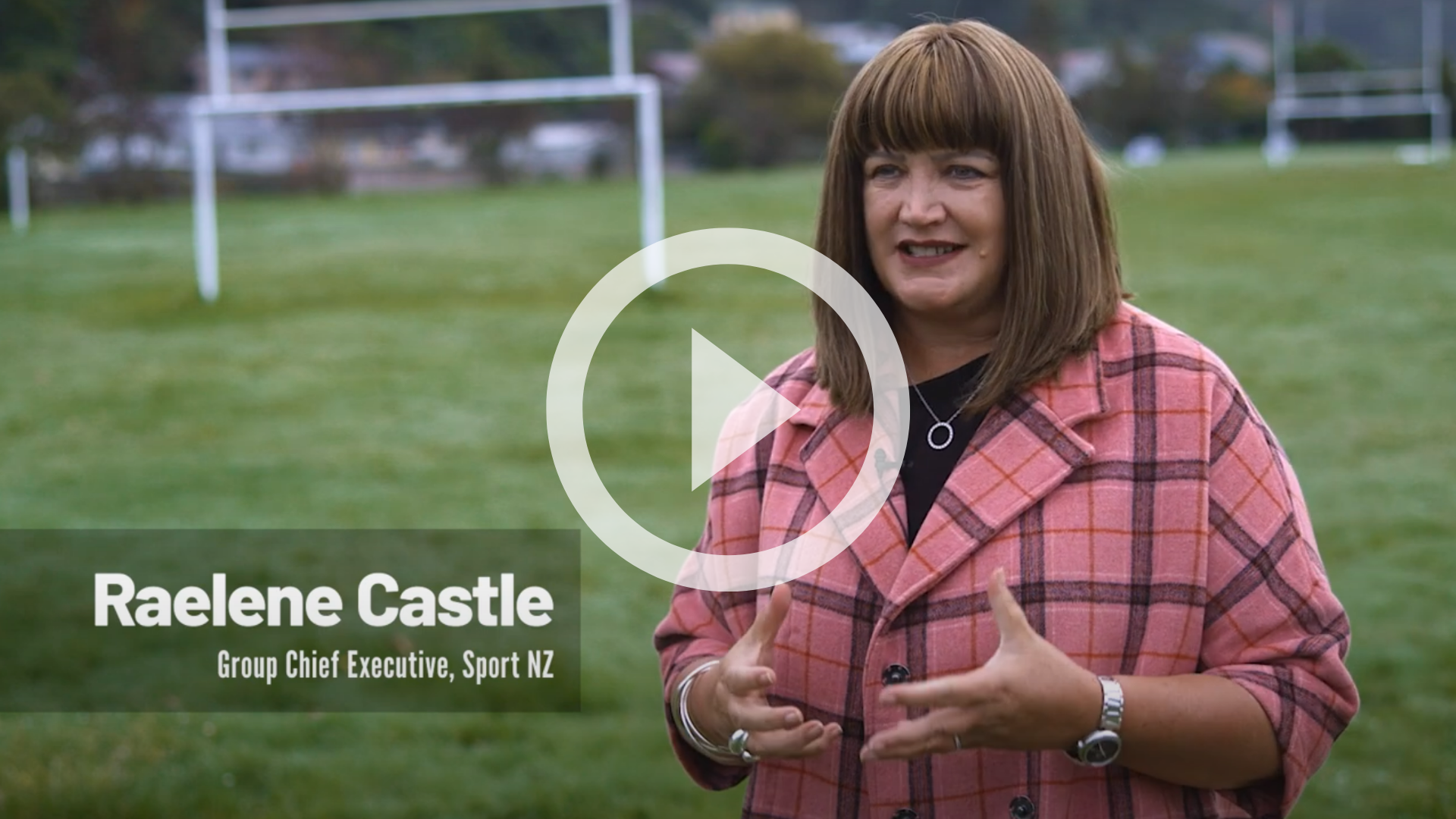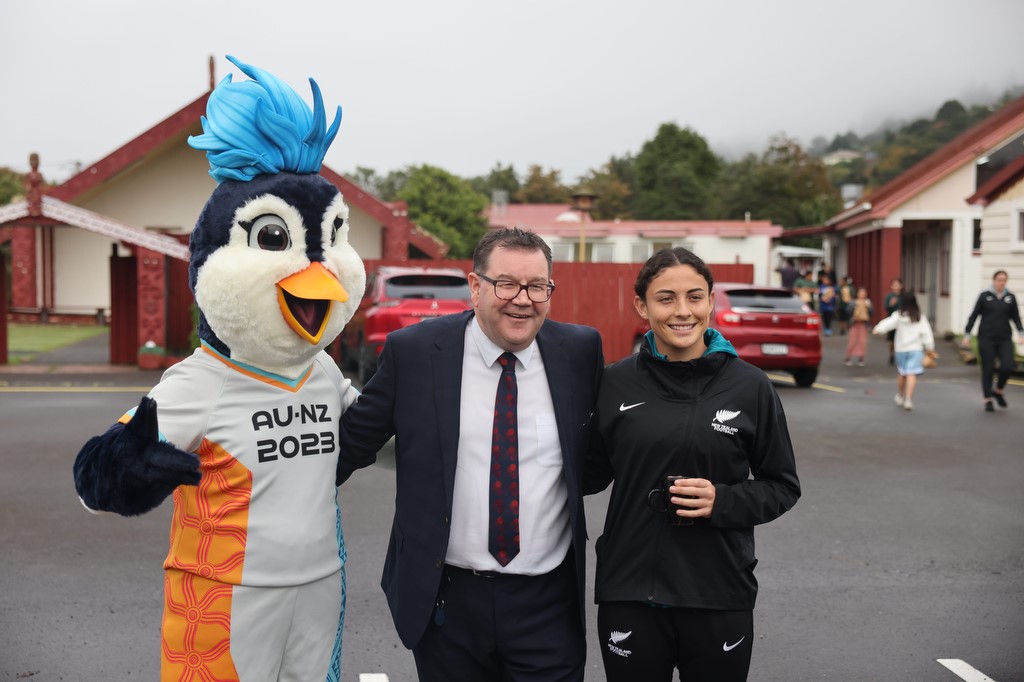 Tazuni, Minister for Sport and Recreation Hon Grant Robertson, and Ford Football Fern Claudia Bunge
---
Calling all coaches - Coaching for Impact applications open until 12 June 
The free Coaching for Impact programme is open for applications until 12 June and has been expanded this year to allow places for 90 coaches of secondary-school-aged athletes to be involved across three regional hubs in Auckland, Wellington and Christchurch.  

Coaching for Impact is aimed at growing a collaborative network of coaches who can influence positive change in youth sport (aligning with Balance is Better). We know coaches play a huge part when it comes to a great sporting experience that helps young people develop, grow a lifelong love of sport and reap the wide-ranging benefits it brings. 
  
If you know of a coach who would benefit from this programme, they can find out more about the criteria and the programme itself on our webpage. Registrations are currently open, closing on 12 June. Please share this opportunity with your networks to ensure some of our great community coaches don't miss out on this opportunity.   
---
ISAPA 2023: Scholarship recipients announced 
For the first time in history, Aotearoa is hosting the 24th International Symposium of Adaptive Physical Activity (ISAPA), which is dedicated to advancing equitable opportunities, environments and experiences for disabled tamariki and rangatahi in play, active recreation and sport. The event will take place this year in Ōtepoti Dunedin on 25-29 June 2023.   
  
Sport NZ is offering scholarships, worth $1,500 each, for people working in the play, active recreation and sport sector to attend this year's ISAPA event. Scholarship applications closed Sunday 23 April and successful applicants have been notified.  

Sport NZ congratulates the scholarship recipients:   
Aaron Osborne – Canoe Racing NZ 
Alanah McLeod – Manawatu Gymsports AND Gymnastics New Zealand 
Alysha Jensen  – Netball New Zealand 
Blanche Paewai – Sport Hawke's Bay 
Casey Redman – School Sport NZ
Catriona McBean – University of Waikato 
Erin Jane Stevens – Snow Sports NZ 
Erin Rayner – Sense Rugby (New Zealand) Trust 
Hannah Cartman – Swimming New Zealand  
Jemma Drake – Blind Sport NZ 
Jenna Baxter – Aktive 
Katie Owen – Recreation Aotearoa  
Kevin Charles Smith – Bowls New Zealand 
Mark Kake – Counties Manukau Hockey Association
Matthew Vernick – Basketball New Zealand  
Natasha Barber – Disability Sport Auckland 
Oliver Field – Croquet New Zealand 
Sarah Craig – Sport Whanganui 
Honglu Zhang – Sport Waitakere 
Toni Talijancich – Play Aotearoa
Kelsey Howlett – New Zealand Wheelchair Rugby 
---
Integrity Sport and Recreation Commission update
Progress continues towards the establishment of the Integrity Sport and Recreation Commission – a Crown entity that will protect and promote the safety and well-being of participants and the fairness of competition in sport and physical recreation.
The Integrity Sport and Recreation Bill was introduced to Parliament on March 28. The Social Services and Community Committee has heard public submissions.
An Establishment Board consisting of Don Mackinnon (chair), Tim Castle, Alexis Pritchard and Traci Houpapa has been appointed, replacing the Integrity Transition Committee.
The Establishment Board will consult widely with the Sport and Recreation sector in the establishment of an integrity code starting with a public survey that will launch in June. Keep an eye on the Integrity Transition Programme website for more information on this in the next few weeks.
---
Calling all sport and active recreation role models 
All eyes will soon be on Aotearoa as we co-host the FIFA Women's World Cup 2023™.  To create a lasting legacy for Aotearoa New Zealand there are a number of ways for our schools and communities to be involved to help achieve outcomes.   

One of these programmes is Inspiring the Future, delivered by the Tertiary Education Commission throughout the year, aims to give our tamariki and rangatahi a special insight into careers in sport – and showcase the many jobs that exist beyond being a professional sportsperson.

They need your help doing so.  

If you work in sport at any level and in any kind of code or active recreation pursuit, Inspiring the Future would love you to join them as a role model, where you'll talk about your job, why you love it and how you got there, in online or in person events. 

Sign up to be a role model. More information on the programme.

To find other ways in which schools and community groups can get involved go to Connecting schools to FIFA | Sport New Zealand - Ihi Aotearoa.
---
COMMUNITY STORIES



Helping girls get and stay active – Volleyfest takes sport to the people 
Young women across the country are keen to give volleyball a go, but in some communities, a lack of access to indoor courts and the cost of travel meant not everyone had the chance to play. Enter Volleyfest – a fun festival with portable equipment co-designed with and for young Māori and Pasifika women in their local neighbourhoods. This amazing programme is helping teenage girls connect with their communities through sport and grow into confident leaders. Learn how.
---
Manawatū former refugee community having a go and getting active
Involvement in new physical activity experiences and opportunities has given a group of Manawatū former refugees and migrants new-found confidence, community connections and a sense of belonging. 

Palmerston North-based primary health organisation THINK Hauora has run three projects as part of its RIMA wellbeing programme that targets former refugees and multi-cultural communities.  

Using Tu Mānawa funding through Sport Manawatū, the projects have included a weekly youth soccer programme, a have-a-go programme for young females, and family-oriented sports sessions. 

See more on how participating in play, active recreation and sport is improving the wellbeing of this community. 
---
Whenua Iti Outdoors – Adapting practices to the needs of disabled tamariki, rangatahi and their whānau   
It is really awesome to see Whenua Iti Outdoors adapting their practises and programmes to better need the needs of disabled tamariki, rangatahi and their whānau. Their first inclusive camp offered high ropes, paddle boarding and a range of active recreation activities, thanks to modified equipment and support from the Halberg Foundation and the team at Whenua Iti. Read the case study to learn more about how Whenua Iti Outdoors is helping to transform what is possible when it comes to inclusive outdoor recreation offerings. 
---
NEW RESOURCES

Balanced Female Health – a new resource for coaches, instructors, and parents 
Sunday (28 May) was World Menstrual Hygiene Day, which raises awareness of global issues such as period poverty, a lack of education about menstruation, and persisting stigma about periods. To recognise this day, Sport NZ launched a new resource for adults supporting young people in community sport which provides information and practical tips on topics such as female puberty, the menstrual cycle, and factors that impact young people's physical and mental wellbeing. 

Sport NZ recognises that the needs of young women in community sport are unique. As coaches, parents, instructors and administrators, understanding female health is critical to being able to respond and provide support for young women to be active in ways that boost their wellbeing. Check out the resource below and share it with anyone who may benefit from this information across your networks. 

See the Balanced Female Health handbook.

Read the news story on our website. 
---
The heat is on – a sport and recreation sector approach to mitigating climate change and adapting to its consequences 
Within sport and recreation in New Zealand, it is easy to think we are too inconsequential to influence climate change, that there is insufficient time to act, or we simply do not know what to do. The result can be inertia or paralysis. But if we can understand what the future consequences of climate change might look like for us and explore the role we can play in both mitigating its advance and adapting to its consequences, we can overcome this and take meaningful action. 

The Heat is On provides four narratives from 2040 to help us understand what the future consequences of climate change might look like for us and explore the role we can play in both mitigating its advance and adapting to its consequences. 

You can also visit our Futures website to see the latest quarterly report on possible future disruptors to sport and recreation, what we are seeing, and whether the likelihood and/or strength of disruption is strengthening or weakening. 
Read the news story on our website. 
---
IN CASE YOU MISSED IT
Healthy Active Learning expo for tamariki in Ashburton   
Tamariki from nine Healthy Active Learning schools in and around Ashburton put on a day-long expo for other schools and the community to take part in a huge range of fun activities and learning.  
Sport Canterbury Healthy Active Learning Advisor Anna Holland and Kai for Kids Chairperson Jo Taylor and the schools collaborated to put this fantastic day together, where tamariki were able to promote Healthy Active Learning with their whānau, friends and the community. Find out more in this highlights video: Active Health Tamariki Expo in Ashburton.
---
GOVERNANCE



Incorporated Societies Act 2022 and Regulations 
Sport NZ is developing resources to support sector compliance, including updated constitutions and guidance notes and educational webinars.  

We are recommending all partners to stay close to their Sport NZ Partner Managers and avoid rushing off to lawyers at this point.   

We are also working closely with MBIE and now the Companies Office (who will process the registrations) to identify how we might limit effort and cost on behalf of the sector.  

Re-registration cannot start till October 2023 and the sector has till March 2026 to comply. We will have resources available by October 2023 for those who are ready to get underway. 
---
Important changes to financial and non-financial reporting for charities and incorporated societies. 
We have previously provided guidance on compliance with these changes and this document provides a high-level summary and a useful table outlining the requirements and timing of compliance for different entities.  

We have become aware of a range of approaches by auditors as they seek assurance that investment is delivering impact, and this is causing confusion within the sector.  

We have sought advice on how we might be able to assist but without a central auditing body, and given this is still early days for most partners (and auditors), we are taking a watching brief approach. 

Templates can be found here. Sport NZ can collect and share sector examples for those who would find these useful. If you would like to share what your organisation has done, please send these through to Sport NZ Governance governance@sportnz.org.nz. 
---
Women in Governance Talent Pool
An important part of creating diversity and gender equity in play, active recreation and sporting boards is ongoing access to governance talent. Appoint Better Boards continue to provide a free access to a talent pool of over 200 women in governance looking to serve as directors on sector boards. If you have any questions or require support for board member or chair recruitment, please email governance@sportnz.org.nz.