Thanks for coming to our newly designed website.
We've updated our site to make it more accessible, inclusive, relevant and user centric.
Most of the play, active recreation and sport resources and information you're used to finding are still here. And they will be a lot easier to access. 
We asked users across the sector about what they wanted from our website (thank you for all your input) and we have responded with new user-centric navigation and accessible features. You've now got great options to get to information fast. From the home page, you can browse by role or topic, use the 'how we can help' menu, use the search function, or go direct to the top-level navigation and click through the tabs.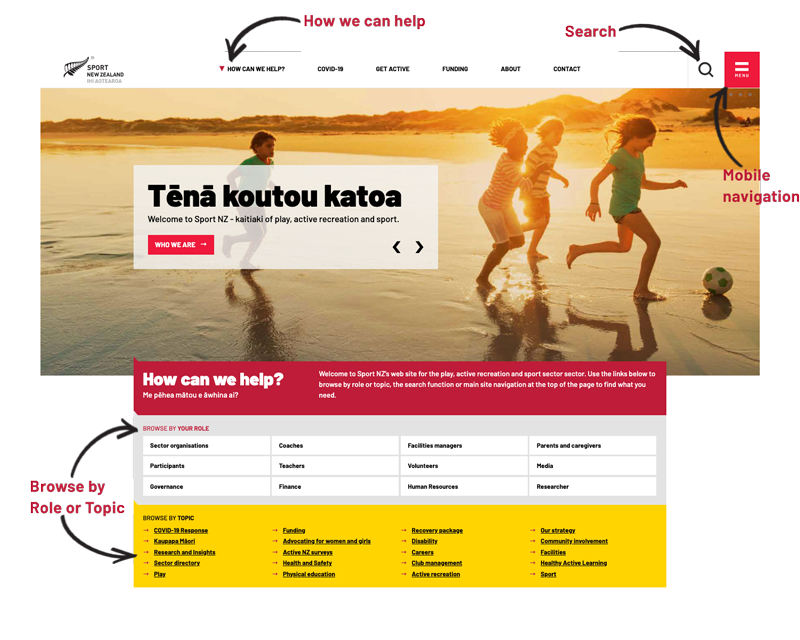 Our new site means we can make sure you see our up-to-date news and information easily. We can feature the important stuff that we know people involved in the play, active recreation and sport sector should know about.
New content sections
Our new site has some great new content sections:
Kaupapa Māori section with landing pages in Te Reo
Te Tiriti o Waitangi page written in Te Reo and English
Dedicated sections to Play, Physical education, Active recreation, and Sport
Funding section (which includes sector recovery information)
Media Centre, with the latest news
Get Active section - highlighting ways to participate and be involved
Archive - we've archived our older resources, which you can still search for. (If there's something you can't locate, contact us and we'll see if we can provide it directly)
New features
Take a look at the following new features – they're not all we've got but a great place to start:
Optimised performance on mobile devices
Accurate search results from advanced tagging of all site content
Feedback form – we'd love to hear from you about how we can keep improving your website experience
Expanded sector directories that include active recreation and play organisations
Accessible design, images and fonts, and screen reader compatibility, including key PDFs converted to HTML webpages
Key videos with subtitles and transcripts.
Coming soon:
A weather widget to showcase play, active recreation and sport suggestions based on your local weather.
We hope you enjoy looking around our new website. We'd appreciate any feedback to help us keep improving it. Let us know using the new feedback form, which you'll find at the bottom of each web page.