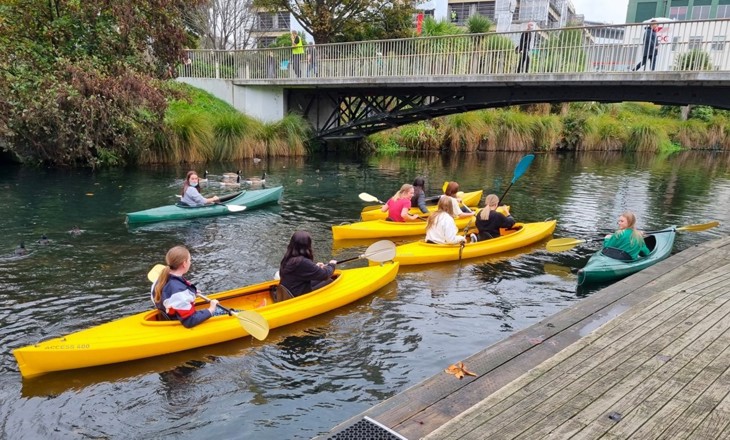 How GirlGuiding NZ is staying relevant for future generations of young women 
Knowledge is power. This truism is proving particularly relevant for the GirlGuiding movement – whose roots can be traced back to 1910 – as it seeks to engage a new generation of young women.
The knowledge gained from delivering GirlPoweredNZ has been transformative for GirlGuiding NZ, one of nine organisations to receive funding for their programmes through Sport NZ's Young Women's Activation Fund. With this support, GirGuiding NZ have adapted their model from a traditional membership organisation to one that continually evolves to remain relevant for younger generations.
Seeking to tackle a decline in ​​girls' confidence as they traverse their teenage years, GirlPoweredNZ is a non-traditional, non-competitive physical activity programme designed to be more accessible, appealing, and engaging to 12-18 year-old girls. The aim is to help girls rediscover or develop a love of movement throughout their teen years and the rest of their lives. 
The range of activities offered over a three-year period included skateboarding, dance, yoga, high-intensity interval training (HIIT), kayaking and laser strike. 
But while those activities provided broad appeal, there were challenges. COVID-19 heavily impacted delivery in year one and lingered throughout the duration of the programme. 
The second major challenge was brand recognition: GirlPoweredNZ might have offered cool activities, but the brand was not perceived as cool - if it was recognised at all. 
Struggling to gain traction through traditional guiding channels, the GirlPoweredNZ team pivoted to school-based delivery. However, the brand recognition challenge remained.  
"This resulted in girls being hesitant to sign up to events – particularly before we had established ourselves - which made building early momentum challenging," the programme's post-delivery report states. "This hesitancy was most evident at school-based events, where girls were initially reluctant to give up their free time (during lunch breaks etc) to participate." 
'Do all of our brands work for those girls? If they don't, we need to create new brands. And if the experiences don't work we need to create new experiences.' 
GirlGuiding NZ's former Head of Marketing and New Opportunities Greg Stubbings expanded on the challenge and why relatable branding is an important strategy for engaging young people.  
"It is overlooked how brand-savvy young people are, and how they are being bombarded with all these different brands," Stubbings said. "They self-identify towards certain brands that reflect on who they are. And if you are trying to push some naff thing on them then, no, they are not interested. The barrier is too high." 
GirlPoweredNZ took that insight and used it to forge a new path - leveraging partner brands that possessed strong, positive recognition. 
They found that a 'Cheap Skates' skate school had greater credibility and appeal than a 'GirlPoweredNZ' skate school.  
By leveraging their partners' existing audiences and brand recognition they were able to engage more girls than under the GirlPoweredNZ brand alone. GirlPoweredNZ ultimately attracted 1668 participants to 81 events over three years.
Understanding how young girls feel about new activities, how they make decisions, what they like and how they are influenced is now an integral part of how GirlGuiding NZ operates.  
"My personal take is that everything has to start with the purpose, which is engaging these girls and giving them experiences that they value and want to be part of," says Stubbings, who acknowledges that wearing scarves and making pledges likely only appeals to a limited number of girls today. 
"If you work your way back and you find roadblocks around traditional activities or traditional brands or perceptions then you have to remove those roadblocks." 
"For us it is looking at the girls we are trying to reach and asking 'do all of our brands work for those girls'? If they don't, we need to create new brands. And if the experiences don't work we need to create new experiences. Otherwise we are not really fulfilling our purpose."  
At a Glance
What was the need or problem in the community? 
GirlGuiding NZ's research showed that girls' confidence levels decrease significantly as they get older - with confidence scores dropping from ages 10-12 to 13-14, and again to 15-17 years. 
Girls' participation in sport and recreation also declines throughout their teenage years. 
What challenges or barriers existed and how were they overcome?  
GirlGuiding NZ's Classic Guiding programme involves a week-to-week commitment, which becomes challenging as girls' lives get busier in their post-primary years. Many girls prefer to engage in new activities alongside their friends in non-competitive environments where they feel confident and supported - however these activities are not always readily available. 
GirlPoweredNZ makes non-traditional, non-competitive physical activity more accessible, appealing, and engaging to 12-18 year-old girls by leveraging partner brands, removing costs and partnering with schools on delivery. 
What were the key success factors – and were they driven by an innovative approach? 
Having been initially hampered by low brand recognition and acceptance and covid constraints, GirlPoweredNZ pivoted to free, schools-based delivery and leveraged the power of partner brands that were more relatable to drive a significant increase in participation in the target group. Some examples of these partnerships include: O Studio, Compound Dance, Laser Strike, Cheap Skates Skate School and HIIT Squad in Christchurch and Onboard Skate and Wellness Riders in Wellington.  
The community impact was magnified far beyond what would have been possible with the traditional model of ticketed public events. 
What outcomes were achieved? 
The school-based, partnership delivery model established an effective method of reaching, engaging and positively impacting far more girls than ever before from a significantly broader demographic. 
The programme attracted 1668 participants to 81 events - a number that will rise to 2268 when another 30 scheduled events are completed. 
The programme resulted in:  
The development of a stronger understanding of how girls in the target age group feel about new activities, make decisions, and how they are influenced 
Engagement with girls and parents from diverse communities – far beyond the typical GirlGuiding NZ membership 
The establishment of strategic partnerships with external providers 
The development of institutional knowledge and processes for engaging external providers into the future 
Growth of organisational confidence to appeal to and engage new girls, and deliver activities 
What comes next? 
The programme continues to deliver events in main centres and is moving into regional and more diverse communities, utilising its ability to engage and support collaborative delivery with partners on the ground.  
GirlGuiding NZ's goal is to establish at least one youth event brand that is recognisable mainstay in the sport and recreation event space within three years. It is aiming to have more than 10,000 girls actively involved in events by 2025.