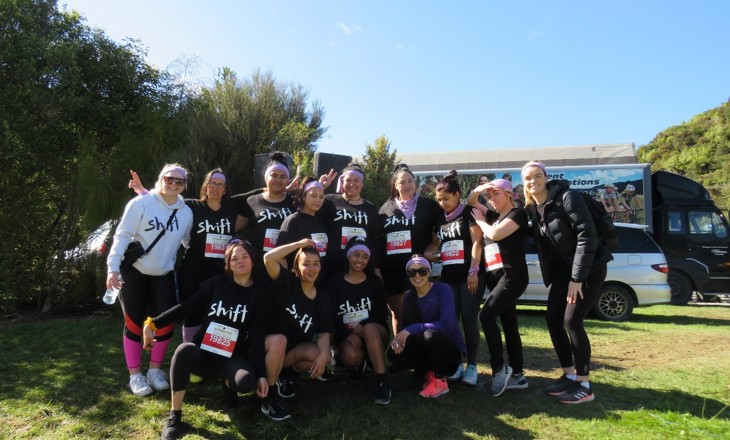 How one organisation shifted its strategy to deliver sustainable programmes that generate a greater impact for young women.
It's said that change is the only constant in life, and for the Shift Foundation, this could not be truer.
Founded in 2016 with a mission to improve wellbeing among young women through movement, Shift was one of nine providers to receive support from Sport New Zealand's Young Women's Activation Fund (YWAF).
That funding proved transformational for Shift – although for reasons not initially predicted.
"It taught us a lot as an organisation about where we wanted to be – and the difference between what we can deliver and what we wanted to be delivering," says Shift Operations Manager Chloe Bryan.
From the outset, Shift's YWAF journey differed from the other eight organisations, which were funded over a three-year term. Shift opted to concentrate its delivery into a two-year period, enabling it to provide a range of Just Shift It activities across the entire Wellington region. With YWAF funding, Shift delivered co-designed programmes at 28 schools, and forged partnerships with 38 community sport and active recreation providers.
Just Shift It aimed to provide opportunities that didn't currently exist and make them accessible by removing barriers such as cost and travel requirements.
In Porirua, schoolgirls had repeatedly told Shift they would like to try boxing – but didn't see a way of getting into what was perceived as a male-dominated sport.
"At that point there weren't heaps of female boxing coaches delivering to young people. It is looked upon by young women as something they might like to try but would never get the opportunity to.
They would never have the confidence to walk into a gym," says Bryan.
Shift purchased boxing equipment and contracted coaches to run classes as schools, and soon the young boxers were hooked.
"They would just do it forever," says Bryan.
"It is about actually creating a space for conversations to really hear the young women, really listen and take that on board."
A key reason for the success of Shift's programmes was their co-design approach to activities - doing this 'with young women, not to them.'
"You have to embed the co-design process within the programme or initiative and you have to be prepared to iterate…the impact at the end is going to be so much deeper if you continue to listen and try to shift and change to suit their [young women's] needs.
"It is about actually creating a space for conversations to really hear the young women, really listen and take that on board," says Bryan.
The YWAF funding enabled Shift to break new ground in the scale and reach of its delivery, but that created a new challenge: sustainability.
"The programmes that we were running under the [YWAF] were awesome but they weren't sustainable for the long term," says Bryan.
To address this, Shift decided to focus on making a greater impact for a smaller group of young women.
For example, when a college netball 'F' team consisting of players who had failed to make higher grade teams could not find a coach, a Shift coordinator based at the school stepped up to help.
By the end of the season, the girls in the team had developed such a strong bond they formed a volleyball team so they could stay together.
That was the type of impact Shift was determined to continue to make, Bryan said.
"It's those stories of that one netball team who gets that opportunity, or that one student and what it has done for them in their schooling at that crucial point."
With a focus on long-term sustainability, Shift is now delivering just three core programmes:
Whanake o te kōpara - a leadership development programme for young women that amplifies strengths and enables the uplifting of others.
Puāwai - a programme centered around Te Whare Tapa Whā, connecting kōhine Māori to their culture and hauora.
Wawata – a social entrepreneurship initiative that engages with young women to create services and products that increase wellbeing, focus on sustainability and climate change, or are based around indigenous or Māori businesses.
Narrowing its focus has allowed Shift to be more agile, operating where and when it is most needed.
At a Glance
What was the identified need or problem in the community?
Factors like time pressure, fear of judgement and lack of confidence mean young women gradually drop out of structured activity at a much faster rate than young men.
What challenges or barriers existed and how were they overcome?
While the first year of operation was disrupted by COVID-19, Shift bounced back in 2021, delivering 30 new initiatives across Wellington City, Lower Hutt, Upper Hutt, Porirua and Wairarapa.
Amongst young women, there is a continuing decrease in traditional competitive sport participation rates and an increase in active recreation and less formal participation.
Through a network of partnerships, Shift's Just Shift It programme offered a wide range of non-traditional sport and recreation opportunities for young women across the Wellington region.
What were the key success factors – and were they driven by an innovative approach?
Just Shift It engaged a large number of young women in physical activity opportunities by co-designing and delivering its programmes in local communities and schools.
By concentrating its delivery into a two-year period, Shift was able to operate across the entire Wellington region. This approach, however, raised issues of capacity and sustainability and Shift adapted its strategy to be more effective long-term.
What outcomes were achieved?
Shift delivered a wide range of Just Shift It programmes that were tailored to the needs of young women across the Wellington Region and partnered with 38 providers to deliver these programmes at 28 schools. Co-design and partnerships were key to the success of these programmes, which saw regular participation from young women. Some of the most popular sessions were those that were run in partnership, like Shift Porirua's collaboration with Wellington Boxing Gym to run boxing sessions with young women from Aotea College.
What comes next?
The Shift Foundation has changed its strategic focus to delivering sustainable programmes designed to generate a greater impact for a smaller number of young women.
It plans to deliver three core programmes (see above in italics). These programmes are available by application, with cohort numbers capped at 45 participants.