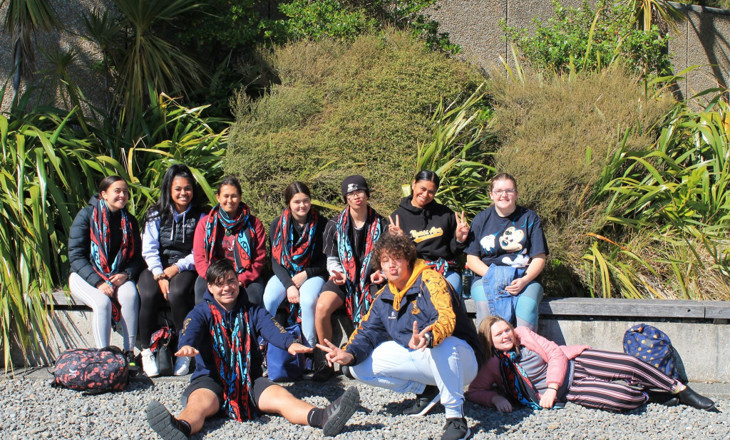 To celebrate one year since launch, we are highlighting some of the actions taken by Sport NZ in response to the Government's Women and Girls in Sport and Active Recreation Strategy.
More than 45 applications were received by Sport NZ for the Innovations for Young Women Fund in which teams or organisations had the opportunity to submit their bright and creative ideas to get more young women physically active and develop leadership opportunities through play, active recreation and sport.
Te Tai-o-Aorere Wahine, supported by host organisation Whenua Iti Outdoors, is one of the eight projects which has been selected to receive funding to develop and execute their initiative for young women.
Te Tai-o-Aorere Wahine creates pathways and removes barriers to enable wāhine (aged 15-18) to access nature and to develop the skills, knowledge and confidence needed to engage with outdoor active recreation to enhance their wellbeing in the long term.
Nettie Stow is the Communications and Funding Manager for Whenua Iti, based in Upper Motuere.
Nettie says the programme was created to bring the benefits of engaging with the outdoors and nature to those who didn't have the opportunity to otherwise interact.
"As an organisation we take people tramping and sea kayaking and outdoors. The project idea came from having the freedom to build on what we knew worked well and put it into a framework that enabled us to engage with a new community," says Nettie.
The programme focuses on 'whole person' development, using the Ngā Pou Wāhine wellbeing framework which the project team were introduced to at the Sport NZ design challenge weekend.
"It's about identifying the different parts you need to be a whole person and how to be strong in different ways. It's a really positive framework to work with groups of young women on, as it provides a process that is very holistic in learning how to work together and value strengths in other people."
Netties says programme is about finding a hook for young women, to get them interested in getting out there in the first place, to open up a whole new world.
"What we do outdoors naturally appeals to those who are physically active, but for a lot of young women don't look at themselves as physically active, and wouldn't naturally engage with the programme. So, we thought, if you can include other aspects such as art or environmental science to add appeal, they might be more open to the idea, and suddenly they're there - waka paddling or trying out caving."
The project team will be utilising the strong relationships they have with Sport Tasman as well as secondary schools in their area to understand more about the barriers young women experience to participation and finding ways to change that.
"The opportunity to receive funding from Sport NZ to bring our idea to life has been incredible and we have learnt so much in the process already, not just how we work with young women but how we work with everyone."
Whenua Iti Outdoors offers four groups of 16 wāhine a programme of outdoor activities, opportunities to build wellbeing and connection to culture and the outdoors.
Young women will be referred by another organisation e.g. a school, marae, youth group, social worker, whanau. Each group will participate in an introductory session co-designed with whanau, followed by a four-day camp to build trust, confidence, wellbeing, physical activity and connection to nature.
Learn more about Whenua Iti Outdoors: https://www.whenuaiti.org.nz/