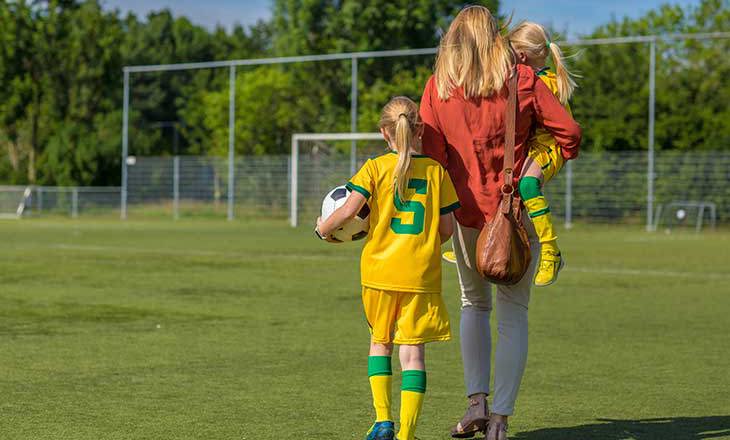 Through research and evidence, we have developed key messages aligned to Balance is Better that underpin our national approach to working with parents.
Key messages for partners
These messages below will support conversations with partners, guide initiatives or interventions, and shape direct-to-parent messaging.
Interventions and interactions with parents need to be tailored for the diverse range of parents in youth sport

Parents' roles shift based on how their child is experiencing sport (e.g. where they are in a pathway) and as such, interactions, information and interventions will change over time.
Learning environments for parents should be inclusive, safe and support reflective practice. Focus should shift away from simply transmitting information to ongoing connections and support.
Understanding that there are many different drivers for how parents interact with the sport system (coaches and administrators) will enable better engagement with parents

Parents should be viewed as allies and a positive partner in supporting young people's sporting experiences – we should be looking at working with parents rather than 'dealing' with parents.
Love for their child is likely to be a key driver for many parents, and people working with parents should be sensitive to this.
Parent behaviours are often informed or reinforced by the systems that surround them

Initiatives with parents should not be performed in isolation and should be aligned with other interventions (e.g. changes in competition structures through a club or school, Regional Sport Organisation, etc) .
One dimensional initiatives (i.e. side-line campaigns) in isolation of other interventions or support are ineffective in creating lasting behaviour change.
Work with parents should be driven by evidence-based approaches and include ongoing monitoring and evaluation of projects and interventions.
Messages to promote to parents 
Parents self-awareness: Through managing the organisational and developmental demands placed on them as stakeholders in youth sport, parents strengthen their ability to support their child's sporting experience as well as their own experience of youth sport.
Parent to child: Parents play a critical support role in their child's sporting experiences:
parents adapt their involvement,

support

 and parenting style to the different stages of their child's development

 

in sport

parents have a critical role in

safeguarding 

and 

monitoring the 

wellbeing of their children in sport.
Parent to coaches and administrators: Parents are able to foster and maintain healthy relationships with significant others in the youth sport environment, i.e. coaches, schools and administrators . 
Parents to the wider sports system: Parents can drive positive changes in youth sport offerings: 
parents can champion and support Balance is Better messaging at a community level and influence other parents,

coaches

and administrators.

What does success with parents look like?
Success for our national approach to parents over the next three years will be: 
organisations having effective systems in place at national,

regional

and local levels to engage, educate and support parents

parents having improved awareness and understanding of Balance is Better principles and the Value of Sport

 

parents providing better quality support to rangatahi in sport.
Sport NZ is committed to supporting organisations to implement best practice when it comes to young people. We've developed a suite of resources to help everyone increase their capability to prevent and deal with the many aspects of maintaining the integrity of sport.
Learn more about how you can have a positive impact when dealing with child safety, inclusion, and integrity issues below.