Kia ora koutou, 

What an amazing start to the Rugby World Cup, with a record-breaking sell out at Eden Park and an unforgettable victory for the Black Ferns on opening day. We're already making history with a global event that allows us to showcase what's special about Aotearoa and to get behind our incredible female athletes at the highest level. It's a moment to celebrate.  

Hopefully you have all seen our It's Time campaign, launched just ahead of the World Cup. This is all about encouraging more Kiwis to engage in women's sport, whether that's attending matches, watching on TV, engaging on social media or reading or watching media coverage. The campaign launched with five sports and we're working with others to bring them into the campaign as events take place.  

It was great to see so many of our partners at the Disability Hui in Auckland last week. This was the first time many of us had the chance to come together and connect in person, and the rich kōrero that unfolded throughout the two days was a reminder of just how important this is. Between the inspiring speakers and discussions, and the passion shared by everyone in the room, there were many ideas about how we can work together to provide quality opportunities for disabled tamariki and rangatahi to be active in Aotearoa. We look forward to continuing to learn from each other and collaborating to create a more inclusive sport and active recreation sector where everyone feels supported to thrive. Read more and watch the hui video below. 

In other news, I'm delighted to share that Brent Robinson will be joining us as our new Group Manager, Sector Engagement, Marketing and Communications, rounding out our Group Executive Team. Brent brings with him wide experience from both within and outside our sector and will take up his role fully in the new year.    

Ngā mihi, 
Raelene Castle
---
Ko au, ko koe, ko tātou – Joining together as one: Disability Hui, 3-4 October
Last week around 100 people from the disability sector - disability sports organisations, regional sports trusts, national sports organisations, councils and play, active recreation and education organisations – came together at our first Disability Hui in Auckland. The two-day hui brought the disability sector together to share ideas, collaborate and strengthen partnerships, as we work towards creating access to more and better opportunities for disabled tamariki and rangatahi to be physically active. We look forward to future discussions within the sector and ensuring we continue the positive momentum the hui has created. Watch highlights from the two days in this video.
Regional Sport Development Leader Residential Pilot (Canterbury)
In partnership with Sport Canterbury, Sport NZ facilitated the first Regional Sport Development Leader Residential in Christchurch from 13 to 15 September. We brought together regional sport leaders in the youth space (RSO, club and school) to support the design of quality sport pathways and participation opportunities that meet the needs of young people. One of the most exciting aspects of the residential was the collaborative projects that emerged over the three days that Sport Canterbury are now well positioned to support. A 'community of support' was also established to ensure the regional sport leaders stay connected, support each other in their mahi and continue to implement Balance is Better aligned opportunities to support the rangatahi in Canterbury.
Healthy Active Learning hits important milestone
The Healthy Active Learning team at Nuku Ora and students and staff at Randwick School in Lower Hutt were recently joined by the Minister for Sport and Recreation to celebrate the impact that Healthy Active Learning is having on tamariki and their communities in the greater Wellington region.   

The nationwide initiative, aimed at improving tamariki and rangatahi wellbeing through physical activity and healthy food and drink, recently hit its target of extending into 800 primary and intermediate schools and kura - 40 percent of those across Aotearoa New Zealand. The first 300 engaged in 2020 have also had their support extended from three to five years, meaning they will continue to be supported through to the end of 2024. 

In addition, recent evaluation findings show the positive impact the initiative is having on supporting healthy and active learning environments in schools. It has significantly increased the number of teachers integrating Health and Physical Education (HPE) learning with other learning areas, schools and kura providing physical activity experiences that are inclusive and meet the needs of all students, and the priority placed on professional learning and development for HPE. 

Watch Healthy Active Learning in action at Randwick School in this video.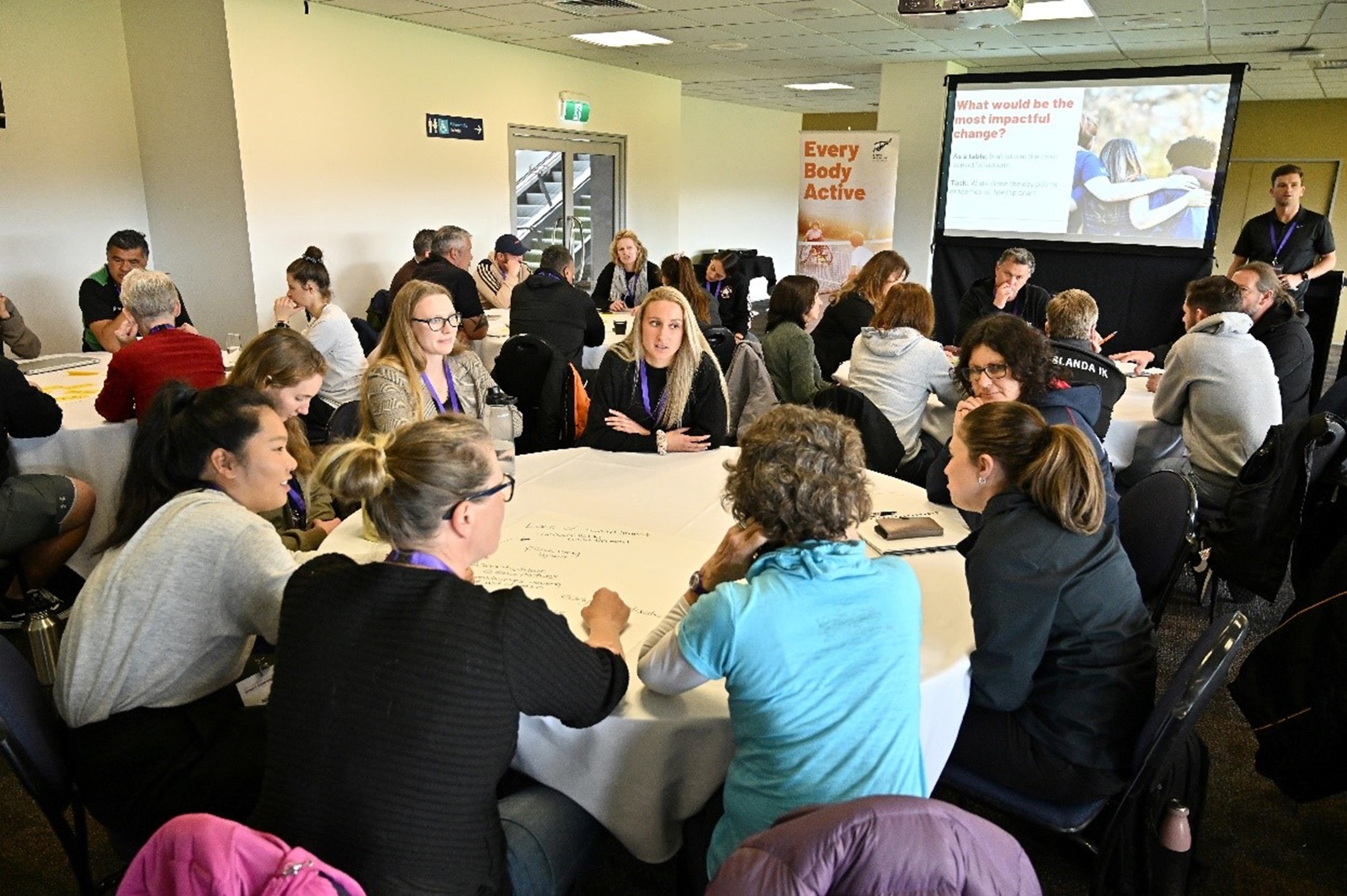 Secondary School Sport Conference 
Sport NZ and School Sport NZ hosted a national conference for more than 400 secondary school sport staff in Wellington from 22 to 23 September. The conference was the first opportunity in three years for school sport administrators to come together to share good practice, hear from sector experts about issues that are important to them, and develop action plans for implementation when participants arrive back at school. 

The conference included 19 workshops themed around Balance is Better, Inclusion and Insights and practical sessions on Strategic Planning, Information Technology and Health and Safety (including Concussion in Sport).
New Zealand Outdoor Instructors Association (NZOIA) Excellence Awards 

The New Zealand Outdoor Instructors Association (NZOIA) recently held its annual Excellence Awards in Tongariro as part of its annual symposium. The NZOIA is the qualification body for ten outdoor activities or disciplines, and plays a key role in maintaining professional standards and quality experiences for participants.  

The awards recognise those making a significant contribution to these outcomes, and Sport NZ congratulates all of the recipients: 

Emerging Instructor: Paddy Tucker 
Emerging Guide: Aaron Aldersley 
Tall Totara: Jim Masson 
Life Membership: Don Paterson 
  
NZOIA Tertiary Awards 
Wintec: Sam Lange 
Hillary Outdoors: Isaac Bayldon 
NMIT: Alex Corboy 
Tai Poutini Polytechnic: Sienna Casbolt 
Ara Institute of Canterbury: Rebecca Willis 

Our Active Recreation Lead, Fran McEwen, represented Sport NZ at the awards and says: "I was especially stoked to see the recognition of the five tertiary award recipients – seeing young people bringing their voice, skills and leadership into the sector bodes well for our collective mission of protecting, learning through and loving the great outdoors." 
Enabling wellbeing for disabled young people through functional movement  

A group of young people in Tāmaki Makaurau Auckland have seen huge gains from a new programme organised with the help of Tū Manawa funding. Functional Adaptive Movement™ Ltd (FAM™) has been running classes for a group of Wairau Special School students based at Glenfield College. The funding has covered the participants and coaches' fees for the students, who have improved in balance and co-ordination, all from within a judgment-free environment. Read the full story on our website.
Updates to member protection policy and procedure templates on Integrity Guidance Portal
Sport NZ's Integrity Guidance Portal contains downloadable templates, guidance and e-learning modules to support understanding of child and member safety and how to embed these into your organisation's culture.

We have recently updated two templates related to member protection policies and procedures:  

Protected Disclosures Policy Following the new Protected Disclosures (Protection of Whistleblowers Act) 2022 legislation that came into force on 1 July 2022, we've updated the Protected Disclosures Policy. If you're not a public body, you're not mandated to have a Protected Disclosures Policy. However, certain information disclosed to you still qualifies for protection under the new Act, so adopting a policy is recommended to ensure you meet those obligations. Read more guidance and information on your obligations related to the Act on the Public Service Commission website. 
 
Complaints Procedure 
As the Sport and Recreation Complaints and Mediation Service (SRCMS) is now handling a wide variety of disputes in our sector, we've amended the Complaints Procedure template to refer to the instances where use of this service is appropriate and to reflect relevant procedural matters.  

SRCMS is a cost-effective way of de-escalating and resolving issues, especially where legal liabilities are uncertain. Please share this resource with your networks and if you're unsure whether it's the right forum for you, contact the SRCMS for a confidential chat (0800 493612). 
Class 4 funding distribution

Granted.govt.nz is a new online tool that allows easy access to data about the distribution of Class 4 funding in your community. This tool is administered by Department of Internal Affairs (DIA) and replaces previous distribution reports produced in partnership by GMANZ, Sport NZ and DIA. Clicking on sport provides the top 10 funded sports. More information will be available on the website soon. 
Sector support - Incorporated Societies Act 2022 and Regulations

Sport NZ is leading a coordinated 'whole of sport approach' to support sector compliance with the new Incorporated Societies Act 2022 and Regulations, including regular updates, training, and resources including new constitution templates and guidance material.  

The first in a series of webinars on the Act and Sport NZ's approach to support can be accessed on Sport NZ's Sport Tutor.  For information about financial reporting requirements related to the new Act and Regulations, resources are available on the MBIE website.   

Please note there is there no urgency to become compliant. Re-registration doesn't open until October 2023 at the earliest and will remain open until April 2026.  Organisations continue to operate under the current Act in the meantime.  

MBIE is now seeking feedback on the draft regulations, with submissions due by 22 November 2022. Sport NZ is formulating a submission which we will share with the sector. Sector boards can also make their own submissions.  Further information and FAQs will be available on the Sport NZ website from late October, and you can also email governance@sportnz.org.nz. 
Women in Play, Active Recreation and Sports Governance and Appoint Better Boards 

Funded by Sport NZ through Appoint Better Boards, there is a community of 200+ women available to serve on sector boards. They understand the distinction between the role of governance and the role of management and are committed to continuously learning about governance in the sector. Chairs can contact talent within this community free of charge about vacancies.