Kia ora koutou,
This week's announcement regarding the changes to COVID-19 guidance brings great news for sport and recreation with the removal of restrictions just in time for the warmer months and hopefully, a long summer season. You can read more about the new COVID-19 strategy on our web site.
To kick off this update, I'd like to introduce three of our new Group Executive Team here at Sport NZ. Bron Hall comes from Auckland City Council and has joined us as Group Manager – People and Culture. Trevor Himona joins as our new Group Manager – Kahui Rautaki Māori, coming from a leadership role at Internal Affairs. Sally Kane joins us from Maritime NZ, where she was CFO, as our new Group Manager – Corporate Services. These roles operate across Sport NZ and HPSNZ.
Over the past month, we've been lucky to celebrate a number of milestones within the sector. Firstly, the Mana Orite agreement was signed with Te Huinga Takaro o Aotearoa, a new Māori National Sport Authority, which will see us invest more than $1.2m to help achieve positive outcomes for Māori in sport. This has been many years in the making and I was lucky enough to be part of the moving signing ceremony at the Wharewaka with many Māori sporting partners in Wellington. We have also celebrated the opening of Te Hau Kori, the Centre for Physical Activity and Wellbeing at the Kelburn campus. This partnership between Sport NZ and Victoria University will enable greater collaboration and capability to promote physical activity in Aotearoa. More on both of these milestones below.
Lastly, we have announced the finalists in the New Zealand Sport and Recreation Awards (find out more below) which calls out some amazing mahi that has been happening across the sector at all levels. Congratulations to everyone who took the time to submit entries. Our judges had an immensely difficult time choosing the finalists, which is testimony to the remarkable work happening at all levels of our sector.
We of course now look ahead to the public holiday on Monday 26 September, announced to recognise the passing of Queen Elizabeth II - her life, her contribution and deep significance to us as a Commonwealth nation. We have the opportunity to pause in the Queen's honour to reflect on her unwavering lifetime of service, including as patron of many sport and recreational organisations during her lifetime.
Ngā mihi,
Raelene Castle
---
New Te Hau Kori research centre launches
Late last month, Sport NZ Ihi Aotearoa, in partnership with Te Herenga Waka—Victoria University of Wellington (Te Herenga Waka), launched Te Hau Kori, the Centre for Physical Activity and Wellbeing at the University Kelburn campus. The name, Te Hau Kori, means 'the invigorating wind', as it will inspire academics, teachers and students to embrace the playfulness and vibrancy of wind, to be innovative and to seek new frontiers.
The partnership between Sport NZ Ihi Aotearoa and Te Herenga Waka will lead research and development of workforce capabilities to promote physical activity in Aotearoa. The centre plans to develop a post-graduate course for people wanting to develop expertise in promoting physical activity as well as a way for the tertiary sector to collaborate with the cross-government physical activity group.
As part of the launch, a pounamu was gifted to the centre, named Te Hau Pā Roa, the long sweeping wind. This represents the far-reaching effects of the mahi of Te Hau Kori on the world to make it a better place.
The structure and processes of the new centre have an emphasis on an equal partnership between Tangata Whenua and Tangata Tiriti creating a framework from which equity can be directly addressed.
Find out more about Te Hau Kori here.
Sport NZ Ihi Aotearoa partners with new National Māori Sport Authority



In August 2022, Sport NZ Ihi Aotearoa announced a partnership with Te Huinga Tākaro o Aotearoa (Te Huinga Tākaro), the new National Māori Sport Authority, which will see Te Huinga Tākaro receive $1.225m in investment over two years.  

For the past 20 years the National Māori Sport Organisations (MNSOs) have aspired to establish their own collective entity which has now become a reality.   

Currently Te Huinga Tākaro o Aotearoa Incorporated has 12 members, Aotearoa Māori Netball, Aotearoa Māori Tennis, Māori Basketball New Zealand, Aotearoa Māori Football, Māori Touch New Zealand, New Zealand Māori Golf, New Zealand Māori Hockey, New Zealand Māori Rugby League, Te Tohu Tākaro o Aotearoa, Aotearoa Māori Bowls, Aotearoa Māori Surfing and Aotearoa Tag.  Te Huinga Tākaro expect this number to grow over the next two years.   

Māori NSOs play a vital role in supporting Māori participation, performance and success as Māori, and Sport NZ is proud to provide investment that will see the successful establishment of the Authority.  

Find out more about our partnership with Māori National Sport Organisations here.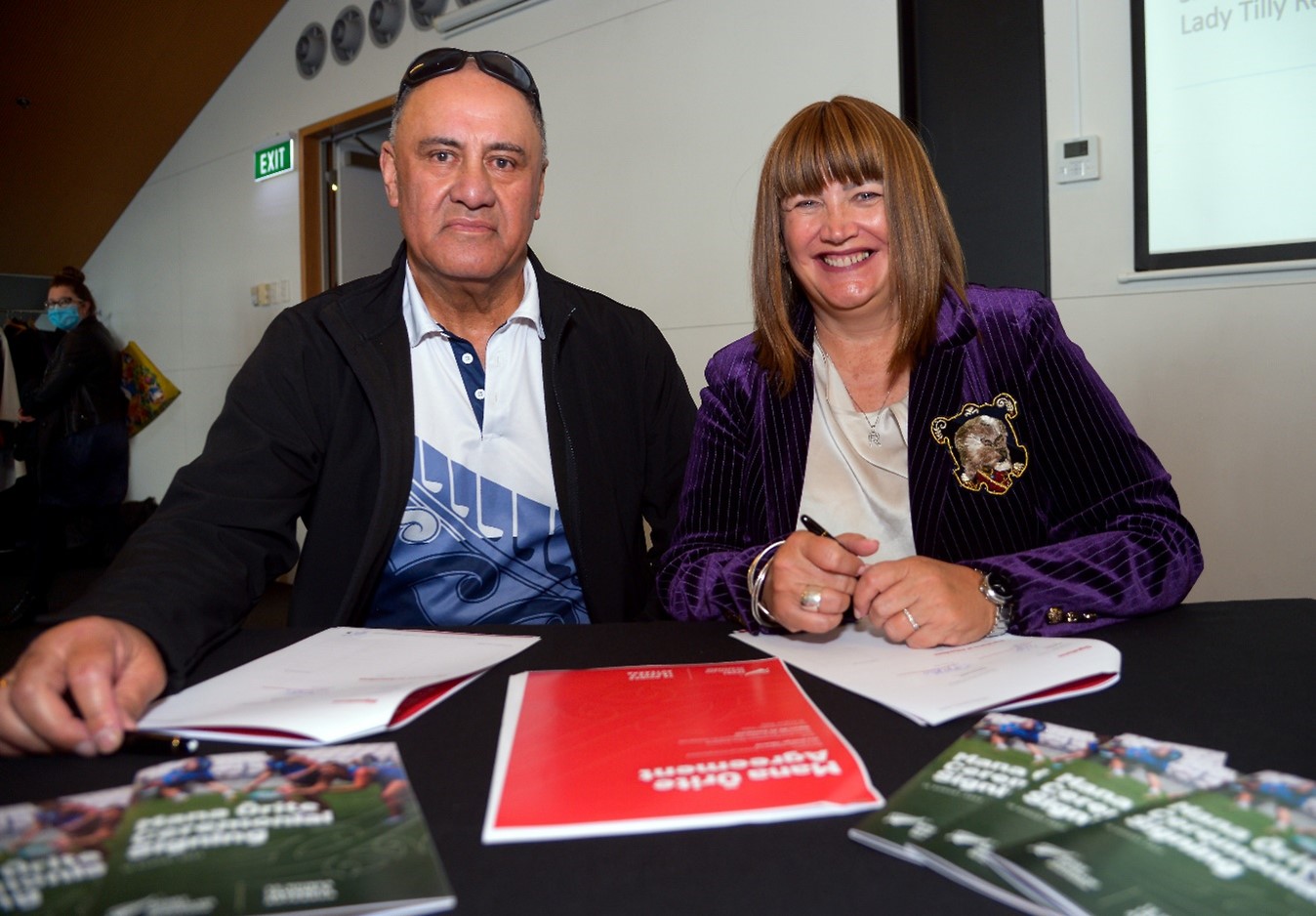 New campaign: It's Time  
On 29 September, Sport NZ will launch a new advertising campaign (It's Time) to help increase awareness and engagement in elite women's sport, targeting broadcast audience, event attendance, social media engagement and consumption of media coverage.   

We are hosting two briefings next week for NSOs and other key stakeholders: 20 Sep at 9.30am and 22 Sep at 3.00pm. These are an opportunity to learn more about the campaign ahead of its launch. There's also an opportunity for NSOs, events and franchises to share details of key events so we can consider them for inclusion in the campaign.  

If you are interested in taking part in one of the briefings, please email Philip Clark (Sport NZ Communications Manager) at philip.clark@sportnz.org.nz. You can also reach out to him if you have any initial questions or can't make one of those times. 
Revamp of futures platform
Recently Sport NZ went live with a revamped futures platform on our website, aimed at making our futures information easier to understand and use so we can navigate through uncertainty as a result of the speed and scale of change we are experiencing. 

The platform draws together knowledge from scanning the environment, identifying issues that might disrupt us, assumptions we may have about the future, and crafting possible and plausible scenarios of the future, including the future we would like to see. Some highlights to explore:  
We'd welcome your feedback on the platform or any further resources that would support your future thinking. 

'On the horizon' is our sector conference, which is themed on the preferred future for sport and recreation, where globally-respected futurist Sohail Inayatullah will speak. We'll also be creating some short videos and webinars to explain futures thinking and how it can be used.
School-wide approach to physical activity puts student wellbeing at the centre 



Two Healthy Active Learning Schools in Auckland have transformed their approaches to physical activity through listening to the unique needs of their students and teachers. Working with their Healthy Active Learning advisors, the schools have taken a new look at how they deliver the Health and PE curriculum and create an inclusive physical activity environment for all. Find out more: 
An update from the Integrity Transition Programme  
Following the Minister's announcement in June about establishing an independent body to strengthen and protect the integrity of the sport and recreation system, an independent Integrity Transition Committee and Transition Programme team were put in place, to progress work on the overall purpose and role of the new body including what functions and powers it needs to best achieve its purpose.  

Advice to the Minister has been provided about the make-up of the new entity, and decisions are expected in October. A further priority for the Transition Programme will be targeted engagement with the sector, including participants, Māori and other relevant stakeholders. This will take place over several months from November and will include gathering feedback on the development of a national code of integrity and how that could introduce and set-out integrity standards for the greater protection of participants in active recreation and sport. 

The new body will likely be established and available from early 2024. Until then the Sport NZ Integrity Team continues to provide support and guidance to the sector on integrity-related themes, with a range of resources and tools available here. 

For updates, and further information in relation to the work of the Transition Programme, keep an eye on the website: www.integritytransition.org.nz or contact us at enquiries@integritytransition.org.nz.
Funding initiative helps kids get active their way 
Funding of scooters for a young Auckland family has allowed them to be more active more often and changed family life for the better. 

Through the Active Me – Kia Tū fund, a two-year $2.9 million Sport NZ pilot initiative in partnership with Variety – the Children's Charity, one parent was able to buy scooters for her four daughters aged 10, 12, 15 and 18 who are now so much more active with a lot more sibling and family time as a result. 

Sport NZ's partnership with Variety means that the support gets directly to those that need it most and is improving the wellbeing of young people and their families. 

Read the full story here.
Supporting Balance is Better mahi - Guides and videos
As we head into the period where we move from winter to summer sport, it's a great time to recap on some of the guides and videos Sport NZ has produced to help partners and the wider sector with their Balance is Better mahi and share this learning with their communities. 

There are some great resources to help plan for your upcoming seasons as well as some great material for working collaboratively with coaches and parents. These include:  
Unpacking the Balance is Better principles: A guide for sport administrators & leaders 

Creating a positive parent culture 

Running good trials and selections 
These can be accessed by going to Downloads on www.balanceisbetter.org.nz. 

We've also made the suite of past webinars and takeaways available on the BiB website as well as webinar highlights on our Youtube channel here. Feel free to share or embed these on your own platforms. 

For more generic Balance is Better videos, messages and stories, visit our resource page. 
Finalists announced for the 2022 NZ Sport and Recreation Awards 



Sport NZ recently announced the finalists for this year's The New Zealand Sport and Recreation Awards, which recognise the best of this work and celebrate excellence and leadership in the sector. 

We received a high calibre of applications this year across all award categories, with the judges acknowledging the quality of work taking place right across the sector.  

See the shortlist of finalists selected across the six award categories. Congratulations to all the organisations named as finalists for this year. The winners will be announced at a gala ceremony at Te Pae in Christchurch on Monday 31 October.