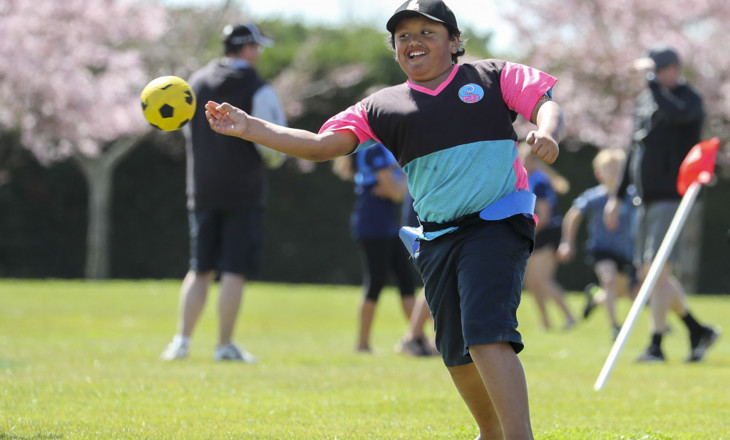 For community-based programmes and projects helping children and young people get active.
Tū Manawa Active Aotearoa provides funding for programmes or projects delivering play, active recreation and sport experiences for tamariki and rangatahi. These may be new or already operating.
We know from research that there are some groups who are more at risk of missing out or being less active, including girls and young women, disabled people and those living in higher deprivation communities. Programmes or projects that reach these groups will be prioritised for funding.
Who can apply?
Please use the diagram below to see if you are eligible to apply.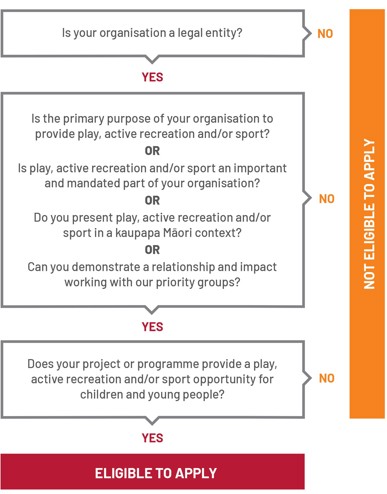 If you want to apply but do not have legal status, we recommend you consider partnering with a qualifying (legal) entity.
Examples of who can apply:

Examples of who cannot apply:

Hapū, Iwi, Marae, Māori organisations
Primary/Intermediate schools/Kura
Secondary schools/Wharekura
Tertiary Education/Whare Wānanga
Charitable Trusts
Regional or Local Councils
Incorporated Societies
For-profit businesses/commercial organisations and social enterprises

National organisations who already receive Partnership Investment from Sport NZ
Government agencies and their regional branches (e.g. Ministry of Health, Oranga Tamariki)
Early Learning Services
Professional or semi-professional sports teams and organisations
Individuals
What can be funded?
This is an activation fund to help cover programme or service delivery costs. This includes costs of:
Programme or project delivery (e.g. venue or equipment hire, transport to event)
Equipment (as part of a programme or project)
Officials, where these are required for the delivery
Delivery staff wages (e.g. activity leader, coordinator)
How can I apply?
Sport NZ is partnering with the country's network of 14 Regional Sports Trusts to manage and distribute Tū Manawa Active Aotearoa. Applications will be open on Monday 24 August 2020.
Before starting your application please read the following:
If you have any questions, please email us at tumanawa@sportnz.org.nz.
Please visit your Regional Sports Trusts' website to apply:
List of Regional Sports Trusts
North Island

South Island