Kia ora koutou, 

I hope you are staying as well as possible as we navigate the steep rise in Omicron cases around the country.  

It's obviously a challenging and unsettling time as we deal with both personal and professional impacts, and as we interpret further change in CPF settings and guidance. Please rest assured that we always advocate for the best outcomes for the sector and do our best to communicate change in settings and restrictions in a timely way.  

Today we are celebrating International Women's Day. One of the silver linings of the last period was the launch of #itsmymove; a new campaign focused on supporting young women to get and stay active their way. We've received great feedback on the campaign so far and I wanted to thank you all for supporting and amplifying the key messages. Below are the details of a new #itsmymove webinar series for anyone interested in learning more about the movement. 

In addition, we also have cause for celebration thanks to the performances of our Winter Olympic athletes who made us incredibly proud as a nation. I'm looking forward to seeing our Paralympians competing on the world stage as well at the Beijing 2022 Paralympic Winter Games and congratulation to Corey Peters for winning gold and silver over the weekend and Adam Hall for his bronze yesterday.

Finally, you may have tuned into the outcomes of the Governance and Organisational Review of Sport NZ and High Performance Sport NZ which were released last week. I would like to thank everyone across the sector who took up the opportunities to discuss and provide feedback during the review process. Your input was hugely important and valuable. 

The final approved model continues to see a separate Board for each entity, and I am excited to take up the role of Group Chief Executive across both organisations. The CE role of HPSNZ is replaced by a Director of High Performance role, appointed by and reporting to the Group CE and the High Performance Sport NZ Board. You can read the outcomes and see the final approved model on our website.  

Thank you again for your continued work to keep sport and recreation safe and happening for all New Zealanders. 

Ngā mihi, 

Raelene Castle 
---
#itsmymove Webinar Series  
It's been just over a week since we launched #itsmymove – a campaign focused on supporting young women to move their way and creating more positive experiences for girls in sport and recreation. Thank you to all those who have supported the mahi so far by sharing campaign content and signing up for toolkits and communities. 
You can now sign-up to our webinar series designed to give providers of sport and recreation a better understanding of how they can engage more girls to participate in and feel empowered by physical activities. Hopefully your networks will be interested too.  
Wednesday 9 March: Re-thinking the offering 

How can providers ensure their activities cater better to young women? Sign up here.

Wednesday 16 March: Empowering young women to lead their own experiences 

How can providers help girls feel more capable in their ability to grow their confidence? Sign up here.

Wednesday 23 March: Focusing on wellbeing and creating safe environments 

How can providers create environments that are inclusive, sensitive and a safe space for girls? Sign up here.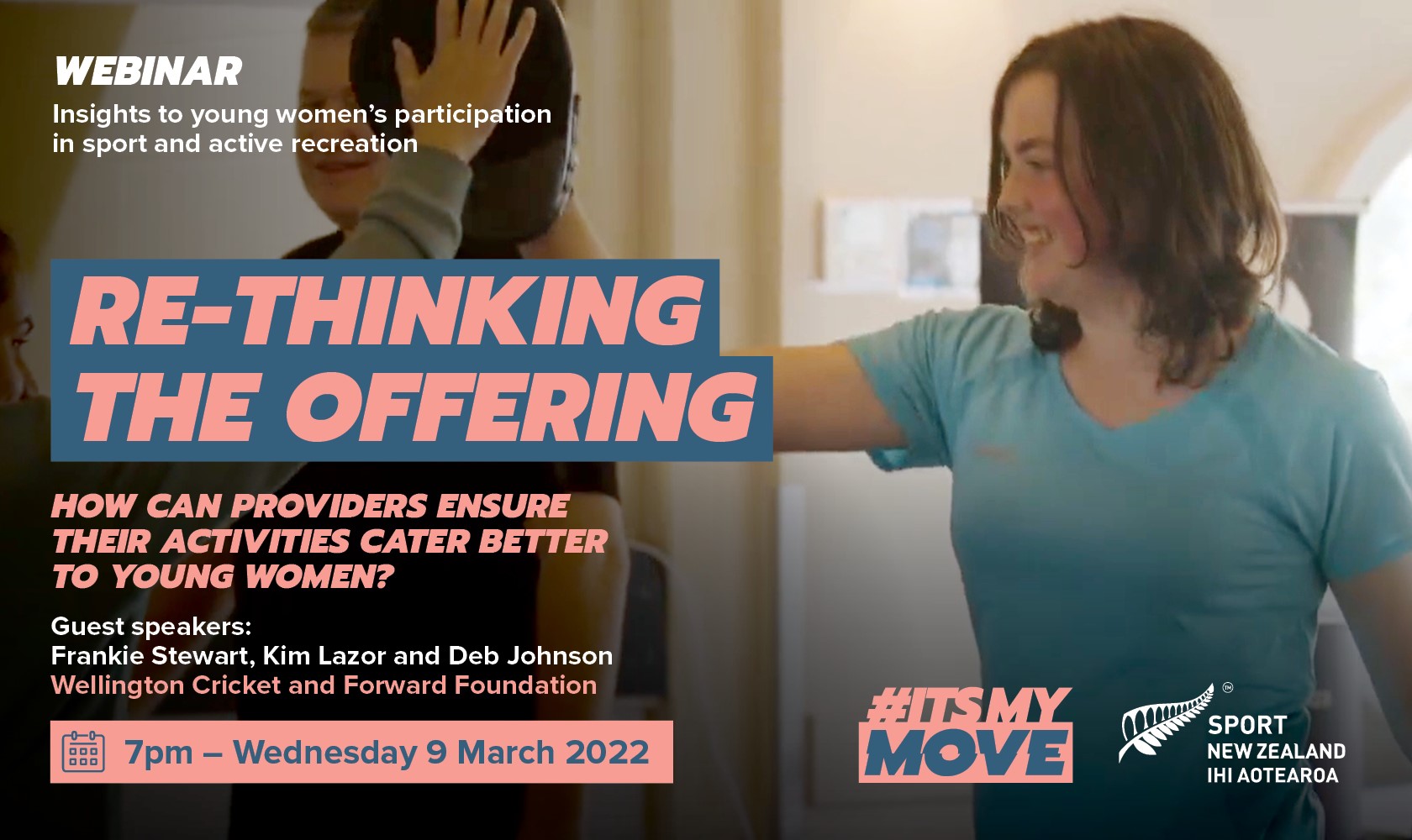 Board gender equity target – increase in female board representation
Following on from an announcement in October 2021 to confirm 91% of Sport NZ partner organisations reaching the board gender equity target, we are happy to report that 98.5% (65 of 66) eligible organisations reached the target by the December 2021 deadline. 

This is an outstanding result as we move towards greater diversity and representation across all levels as a sector. Thank you to all the organisations and boards who have worked hard to make this positive change. 

As we look forward, an important part of creating diversity and gender equity around play, active recreation and sporting boards is ongoing access to governance talent. Appoint Better Boards continue to provide a free access to a talent pool of women in governance looking to serve as directors on play, active recreation and sport boards. If you have any questions or require support in the meantime for board member or chair recruitment, please email governance@sportnz.org.nz. 

He Oranga Poutama Expansion 2022 
We recently opened applications for He Oranga Poutama, which Sport NZ Ihi Aotearoa is expanding into three new takiwā (regions) – Te Tairāwhiti, Manawatū and Te Ūpoko o te Ika. Applications are now open and will close 15 March 2022, 5.00pm.  

We are seeking applications from organisations who share a passion and commitment to support leadership and participation in physical activities in a way that is culturally appropriate for Māori. The successful applicants will be required to deliver on the He Oranga Poutama Outcomes, using the kaupapa Māori framework, Te Whetū Rehua. You can find the guidelines and the application form, and an overview of He Oranga Poutama on Sport NZ's website.  

He Oranga Poutama is one of the longest standing Sport NZ Ihi Aotearoa initiatives with a history spanning 16 years. There are currently 10 He Oranga Poutama providers delivering the programme throughout Aotearoa. Learn more about He Oranga Poutama.  

Sign up to receive our new Kaupapa Maori newsletter 
We will soon be launching a new Kaupapa Māori newsletter. Be the first to hear about our latest Kaupapa Māori news within Sport NZ Ihi Aotearoa and across the sport, active recreation and play sector. 

Sign up to our Sport NZ newsletters.

Regional COVID-19 Hardship Fund 
As announced on 28 February, the Government is providing a further $4 million to assist sport and recreation organisations in the Auckland, Northland and Waikato regions financially affected by the extended COVID alert level restrictions between August and December 2021.  This financial assistance will support local and regional sport and recreation organisations and providers who are experiencing financial hardship with fixed administration and operating costs. 

The new fund, which has been allocated from Budget 2020's $265 million Sport Recovery Package, is being made via existing Sport NZ partners and comprises: 
$2.2 million for Aktive Auckland Sport and Recreation 
$485,000 for Sport Waikato 
$315,000 for Sport Northland 
A contingency of $1 million will also be distributed across all three regions. Applications and further information.

Community spotlight: Loose Parts Play Park in Pahiatua
Tamariki in the rural community of Pahiatua have new play opportunities thanks to the development of a loose parts play park. Based at the Bush Multisport venue, the play park is one of the first few of its type in a community setting in New Zealand. The park encourages tamariki to play, create, and build in unique and creative ways. It's important to the wellbeing of tamariki and the whole community, where everyone has got involved to make the play park a reality.  Read the full story.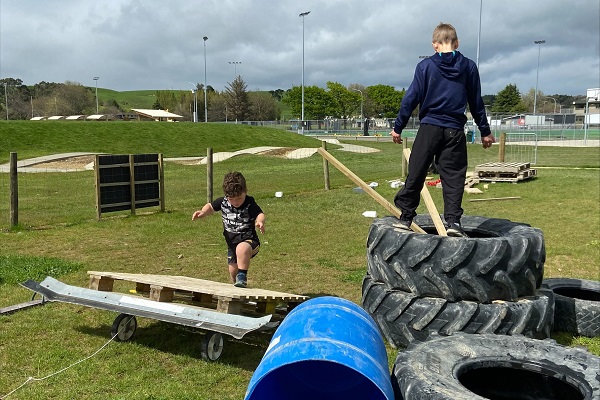 Healthy Active Learning: Excited learners in Gore bring outdoor lessons home
West Gore School is one of 800 Healthy Active Learning schools and kura across New Zealand being supported to create healthy and active learning environments and better connections to local communities.  

In 2021, year 3 to 6 students took part in a new environment initiative, which The Healthy Active Learning Team at Active Southland helped plan and design. Every Friday, the students' learning took place at Dolamore Park set in the Hokonui Hills where they were able to experience and understand their local environment and take their excitement back into the classroom and their homes. Find out more.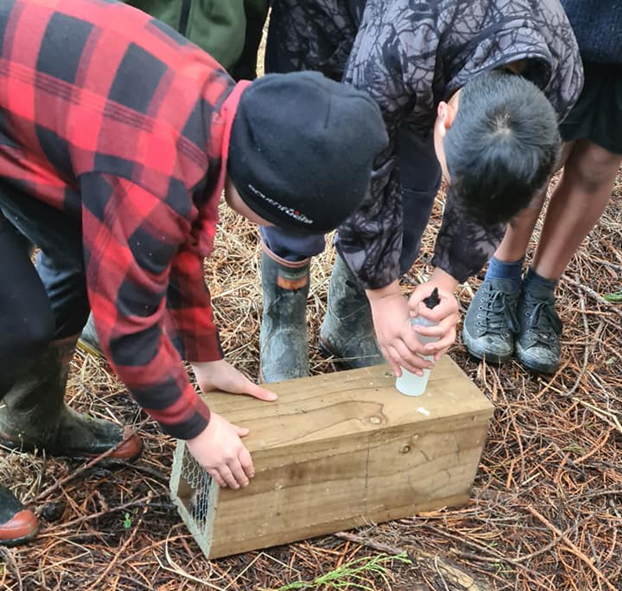 Going with the flow – join the launch of new resources for gender equity in the outdoors 
'Going with the flow: Menstruation and rainbow-inclusive practices in the outdoors' is a new multi-media resource designed for youth, educators and outdoor practitioners to help inspire positive and inclusive changes to outdoor practice and culture.  

Learn more and be a part of the exclusive launch event for the upcoming release of the new resources by Education Outdoors New Zealand. Join the online launch event on Thursday 24 March from 7.00pm to hear from those involved in the resource development and get a sneak peek of the new content. Register by Tuesday 22 March. 

Balance is Better 
We have centralised all the key Balance is Better resources to help national, regional and local sport leaders in planning and implementing changes to sport opportunities for our rangatahi. You will find evidence, case studies, videos of sport leaders and coaches to help you with your mahi. Check it out here.

Leadership of Sport NZ's Sport Development Team  
As you may already be aware, Andrew Eade, our Sport Development Lead, leaves Sport NZ this Friday, 11 March after more than 10 years in the post. Andrew was appointed to lead Sport NZ's (then SPARC) coach development programme in 2011 following the sad passing of Paul Ackerley, and has been responsible for developing a wider sport development programme, including coaching and talent development, which brings to life the Balance is Better philosophy to children and youth sport. 

Andrew will be replaced as our Sport Development Team lead by Alex Chiet, known to many of you for his work in making Balance is Better practical for our partner organisations. Alex joined Sport