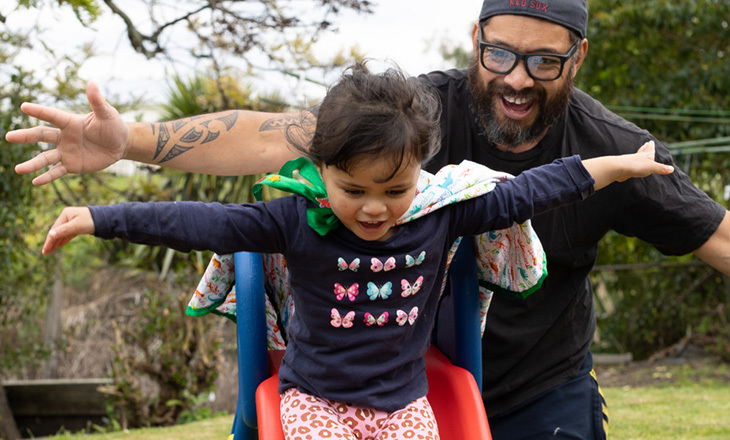 Nei rā a Te Pākē - Introducing Te Pākē o Ihi Aotearoa
Te Pākē o Ihi Aotearoa (Te Pākē), the Māori Outcomes Framework, provides a framework that weaves together Māori long term outcomes and guiding principles. 
It is appropriate that the Māori outcomes framework take the form of a pākē. A pākē is a traditional rain cape woven to be strong, durable and to be worn outdoors in physical activity. Like the pākē, the framework is designed to be robust; to protect people and kaupapa, and to weave together what is most important to Māori.  
Rāranga is the art of weaving and involves weaving threads horizontally (aho) and vertically (whenu). When the Rautaki Māori team started to pull this framework together the aho were already well-formed. By weaving the aho and whenu together the team has produced a pākē, an outcomes framework, that is both familiar and yet innovative. 
Mana

Ōrite

–

Recognising

the equal status of the two frameworks

 
Te Pākē and the Sport NZ Outcomes Framework carry the same status in the spirit of mana ōrite (equality). It is the strength of the two frameworks that will propel us toward our  vision of Every Body Active. Both enable us (and others) to better demonstrate impact and show alignment to the Government's Living Standards Framework.  
Te

Tūārongo

– Background

 
Te Pākē draws substantially on insights from the lived experiences and knowledge within the Sport NZ Ihi Aotearoa Rautaki Māori team; the Futures Work; wānanga (workshops) with Te Tuarā and Te Rōpū Tūmau Futures Groups; reports and feedback from Māori National Sport Organisations; He Oranga Poutama Kaiwhakahaere; the Te Puni Kōkiri An Indigenous Approach to the Living Standards Framework; Te Tai Ōhanga, The Treasury He Ara Waiora Māori Wellbeing Framework; Active NZ insights; and the 2017 Māori Participation Review.  
This work is built on three years of extensive research, consultation and meaningful conversation. Feedback to date has been overall positive and supportive and has informed the evolution of Te Pākē, our Māori Outcomes Framework. 
He Ara

Whakamua

– How we will measure progress
Te Pākē presents long term outcomes which, by their nature, can be difficult to measure. Some long-term indicators are included in Te Pākē. However, a set of intermediate outcomes and indicators have been developed to align with the current planning period (2021 – 2024) and are included in Te Aho a Ihi Aotearoa, the Māori Activation Plan.
While Te Pākē sets the direction, Te Aho a Ihi Aotearoa identifies some key strategic priorities and milestones that will propel Sport NZ Ihi Aotearoa forward over the next three years. 
Download
pdf - 1389 KB
Learn about Te Pākē and Te Aho, our Māori Outcomes Framework and Activation Plan
Data shows Māori are significantly under-represented in leadership and management across the sport and recreation sector. Māori are also under-resourced and, for the most part, unable to participate in physical activities that are culturally appropriate to them.  
We're committed to changing this. In this video presentation we introduce our Māori Activation Plan, Te Aho a Ihi Aotearoa, and Māori Outcomes Framework, Te Pākē o Ihi Aotearoa.  
Join our Sport NZ Ihi Aotearoa Toihautū Moana-Lee Raihania and consultant Rangimarie Parata-Takurua for this wide-ranging discussion on our hīkoi (journey) to giving effect to Te Tiriti, how we're building our cultural capability and capacity and how we are contributing to whanau, hapū, iwi, Māori wellbeing through physical activity in ways that are culturally appropriate to Māori.  
Sign up to receive our Kaupapa Māori newsletter 
Kūkū te Kererū is your six-weekly dose of our latest kaupapa Māori news, events and stories from Sport NZ Ihi Aotearoa and across the play, active recreation and sport sector. We'll cover updates from our work, share what's happening in the sector plus some interesting and inspiring stories that you'll just have to sign up to see!