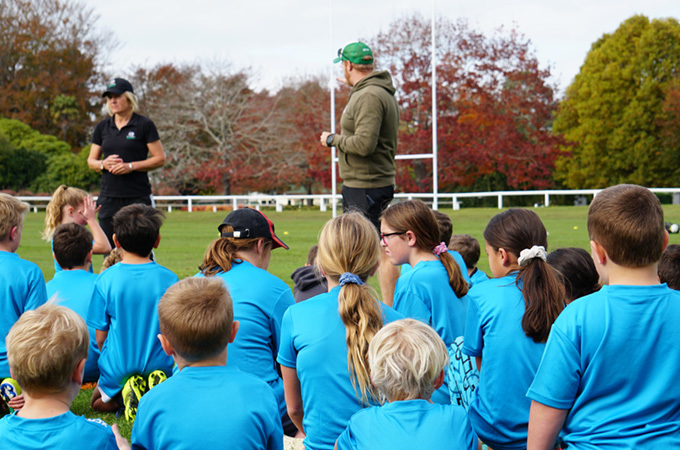 Tristram Johnston acknowledges child protection isn't an easy topic for any organisation or individual to delve into.
For the South Canterbury Rugby Union club manager, the conversation round child protection was sparked in 2019 as Tristram sat in a workshop run by New Zealand Rugby.
Tristram has since helped mobilise the club community in South Canterbury, getting them working together to create safe practices and spaces for tamariki, rangatahi and adults.
"It's a harsh reality to have to go into clubs and have that conversation with them on child protection. I saw a path forward that drew on the expertise of the community. It's about creating both a child protection and everybody environment, and then connecting individuals with the right people who can resolve concerns or complaints."
With pen and paper in hand, and during the workshop, Tristram came up with a plan to ensure child safety was front of mind for South Canterbury community club rugby in every future move.
From here, his Safe Space Connector programme was born.
Tristram created a programme that works for his community by way of utilising local talent and expertise.
"Safe Spaces South Canterbury is around creating safe spaces for all to grow, not just children and rangatahi. We are very much aligned with diversity and inclusion, creating welcoming environments for all," says Tristram.
There are currently six Safe Space Connectors in the South Canterbury community, and Tristram's goal is to eventually have one in every club across the region.
Safe Space connectors undergo South Canterbury and NZ Rugby training in child protection and safeguarding and how to navigate tricky conversations, situations, and experiences to keep children in sport safe.
"It's about creating awareness and allowing people to speak up but at the same time, if you don't feel you can or it's not your areas of expertise, you can contact a connector," he says.
Children, athletes, parents, coaches or administrators can work with these connectors if they have concerns or want to improve environments for both adults and children.
"It's about building awareness of having safe clubs, safe kids and making people feel ok to say something."
Tristram is now drawing on the South Canterbury volunteer network to recruit more connectors and make sure that where there are big events, including tournaments, there are skilled people on the ground ensuring best practise is at play.
Tristram says creating safe spaces at trainings is crucial to allowing people to speak up.
"It's giving people space to have conversations to improve the future of the game."
Accessible resources for communities – no matter where you are in the motu
Sport NZ child safeguarding consultant Cameron Prestidge says the work of the South Canterbury Rugby Union is an example of a community tailoring information to best suit their needs.
"The level of engagement here is worth celebrating. As Tristram says, it can be a tough conversation to have but, as this community has proven, being brave to push forward and implement new learnings, means that the entire community benefits."
Cameron says knowing where to start is often the greatest barrier preventing organisations or individuals from implementing child safeguarding measures.
"We want people to know that it need not be an onerous task skilling up in this area, so they can bring about change, as Tristram has done. We've made our resources as accessible as possible, in the hope this information and messaging is shared far and wide," says Cameron.
The Sport NZ integrity guidance portal offers a range of free resources and learning modules to increase understanding and knowledge of child protection and safeguarding. Check out a range of bite-sized resources on child safeguarding here.